Urban attractions in California
The cities of Los Angeles, San Francisco, San Diego and Sacramento are not just icons of California, they're icons of the United States. Crammed with cultural and architectural highlights and well served by green spaces, each one demands to be visited more than once.
All four cities are committed to sustainability. San Francisco, for example, promotes car-free commuting and fosters urban agriculture and forestry; LA met its Kyoto Agreement targets for reducing greenhouse gases four years ahead of schedule; Sacramento has won an international award of excellence for recycling and waste management; and San Diego, which is home to the
California Center for Sustainable Energy
, has invested in routes for cyclists and walkers.
The smaller cities have much to offer, too, particularly if you'd like to expand your knowledge of the state's cultural heritage and get a real sense of what makes contemporary California tick.
While it's perfectly feasible to whizz round the sights on a conventional coach or bus tour, you might find it fun to try something more original. The cities have several alternative sightseeing tours which take you off the beaten track or share specialist knowledge. Culinary trails are particularly popular in Californian cities – for ideas, see the Tasting trails page.
Landmarks
Angels Flight
Los Angeles. It's less than 300 feet (100m) long, but it's fun – this charmingly old-fashioned funicular hauls you from Hill Street to Olive Street at a reassuringly gentle pace.
Cable cars San Francisco.
By far the most fun way to climb the city's steep hills, the historic cable car network is a quintessential ingredient in San Francisco's landscape and soundscape.
Cathedral of Our Lady of the Angels
Los Angeles. Completed in 2002, this is one of the world's newest Catholic cathedrals, with a bold contemporary design. Alabaster panes flood the interior with soft light and gorgeous tapestries adorn the walls.
Chinese Theatre
Los Angeles. In a city which worships the silver screen, historic movie theatres are as cherished as temples. The Chinese Theatre, a Hollywood Boulevard icon, hosted many a premiere in its 1920s heyday. It has an extravagant Art Deco interior and celebrity hand-and-footprints in the sidewalk outside.
Golden Gate Bridge
San Francisco. Whether shrouded in fog or bathed in glorious sunshine, the city's signature landmark never fails to impress. Completed in 1937, its span is two miles long. Dedicated sidewalks for pedestrians and cyclists allow you to admire its impressive structure in close-up.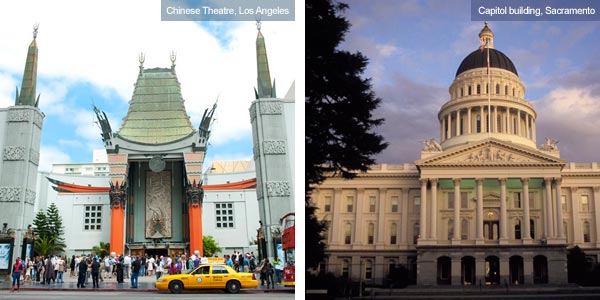 Mission San Diego de Alcalá
San Diego. This working place of worship, one of California's most beautiful Catholic missions, includes the state's oldest cemetery and a small museum of Native American folk art. The site of the original San Diego mission, founded in 1769, is marked by the Serra Cross, six miles away.
Santa Cruz Beach Boardwalk
Santa Cruz, San Francisco Bay Area. Old-fashioned japes, complete with a Haunted Castle. Founded in 1907, this is California's oldest surviving amusement park and one of the few to be located right on the oceanfront. Two of its rides are National Historic Monuments: the 1924 Giant Dipper wooden roller coaster, which offers great views of Monterey Bay to those who dare to look, and the 1911 Looff Carousel, which has delightful, hand-carved horses.
State Capitol
Sacramento. Sacramento has been California's state capital since 1850 and its grand, neoclassical State Capitol was completed 24 years later. Free tours of the cool, marble interior are conducted daily, on the hour. The building is surrounded by gardens dotted with exotic trees.
Universal Studios
Hollywood, Los Angeles. Not just a theme park, but a living, working movie-making location with movie-themed rides, studio tours and plenty of opportunities to yell "lights, camera, action!" One of its attractions, the Simpsons Ride, has an energy-efficient power and lighting system which uses on-demand hydraulics and LED bulbs.
Walt Disney Concert Hall
Los Angeles. Oozing architectural glamour, this hall's sharp edges and curving lines make it a work of art in its own right. Designed in the 1990s by Frank Gehry, it has recognisable similarities to his other great project, the Guggenheim Museum in Bilbao.
Responsible tourism is just as relevant in urban areas as in the wilderness. The aim is to maximise the local economic benefit, and mimimise any negative environmental or cultural impacts
City Parks
Balboa Park San Diego.
With a privileged position close to Downtown San Diego, Balbao Park is home to performing arts venues, science and art museums, hidden botanical gardens and trails for hiking and biking. Its elegant layout incorporates lush greenery, promenades, fountains and glassy formal ponds.
Golden Gate Park
San Francisco. Larger than New York's Central Park, Golden Gate Park has museums, open spaces, a lake where you can rent paddleboats and canoes, and of course a famous herd of bison. In March, when the cherry blossom in the Japanese Tea Garden is in bloom, it's particularly lovely. It's easy to rent a bike and pedal around the park's network of trails.
The Huntington
San Marino, Los Angeles. The Huntington Library and Gallery are surrounded by generously proportioned gardens. Here, you could relax by the koi ponds and cherry trees in the Japanese Garden, wander among Baroque figures in the Sculpture Garden, inhale the fragrance of the Rose Garden or admire acres of cacti in the Desert Garden.
Turtle Bay Exploration Park
Redding, Shasta Cascade. The founders of Turtle Bay are actively involved in restoring native vegetation to the Sacramento Valley. In the park's botanical garden, you can wander among plants beautiful from California and other desert regions.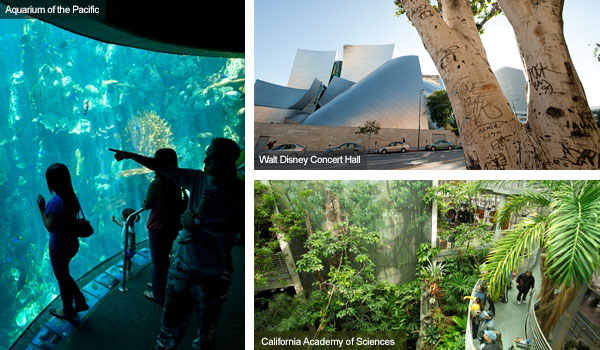 Wildlife attractions
Aquarium of the Pacific
Long Beach, Los Angeles. Focussing almost exclusively on the Pacific Ocean, this aquarium has giant tanks which allow you to compare the ecosystems of the warm waters of Southern California and Baja California, the cool waters of the Northern Pacific and the colourful reefs of Palau in the Tropical Pacific. There's also an aviary and, outside, an Earth-Friendly garden featuring drought-resistant native plants.
California Academy of Sciences
Golden Gate Park, San Francisco. This remarkable, ultra-green complex is a model of sustainability. Its eye-opening exhibits include a rainforest aflutter with butterflies and birds, a coral reef teeming with fish, a penguin zone and a planetarium. The outstanding, eco-friendly building, designed by Renzo Piano, is insulated with a green roof of California wildflowers.
Monterey Bay Aquarium
Monterey, Central Coast. Monterey's superb marine research and conservation facility features excellent educational displays of turtles, sharks, barracuda, jellyfish and a vast array of other species. It also promotes awareness of sustainable fishing principles among local restaurants and the wider community through its Sustainable Seafood Programme. With cute, whiskery-faced sea otters to coo over, rays you can stroke and penguins to giggle at, the aquarium is a brilliant place for kids.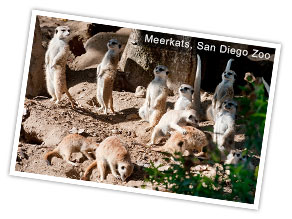 The Living Desert
Palm Desert, Riverside County. Conservation-minded series of show gardens offering an insight into the intricate ecology of the Colorado Desert and other deserts around the world. Among the displays are animal compounds where you can encounter mountain lions, bobcats, coyotes and Mexican wolves.
San Diego Zoo
San Diego. Located in Balboa Park, San Diego's world famous zoo is a world-leading center of academic research as well as a visitor attraction. Its recent field projects include protecting a rare population of chimpanzees in West Africa, rescuing rare frogs in Panama and supporting important research into the decline of Australia's koalas.
The zoo contains sympathetic recreations of a wide variety of natural habitats, allowing you to stroll through tropical rainforests, savannahs and lush eucalyptus groves. Among the stars of its 4000 animal species are pandas – San Diego runs the largest panda breeding programme outside China.
Seymour Marine Discovery Center
Santa Cruz. The mission of this center is to educate people about the role scientific research plays in the understanding and conservation of the world's oceans. Informative displays and touch tanks full of starfish allow kids to get stuck in.
Tours and trails
Alcatraz Cruises
and
Hornblower Cruises
San Francisco, Berkeley, Old Sacramento, Long Beach, Newport Beach and San Diego. These boat tour companies are fully committed to minimising harmful emissions. Alcatraz Cruises' flagship vessel is the United States' first hybrid ferry, powered by a combination of solar panels, wind turbines and grid electricity. Hornblower's fleet of tour ships offer comfortable cruises around the cities' waters, with wonderful views of urban skylines and the option of dinner and entertainment on board.
Go Car Tours
San Francisco and San Diego. Go Cars are small, bright yellow rental cars with a built-in talking GPS system programmed to take you on a guided tour of the places the tour buses don't (or can't) reach. They look a bit like bumper cars; if that doesn't put you off, they're a fun way to see the city.
First Thursdays Art Walk
Laguna Beach, Orange County. As the name suggests, this informal meeting of like-minded souls takes place on the first Thursday of each month, between 6pm and 9pm. Based in Orange County's relaxed creative hub, it's a gallery tour that you can take at your own pace. There's a free shuttle or tram service for those who don't feel like walking. Many of the 40 or so stops on the trail offer drinks, nibbles and entertainment to encourage you to linger and possibly buy something unique.
City Guides
San Francisco. A squadron of local volunteers share their specialist knowledge of the city's history on this series of neighbourhood walking tours, organised by the San Francisco Public Library.
Precita Eyes
San Francisco. This organisation sponsors the mural artists of San Francisco's Mission District, a movement that began with Diego Rivera in the 1970s, by commissioning new murals and restoring old ones. Hop on a bike or set off on foot to discover the lush street art around Balmy Alley and the Women's Building in the company of one of their guides.
Find more information on attractions in California here:
museums
and
spa and wellness
Responsible Travel would like to thank the California Tourist Board for their sponsorship of this guide