Watersports in California
The Beach Boys sang about it. Whales, dolphins and pelicans cavort in it. There's more than 800 miles of it. It is, of course, the wild, breezy stretch of Pacific Ocean which breaks magnificently onto the Californian shore. It attracts surfers, sea kayakers, snorkelers and scuba divers from all over the world. Kitesurfing and stand-up paddle boarding may still be novelties elsewhere, but here they're long-established. Who knows what the next big thing in watersports will be?

Inland, too, there are plenty of thrilling ways to get waterborne in California. The state's beautiful lakes and bays are lovely locations for wakeboarding, canoeing, sailing and windsurfing, and California is also home to some of the world's best rivers for whitewater rafting.
Surfing the Pacific coast
Surfing is, as every Beach Boys fan knows, the quintessential Californian sport. It's easily as popular here as it is in Hawaii or on Australia's East Coast. There are great surf beaches right the way down the coast, but the best ones for beginners are in the south, where you'll find legendary spots such as Huntington Beach, considered the birthplace of surfing in America. Other classic destinations where many of the locals live to surf (and some surf to live) include San Diego, Malibu, Santa Barbara and Santa Cruz.
The further north you go, the wilder the conditions. You can forget those sunny imaginings of riding in the waves in a bikini – without a wetsuit, you'll freeze. Head for Mavericks near Half Moon Bay, south of San Francisco, when the winter swells are at their peak, and you can watch the hardcore set big-wave-surfing on massive 'rhino chaser' boards. Some build their momentum by hitching a tow from a fast-moving jetski. By mastering this technique, daredevil surfers can ride thundering fifty-footers.

Sea cave kayaking
Grant from the Santa Barbara Adventure Company talks about the unusual sea caves around Santa Cruz Island and seeing huge pods of dolphins. [01:53]
Canoeing on the Russian River
California's many lakes, rivers and creeks offer endless opportunities for canoeing in scenic surroundings, from an hour or two to a camping trip lasting several days. One of Northern California's favourite places for this is the little town of Guerneville on the wooded banks of the beautiful, calm Russian River in Sonoma County, where a vacation mood prevails all summer. As a bonus, this is excellent wine country with plenty of good places to stay and eat.
Sea kayaking on the Central Coast
There are several great spots to improve your upper body muscle tone and inhale the fresh Pacific breezes between San Francisco and Los Angeles. Monterey, home to adorable sea otters, and Morro Bay are both worth considering, but one of the best places to aim for is the Channel Islands National Park near Santa Barbara. This wonderfully peaceful collection of small islands is home to the largest concentration of sea caves in the world and is so rich in marine wildlife, it's been dubbed the Californian Galapagos. Paddling into the caves is a fascinating experience. You'll also have a good chance of seeing dolphins and whales out in the blue.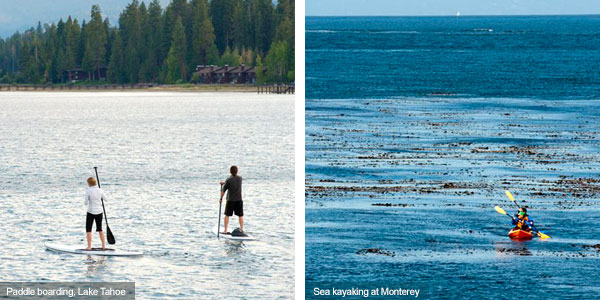 Stand-up paddle boarding on Lake Tahoe
Balancing upright on a board and propelling yourself with a paddle has become one of the most popular ways to mess around in the crystal-clear waters of Lake Tahoe on a summer's day. Lakeshore operators will rent you some gear and show you how it's done. Mid-August brings the Ta-Hoe Nalu Stand-up Paddle Board Festival, featuring two days of races, parties and fun.
Windsurfing and boating on Donner Lake
Tiny in size compared to its near-neighbour Tahoe, Donner Lake is a warmer and altogether cosier place to get in the water. Surrounded by trees and backed by mountains, it's splendidly picturesque. You could easily while away you're a few days here by windsurfing, kayaking or stand-up paddle boarding, or just diving off the public dock for a swim.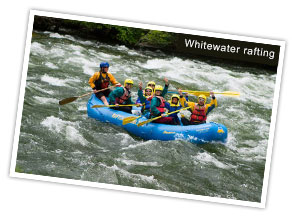 Diving and snorkeling in San Diego
La Jolla, San Diego's attractive coastal suburb, sits on the brink of the San Diego La Jolla Underwater Park Ecological Reserve. Pull on a mask and fins and you can explore its kelp forests and canyons. If you're a qualified scuba diver, you can investigate the reef life down below. – waves have created caves in the underwater sandstone, and piles of quarry rock planted here in the 1960s and 1970s now support a dazzling array of marine life including leopard sharks, shovelnose guitarfish and garibaldis, the official state fish of California, a damselfish the colour of a California poppy.
Whitewater rafting on the Kern River
The Kern, in the San Joaquin Valley, is one of the steepest raftable rivers in the United States. Rising high in the Sierra Nevada, it drops over 12,000ft (3650m) in 150 miles, producing exhilarating whitewater that draws adrenaline junkies by the carload. Base yourself in the small town of Kernville in summer to take full advantage. Kayaking is big news here, too.

River rafting in the Gold Country
Nate, owner of Adventure Connection, talks about combining river rafting with exploring the area's history, wildlife and vineyards. [02:29]
Find more information on activities in California here:
hiking and walking
,
climbing
,
cycling
and
winter sports
Responsible Travel would like to thank the California Tourist Board for their sponsorship of this guide