Cycling options in Cambodia
"Be pretty fit. Some of the cycles were long and in hot and humid conditions. I would also suggest getting to Bangkok at least a day before the group to get over the jet lag. I really enjoyed the experience. Getting to see three countries off the beaten track was an experience and we were all the time active on the vacation"
– Tom McConalogue on an Indochina cycling vacation
Cambodia is probably not an entry-level destination for a cycling vacation, but given the generally flat terrain and that most itineraries offer a relaxed pace padded with rest days, neither is it especially challenging. It's the landscape, the culture and history that will take your breath away here, not the exertion. Most of the time you will be traveling through peaceful rural areas, where heavy traffic means a truculent water buffalo blocking the road, but cycling in Phnom Penh and Siem Reap is a very different experience of course. The sheer level of traffic, and the 'organised chaos' that ensues, make it necessary to board the support vehicle and wait for quieter roads before getting back in the saddle.
Our Cambodia cycling Vacations
Adventurous cycling
Whether you're spritzing up red dust or coasting through wetlands, an adventurous cycling itinerary will see you arrive at every accommodation ready for a shower, but it shouldn't leave you too exhausted in the evenings. A typical route might see you tackling narrow backroads, crossing wetlands and facing the occasional (optional) mountain such as Bokor – a 40km uphill climb. You might cover 500km over 12 days, jumping into boats or vans when the terrain demands it, and soothing your muscles in the evenings with a traditional massage.
Moderate cycling
On a more moderate route, you can expect to be in the saddle for around three to four hours most days, averaging around 30km. Some longer days will be involved when you might travel up to 90km, but these are rarely consecutive. There will likely be some off-roading involved too, always fun, and some bumpy sections in isolated areas. These are far from demanding itineraries, perfectly suited to the casual cyclist, and can be as short as a week, though you'll definitely want to stay longer.
Our top Cambodia cycling Vacation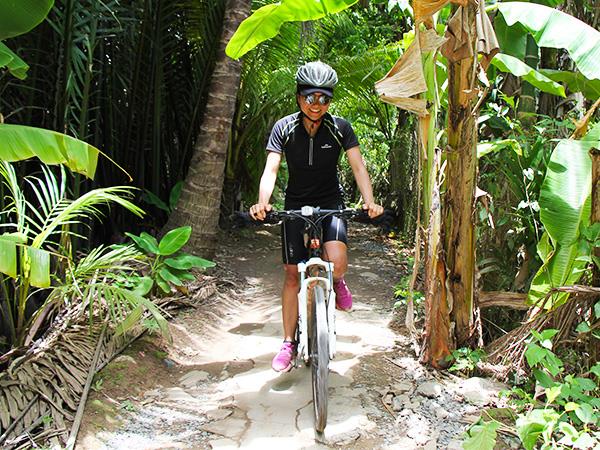 Explore Phnom Penh to Saigon and everything in between
From
AU $

2550
12 days
ex flights
Small group travel:

If you'd like to chat about Cambodia cycling or need help finding a vacation to suit you we're very happy to help.

Easy cycling
Opt for an easy tour if you like to see and do plenty, but can live without the burning thighs, thanks anyway. You'll be maintaining a steady pace throughout, with plenty of rest days and others where you'll be out of the saddle by lunchtime. These itineraries have an intense focus on culture – you won't be riding every day but you will always be out and about, whether that's kayaking on the river, wandering a floating market on foot, or sightseeing in Siem Reap by private van.
SE Asia cycling tours
Thailand and Vietnam are ideal for combining with Cambodia to create an overland cycling vacation in Indochina. As part of a small group tour, you can explore the similarities and contrasts between each – in their landscapes, architecture, cuisine and religious heritage. You'll also benefit from the ease of navigating borders and cultures with the help of local guides.
Family cycling vacations
Cambodia is a fantastic country for active families, with unchallenging, shortened daily rides available on specialist small group tours, accompanied by an experienced tour leader. Kids will love the smiling welcome they get everywhere, and the opportunity to play hide-and-seek around mysterious temples buried in the jungle. They'll also have the opportunity to soak up a culture very different from their own, and to learn about recent history that is simultaneously shocking and uplifting.
More about Cambodia cycling