TOP three PLACES TO STAY IN THE CARIBBEAN
From tiny B&Bs to 'barefoot luxury' retreats, there's accommodation to suit all budgets and tastes in the Caribbean, but we'd recommend swerving the big hotels and resorts in favour of something smaller, smarter and more environmentally responsible. A vacation in the Caribbean should introduce you to the Caribbean, after all – to its people, birdlife, small fishing villages and local festivities – not simply airlift you to a beach. It should immerse you in the life, beauty and raw nature of these islands, through accommodation that has a connection with the landscape, through friendly local staff keen to share their love and knowledge, and through super fresh locally produced food. Here are three of our favourite Caribbean place to stay, each one proud to be doing things its own way and offering first rate service in a very personal, unique package.
Castara Retreats, Tobago
The appeal of
Castara Retreats
on the northwest coast of Tobago lies as much in what it isn't, as what it is. This is not a slick five star hotel, and you won't find flatscreen TVs, freezing air-con or chlorinated pools. Instead, this is an intimate, family run eco resort, offering rustic luxury and the chance to be part of the landscape
and
local life.
There are 16 self catering, treehouse style lodges perched on the hillside, each one cleverly angled for the best views of the Caribbean Sea. You're five minutes' stroll from the local beach, where you can swim, snorkel – there's superb reef life just offshore – and sunbathe. Each lodge has open-air bedrooms, big decks and hammocks, and you can spy pelicans swooping over the ocean, dolphins in the bay and hummingbirds flitting round the feeders while rocking gently.
Guests are encouraged to use and enjoy the village of Castara, just a walk away, where you can book boat trips, enjoy limin' in bars – places to chill out on 'island time' – and eateries. Here is Lisa Williams' review, who travelled to Castara Retreats with Responsible Travel: "As visitors we ate out in the village, bought groceries from the local shops daily, homemade bread from the ladies at the village's outdoor oven and souvenirs from the little blue shed. We always had a friendly or natural welcome – like it was no big deal that we were sharing the village's facilities."
Mango Beach Inn, Saint Lucia
The owners of Mango Beach describe it as a ramshackle old stone inn, so immediately you know this isn't some sleek, off-the-peg resort. In fact,
Mango Beach Inn
has just three rooms, neatly confirming that small is beautiful. It's one minute from the beach, and only accessible by boat or a free ferry that runs 24/7. Once here, it's hard to work out where the gardens stop and the inn starts, and in amongst the lushness are herbs, veg and fruit that arrive on your breakfast table each morning.
This is a great location for lazing, but also exploring – the inn welcomes visitors with a hankering for both – and its position half way down Saint Lucia's Caribbean coast means the walking trails, birding hotspots and activity hubs are easy to reach, north and south, by road or by boat. Mango Beach Inn is also very family friendly. Children under 10 stay free, and it has toys, games and equipment to suit all ages, from babies right up to teenagers. Best of all, it's very much a part of the local community, so come ready to immerse yourself in St Lucian life, learn some creole and make new friends.
Our top Caribbean Vacation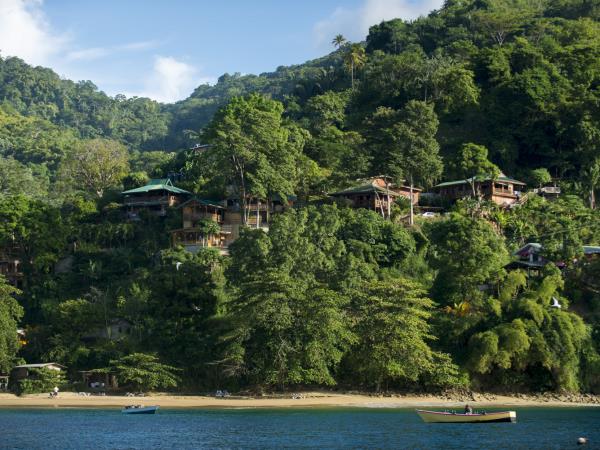 17 beautiful accommodations in unique eco resort
From
£

105

to

£

345
per accommodation per night
Accommodation
If you'd like to chat about Caribbean or need help finding a vacation to suit you we're very happy to help.

Citrus Creek Plantation, Dominica
If you're going to stay on the 'Nature Island' of the Caribbean, it seems appropriate to stay somewhere that takes the beauty and health of its environment seriously. Citrus Creek Plantation does just that. It's a collection of nine cottages and villas in a tropical plantation on the wild east coast, right next to the Taberi River and facing Bout Sable beach, where sea turtles come to nest each year. The environment around Citrus Creek is pristine, with no chemicals used in the plantation, and hundreds of acres of prime tropical forest surrounding it. The villas and cottages are run using rainwater harvesting and renewable energy, and were built using traditional, local techniques. Luxury comes in the form of space, being close to nature, and being treated like a traveler of old, who's pitched up at a plantation house and is welcomed like a friend.
Hurricane Maria devastated Dominica in 2017 and many homes and businesses were destroyed. Naturally, tourist accommodation was hit, too, but this resilient little island is recovering, and much accommodation is being repaired, ready to be opened by the end of November 2018, as the dry, settled weather begins. Show your support for the island by booking to come here. You'll find places such as Citrus Creek Plantation back on their feet, improved and better than ever, and very excited to welcome you.