CYCLING ROUTES IN CHINA
---
Temple of Heaven to Tiger Leaping Gorge
Beijing leads you into China on two wheels with level roads to the south, and more mountainous routes around the Great Wall, complementing city sightseeing. A day's drive south to Sichuan province promises various routes around Chengdu and the foothills of Mount Emei, as well as access to the river valleys and grasslands of Qinghai – and Tibet beyond. East of Sichuan, cyclists face tough tests in central China on Hubei's narrow mountain passes, which signal the start of the Three Gorges cycle trail along the Yangtze. Further south, Guilin, in Yangshuo, is surrounded by limestone karsts and unspoiled rural scenes to let cyclists pedal back in time. Alternatively, head west into Yunnan in search of the Tiger Leaping Gorge.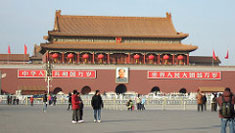 Beijing
There's no better way to integrate yourself into local life in Beijing than on two wheels. Become one of the 'nine million' as you cycle to the Temple of Heaven, cross Tiananmen Square and park up next to the Forbidden City. Cycling routes from the capital include a 65km canal path to the Ming Tombs Reservoir and a 30km ride through Hebei province en route to the Great Wall.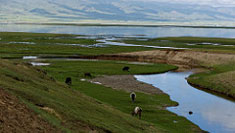 Qinghai Lake
Silk Road sections and Tibetan Plateau panoramas are just a couple of reasons why cycling close to China's largest salt water lake, Qinghai, is such a rewarding and remote experience. Paved roads, some traffic, steady elevations and flat to downhill terrain invites average daily distances of 100km punctuated by Tibetan towns, such as Gangcha and Xihai, and wildlife-rich watersides.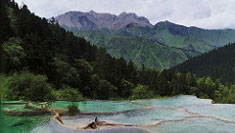 Sichuan Province
The panda breeding capital of Chengdu offers your first taste of mountainous Sichuan before a 45km route to Leshan via Hanyang provides more of a challenge as you climb into the foothills of Mount Emei. Further rides include a 25km route flanked by bamboo from Liujiang to Hongya, and several 60km stretches past the tea terraces and riverbanks once used along the Tea Horse Road.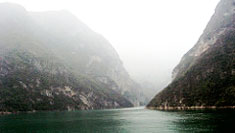 The Three Gorges
There are some really solid distances – 100km Lintong to Mount Hua and 106km across the Loess Plateau to Mount Hua – and challenging mountain passes, including the 119km Yangtze valley to Zhenping route to tackle. All this before you even get close to Fengjie, and the beginning of the Three Gorges route. Make sure you're ready for a couple of weeks of cycling, covering a total of more than 1,000km.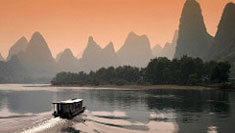 Yangshuo
Flat paths and rural roads, surrounded by farms and limestone karst spires, make Yangshuo an excellent option for anyone looking for relaxed cycling close to the tourist friendly town of Guilin. For greater distances, climb into the Li River valley through rice terraces, tea plantations and fruit orchards, before descending to the river's banks and onwards to Moon Hill and Chaolong village.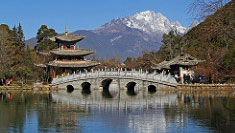 Yunnan Province
Cycling from Shangri-la to Lijiang, in the north of Yunnan province, will take your breath away in more ways than one. From the legendary Tiger Leaping Gorge to mountain passes at 4,000m, this can be a tough, steep ride so make sure you're up to the challenge. Paved roads lead to Tibetan cultural heritage as well as unforgettable scenes along the banks of the River Yangtze.


CHINA CYCLING HOLIDAYS ADVICE
---
TIPS FROM OUR FRIENDS IN CHINA

Karl Schlinger, from our supplier China by Bike, shares his top tips for cycling in northern China.
Beijing to the Great Wall
---
"One of my favourite cycling routes is from Beijing to the Great Wall which passes the Bird's Nest (former Olympic stadium) and the Summer Palace as we cycle out of the city. A bit further out we cycle alongside canals and past newly built housing complexes which give an impression of the endless expansion of Beijing. After about 60km of cycling on flat ground we reach Changping, close to the Ming Tombs. This green and hilly area is surrounded by apple, peach and persimmon orchards and really comes alive in autumn as local farmers sell their freshly picked produce along the side of the road. On the final leg we cycle past typical northern Chinese villages before we finally reach the Great Wall at Huanghua, a section that is still spared from mass tourism."
Cycling sustenance
---
"Best lunch for cyclists in northern and central China: hand-pulled noodles. They are always freshly made and provide loads of energy. In the evening we prefer typical Chinese stir fry dishes made from fresh and local produce. Authentic Chinese food tastes great and is hugely diverse."

Wendy Xue, from our supplier China Adventure Tours, offers advice on cycling on the Tibetan Plateau.
Qualify for Qinghai
---
"For our challenging cycling vacations in Qinghai province, in the northeast region of the Tibetan Plateau, we're looking for fit and healthy cyclists who are able to cycle over six hours a day over mountain passes and tricky terrain in some really remote areas. Ideally, cyclists will be experienced in cycling over mountainous gradients where numerous bends, turns and switchbacks frequently figure. We also like cyclists to have a positive mental attitude and a sense of determination as well as being able to deal with challenging weather conditions and the threat of altitude sickness."
What to bring
---
"Make sure you have enough camera memory and batteries, factor 40-50 sun cream, quality sunglasses, lip balm, towel, toothpaste, electric torch and snacks. Bring layers of warm clothing that can be easily removed according to the weather, including a jacket, sun hat, long sleeved shirts, t-shirts, and waterproofs. Specific cycling gear should include your own helmet, gloves, shoes, padded shorts and a head torch."

Scott Spencer, Owner and Founder of Bike Asia, takes us on a cycling tour from his home in Yangshou.
Pedal into the past
---
"If you head north from Guangxi into Guizhou province it's like stepping back in time with ancient 'wind and rain' bridges and drum towers There are villages made entirely out of wood, built by ethnic minorities such as the Dong, Miao and Yao people, dotted across the countryside. Although there are little pockets of tourism, it's the places in between that are most memorable. This is China as you'd imagine. Like a classic ink painting on parchment paper where mountains, topped with temples, appear from the mist as farmers in conical hats till rice fields next to beautiful ethereal rivers."
Why Yangshuo?
---
"Backpackers first came to Guilin in the late 1980s when China opened up to tourism, but quickly headed downstream on the Li River to the more rural and idyllic Yangshuo village. Although more development has seen an influx of domestic tourists – bringing neon lights, bars and cafes – the village is still an ideal base for hikers, cyclists and world class climbers. The surrounding countryside remains relatively untouched and you only have to cycle a few moments out of Yangshuo before you find yourself in the middle of nowhere, among karst mountains, ancient villages and hardy farmers."
Cultural encounters
---
"Taking your time to dwell a little on a day's cycling is definitely the best way to meet local people and find out a bit more about China's rural culture. Learn how to say a few words in Chinese and don't forget your phrasebook. If you're brave enough to break the ice and show willingness to interact this will go a really long way and you'll no doubt be asked 'have you eaten?' as well as experiencing some old school Chinese hospitality, particularly in the mountains. People are friendly, curious and still surprised to see westerners, especially on two wheels."