Horse riding in Colorado
---
SEEING COLORADO FROM THE SADDLE
You are out west now, so rodeos, ranches and riding all very much part of the Coloradan cultural makeup. A while back there was a bit of a divide between the rodeo dude culture and the outdoors hiking biking skiing dudes however. The former is still considered to be a bit red necked, sexist and conservative, and the latter a bit more of a hobby for the higher echelons. But these divisions are fading with everyone in Colorado realising the benefits of outdoor living as well as conserving their invaluable landscapes.

Kate Matheson, Zapata Ranch
"Stay, ride, hike, birdwatch with us and take part in various workshops from photography to horsemanship." [01:55]
Horseback riding in the Great Sand Dunes National Park is one of the
top ten
things to do in our guide, staying at
Zapata Ranch
, which not only conserves herds of wild bison, but is also run by the leading sustainability experts, Nature Conservancy. Like all ranches, you can ride here even as a beginner, and with very small numbers you get to ride side by side with your guide who will ensure you feel at ease as you hack through these extraordinary sand dunes. When you are feeling more confident, you can also take on ranch jobs such as herding, or just wandering through the wild bison regions of the ranch. There are many other ranches all over the state, with another top sustainable one at Devilís Thumb in Tabernash.

Jason Clark, Horseman at Devils Thumb Ranch
"With 58 horses at all different levels, Devils Ranch can take beginner & expert riders out to experience the true Colorado environment." [01:14]
Many ranches offer just a couple of hoursí horseback riding, so you donít have to stay at a ranch to do it, but it is a wonderful experience if you can find one that encompasses all aspects of ranching, as you will really get a feel for this side of Coloradan culture. To not ride in Colorado is like going to Hawaii and not surfing. And really, being a beginner is just fine. The industry caters for novices brilliantly, much more so than in Europe in fact, where stables can be snooty about newbies sometimes. For a full range of ranches, check out the
tourist board website
and also the excellent
Colorado Dude and Guest Ranch Association website
.
Horse riding in Colorado is generally western style, so you use the reins slightly differently, usually with one hand and giving the horse directions by putting pressure on its neck. You do have a saddle, but it has a wooden pommel at the front where, traditionally, a rope would be attached for herding cattle. In general, most riders donít wear a helmet, with the cowboy hat being preferred Ė probably because it keeps the sun off you, but all ranches offer helmets if you want them.
ē Read more about places to stay in Colorado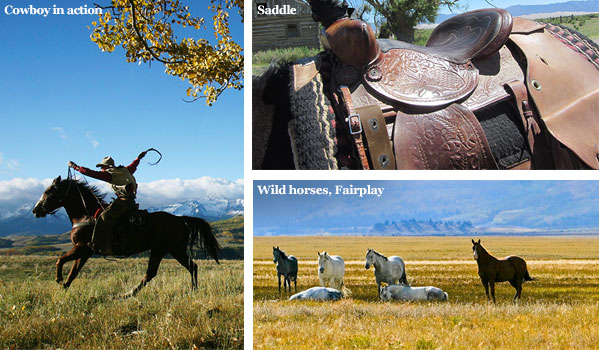 In the Rocky Mountain National Park here are two stables located within the park: Glacier Creek Stables and Moraine Park Stables as well as many others outside the park. In Estes Park the Sombrero Stables and Aspen Lodge Stables are also open in winter for some snowy exploits in the saddle and with over 80 % of the trail network open to horses, there is a lot of trekking open to you. One outstanding thing to do for a real wild west feel is a pack trip, also offered by also with Sombrero Stables in Estes Park. Basically, you supply the camping gear, your food and everything else, and they provide the horses, meeting you at a trailhead with the horses and a guide. The guide leads you to your camp and then leaves with the horses, returning the next day to lead you out again.
Another unique horseback riding experience is in the Little Book Cliffs Wild Horse Range near Grand Junction where, as part of the 1971 Wild and Free-Roaming Horse and Burro Act, wild horses are protected and managed within this 36,000 acres of rugged canyons and plateaus. Although you canít ride the wild horses obviously, you can take riding trips out among them with organisations such as
Rimrock Adventures
. For more information on this wild horse preservation region, see the non-profit organization
Friends of the Mustangs
.
ē Read more about Colorado activities:winter sports & skiing, hiking & walking, water based activities and cycling
Responsible Travel would like to thank the Colorado tourist board for their sponsorship of this guide
---
Photo credits: [Top box - Sand Dunes National Park: Catherine Mack] [Wild horses: Matt Inden/ Miles: Colorado] [Cowboy in action: Colorado Tourist Board] [Saddle: Catherine Mack]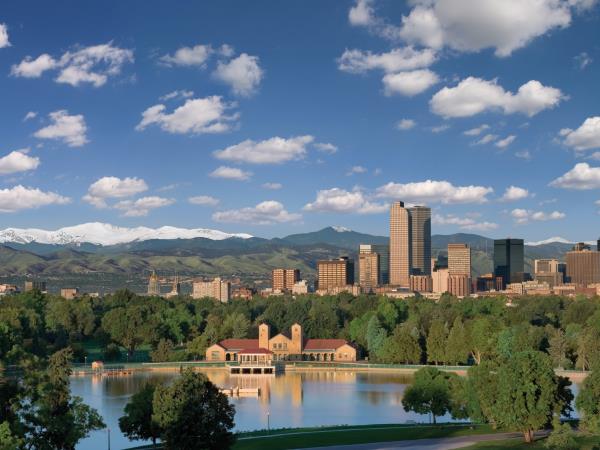 Explore the varied National Parks of the United States.
From
£

3700
18 Days
inc UK flights