Places to stay in Colorado
---
TOP PICS OF RESPONSIBLE ACCOMMODATION
From camping to ranching, lodges to luxury, there are wonderful places to stay in Colorado throughout the state. However, remember it is a big place, and so you can travel for miles without anywhere to stay. So, planning is important from this point of view. One thing that stands out about Colorado accommodation, however, is that hosts are never inward looking. Everyone looks to the outdoors in Colorado, so although the focus is on giving you a great nightís sleep, they also all know where to go hiking, cycling, skiing or rafting. Hire a bike? No problem. Trail map? Sure thing. Breakfast is a big deal too, as active people need a good start to the day, but then they love nothing more than to send you out to enjoy the landscape they all love so much.
Aspen Meadows Resort
---
Aspen Meadows Resort, Aspen
. At first glance it looks like a sixties resort, and then you realise the Bauhaus buildings are original, it is home to the Aspen Institute where great thinkers of the world, including the Dalai Lama, have gathered for symposiums, and it was also the start of a movement to convert Aspen from a mining town to a mindful town in the 1940ís. With views out to Aspenís three mountains, and cycling or hiking trails out into the hills or into the town center, this is Colorado at its most inspiring and thought provoking.
Chipeta Solar Resort and Spa, Ridgway
---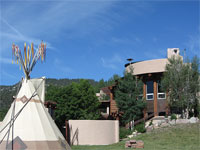 Chipeta Solar Resort and Spa, Ridgway
. Trust me, donít book this for just one night. Chipeta is for chilliní and you wonít want to move once you get here. Some people miss Ridgway en route to the more touristy Telluride, but donít. Run by couple Patsy and Jack Young, who have created a retreat that is run on solar technology but also with a spiritual heart. The name comes from Chipeta, the silent and wise wife of Ute Indian leader Chief Ouray, and this tranquil place overlooking the Cimmaron Range of the San Juan Mountains in southwestern Colorado oozes this sort of silent solace and wisdom. Check out their hot springs packages, and go for a massage. Best therapists ever.
The Armstrong Hotel, Fort Collins
---
The Armstrong Hotel, Fort Collins
. The hotel cat, Oreo, greets most people when they arrive, and is just as beautiful a creation as this hotel, where every aspect of its early 1920ís architecture has been painstakingly and most lovingly restored, making this a landmark spot, and fine example of Fort Collinís cultural heritage once again. Fort Collins has always been a tourist hot spot for visiting the Poudre Valley, and they have recreated the perfect boutique hotel option for modern day visitors, with complimentary bikes for guests. Transformed from local eyesore to eye candy and run by the most affable Levinger family, this is a work of the heart, and their hospitality comes from the same place too.
Missy Levinger, owner of the Armstrong Hotel
"A great stop over from Denver for people going adventuring into the Poudre Canyon to fish, hike or explore nature." [01:56]
Devilís Thumb Ranch Resort and Spa
---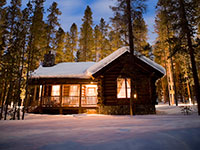 Devilís Thumb Ranch Resort and Spa, Tabernash
. You have to stay on a ranch when you come to Colorado. Itís the law. This one is what is known locally as a Ďdude ranchí or guest ranch, where you get to do the raunchy ranch thing Ė horseback riding western style, eat bison burgers, go on a cattle drive, but also do the sultry spa thing too - collapse into a hot tub overlooking the Rocky Mountains, swim before supper, or relax all those hard worked ranch muscles with a massage.

Jason Clark, Horseman at Devils Thumb Ranch
"With 58 horses at all different levels, Devils Ranch can take beginner & expert riders out to experience the true Colorado environment." [01:14]
SpringHill Suites Mariott Hotel, Denver
---
SpringHill Suites Mariott Hotel
, Denver. Recently awarded the US green certification scheme LEEDís Gold award for sustainable building techniques, excellent water usage restrictions and energy conservation efforts, this hotel also has a free local shuttle service and is in walking distance of the river cycle paths, the Denver B Cycle Scheme, all the local galleries and the boutique shop hangout at Larimer Square. One step more to sustainability, however, would be a farm to fork buffet, and breakfast, where the forks arenít plastic either. Just saying.
Zapata Ranch, Mosca
---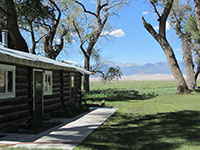 Zapata Ranch, Mosca
. On the borders of the Great Sand Dunes National Park, this is a real ranch stay. A working cattle and bison ranch owned by the prolific Nature Conservancy, there are a hundred thousand acres here for you to find the wrangler within. Staying in stylish wooden cabins, there is a strong family feel here with communal meals so that people catch up on their day - a horse trek into the dunes, a herding session, pregnancy tests they did on the cows or indeed a calfing that they witnessed. If you are here in November you can get involved in the annual herding of their wild conservation bison for tagging and vaccination, and indeed for sale. Itís all hands on deck at Zapata, and you donít feel as if any of it is for show.
It is the real thing and, located in some of Coloradoís most unique scenery, it is a once in a lifetime experience. If not life-changing. Because, once you have been here, and learned from all the wonderful people who run it, you are ĎZapídí, and you will keep wanting to come back.

Kate Matheson, Zapata Ranch
"Stay, ride, hike, birdwatch with us and take part in various workshops from photography to horsemanship." [01:55]
Living Farm Cafť and Inn
---
Living Farm Cafť and Inn
, Paonia. Farmstays vary greatly in Colorado, from giant ranches to tiny holdings, from boutique to basic. This falls rather sweetly into its own category, a stunning farm to fork restaurant where the food is from their own farm, or ones on their doorstep, and it is also a restaurant to room set up, so that you can dine out on their Coloradan fine fare, from lamb enchiladas to hand made ravioli and then just collapse upstairs in cosy, farm style bedrooms. Very pretty. Very Paonia.
Aspen Lodge Resort and Spa
---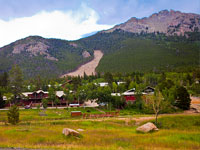 Aspen Lodge Resort and Spa
, Estes Park. The Aspen tree is an amazing thing, as it grows in colonies all thriving from one root system. You can knock one down, but the colony will continue to thrive. This symbiosis may be part of the reason why Taoist priest, Master Chen, named his tranquil retreat and lodge such. Because after the Coloradan natural flood disaster hit them badly in September 2013, this stunning retreat is open for business again. And thriving. A rural idyll on the borders of the Rocky Mountain National Park, with splendid views out to Longs Peak, its tallest mountain, come here just to hang out in the hills, or delve deeper with Master Chenís I Ching readings and health consultations.

Master Chen, owner of Aspen Lodge Resort & Spa
Master Chen talks about the ancient healing techniques used at the resort to recharge, refresh, rejuvinate and heal for a great holistic experience. [01:42]
Mesa Winds Farm and Winery
---
Mesa Winds Farm and Winery
, Hotchkiss. A more basic farmstay than some perhaps at first sight, but donít judge a book. Staying in restored fruit pickersí cabins the hosts Wink and Max are as sweet and refreshing as their own peach wine. They are also representative of some of the extraordinary wine growers who dominate this high altitude valley. People who have given up city lives to live off the land, and are doing so sustainably. This is organic farming as it should be, with rare babydoll south down sheep grazing around the vines, creating natural fertilizer and keeping grasses low. Eat freshly picked peaches and apples for breakfast along with the finest pancakes, or buy their own lamb and cook it for dinner, washed down with served with their own Pinot Meunier.

Wink Davis, owner of Mesa Winds Farm and Winery
"We are located between the desert and the canyons and the mountains - it's just a gorgeous location." [01:50]
Rochester Hotel, Durango
---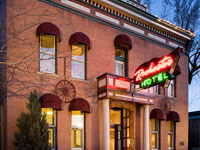 Rochester Hotel, Durango
. Durango is sort of kitsch, and so this western themed hotel fits right in, with rooms that are designed around films shot in the Durango area. From Butch Cassidy to How the West was Won there were many of them, and movie posters framed in marquee lights line the corridors of this charming boutique hotel. They have their own bikes, all named after horses no less, and they have a stringent green policy, using eco and locally produced cleaning products, local produce for breakfast (you wake up to the smell of baking here too) as well as a vast array of Coloradan beer at their beer.
Far View Lodge
---
Far View Lodge, Mesa Verde National Park. A total find, located in the heart of this extraordinary landscape. One of the most visited national parks in the US, you need to book in advance, but it is so worth it. Because Mesa Verde is a place to place to watch the sun rise, lighting up the red sandstone ridges one by one. Or set, when the day visitors disappear and only the wild horses and a world full of stars remain. Which you can watch from the balcony of your comfortable and sensitively-designed room, after a meal fit for a king at their Metate Restaurant.
ē Read more about Colorado regions
Responsible Travel would like to thank the Colorado tourist board for their sponsorship of this guide
---
Photo credits:
[Top box - lakeside lodge:
Erik Charlton
] [Chipeta Solar Resort and Spa, Ridgway: Catherine Mack] [Devilís Thumb Ranch Resort and Spa: Devilís Thumb Ranch Resort and Spa] [Zapata Ranch, Mosca: Catherine Mack] [Aspen Lodge Resort: Aspen Lodge Resort and Spa, Estes Park] [Rochester Hotel, Durango: Durango Tourism Office†]