Scenic & Historic Railroads in Colorado
---
TRAIN ROUTES IN COLORADO
There arenít a lot of options any more for straightforward A-B travel by railroad in Colorado, however the ones that do exist will blow you away. In fact, Amtrakís
California Zephyr
, which goes through Denver, Fort Morgan, Winter Park, Granby, Glenwood Springs, and Grand Junction is named after ancient Greek god of the west wind, and is so called because this trip will indeed blow you away. Amtrak also runs the Southwest Chief through the eastern plains of Colorado, which stops in Lamar, La Junta and Trinidad.
There are also several historic train journeys in Colorado, using restored narrow gauge railroads in many cases as well as much loved steam trains. In Europe, such train trips are seen by some as being a day out for train geeks or grandparents, but these rail journeys are on another level in Colorado. Known as Scenic and Historic Railroads they will also blow you away, such as the Durango and Silverton Narrow Gauge Railroad which clings to the cliffs and canyons of the San Juan Valley and National Forest for 73 kms, offering you a whole day of sitting back and letting the scenery hit you in the face. Not quite, but almost. You can get off, however, if you want to access to the San Juan National Forest or Weminuche Wilderness for a hike.
Created originally to haul silver & gold ore from the San Juan Mountains, this charming operation now brings tourists to places they otherwise would never access, such as the Soaring Zipline Adventure and heart stopping viewpoints over the Animas River. So take a day out of rafting and rambling and take in the scenery that is a privilege to explore, given that thousands of people, many of them immigrants, worked under insufferable conditions to make it happen, just so that the prospectors could find their gold.
The highest railroad in the US is in the southeast - the Pikes Peak Cog Railway, which departs in Manitou Springs and chugs its way up to the summit of Pikes Peak. This is not a steam train but, similar to those used in the European Alps, a modern mountain train that operates on a cog and rack system enabling the train to slowly climb such steep gradients. Created by entrepreneur Zalmon Simmons in the 1880ís, who used to enjoy trekking to the summit with a mule, he decided to make the peak accessible to all by creating this railtrack. And it is still going strong. You can choose to go for a hike and train combo, with one way tickets available from mid-May until mid-November on the first and last trains of the day except vacation weekends. Although note, if you are going the hard way up, it takes eight to ten hours, so start early and hike safely. You can also take the train up and then cycle down, but you can only do this through
Challenge Unlimited
and
Pike's Peak Mountain Bike Tours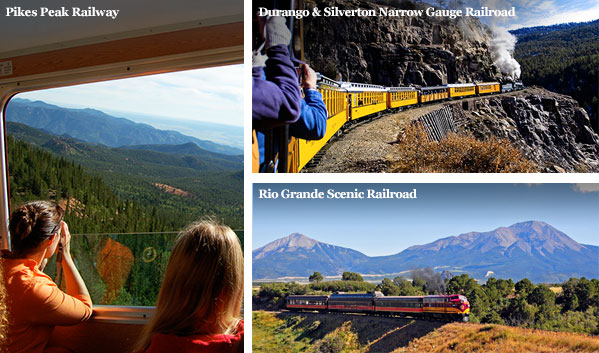 Head to Alamosa to catch the Rio Grande Scenic Railroad into territory which really feels like the Wild West. Leaving the hot, and mesmerising plains behind, you spend all day on this single gauge railroad, on a modern train going all the way over Rocky passes to the mountain town of LaVeta, which is at an elevation of 2,145 m. Breakfast and lunch is served in the dining carriage. One of the top times to do this trip is during the autumn when they run Fall Explorer trips, where everyone is given a seat in their panoramic dome cars. You also gorge on autumnal foods as you pass through the magic of aspen trees changing their hue spookily en masse, a bit like a Mexican wave in slomo. And for total immersion in that western feel, check out the rail journey between May and September, when the train will transport you to the Mountain Rails Live Summer Concert Series at Fort Garland where the acoustics are boosted by natural western wonders.
The Rockiesí twin peaks of Elbert and Massive are the biggest western wonders, however, and seen at their finest, and most relaxing, from the Leadville, Colorado and Southern Railroad. Departing from Leadville, this is a two and a half hours of jaw dropping scenery for just Ä35. Following the Arkansas River Valley, the lively onboard narrative from the conductor guides you the through aspen groves of the San Isabel National Forest, mountain passes and alpine meadows. Just another day in Colorado really. For more Scenic Railroads, see
Colorado Tourism
.
ē Read more about Colorado regions
Responsible Travel would like to thank the Colorado tourist board for their sponsorship of this guide
---
Photo credits:
[Top box - Amtrak:
Loco Steve
] [Durango & Silverton Narrow Gauge Railroad: Matt Inden/ Miles: Colorado] [Pikes Peak Cog Railway:
Phil
] [Rio Grande Scenic Railroad:
Spanish Peaks, Colorado
]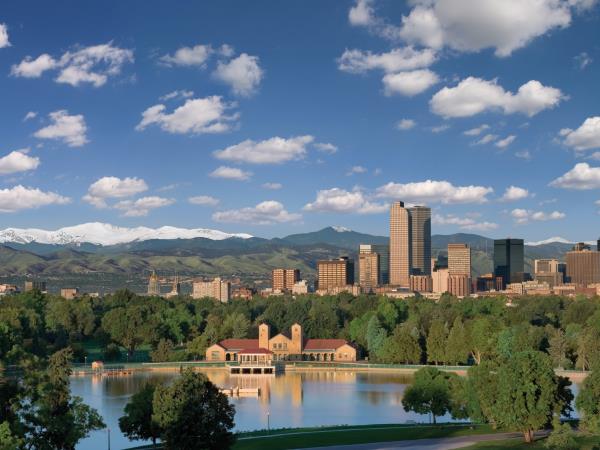 Explore the varied National Parks of the United States.
From
£

3700
18 Days
inc UK flights