Regions of Colorado
---
WHERE TO GO IN COLORADO
Look at a topographical map before choosing where to go in Colorado because this is geology central. Everywhere you go you are guided by valleys and mountain ranges, rivers and canyons. They are in the place names, people use them when giving directions and will casually say things like "You need to take that valley pass until you hit that next range, then head west along the canyon and that will take you up to the southern ridge". They think in terms of relief maps not road maps here, with mountain landscapes influencing everything. And with one of the world's greatest mountain ranges, The Rockies, leaving its giant footprint throughout a great part of the state, it is hardly any wonder.
However, even with that, Colorado's landscapes are ever changing. In the northwest's high peaks there is still snow in June and it has been known for people to ski in July on occasions. Albeit rare. The canyons which carve out the center and south are a source of raging water for both hydroelectric energy and human energy. The forests and meadows which soften the blow in between are welcome habitats for bears, elk, moose, big horned sheep and many more. And the prairies in the east create vast, unfathomable landscapes. It may look like all mountains on the map, but Colorado is one rich tapestry.
Capital – Denver
---
When you arrive into Denver airport, the words 'tornado shelter' greet you before 'baggage claim' so you know you are entering slightly wilder territory than might be your norm. This is also 'Mile High City', its official elevation being one mile above sea level, with the snow peaked Rocky Mountains omnipresent in the backdrop. Consequently, just like the rest of Colorado, it has a big outdoor scene. With a new city bike share scheme known as the Denver B Cycle, you can easily get around the downtown area, with its boutique shops, galleries, museums and farm to food restaurants.
If you want to go further afield, you can do so by paddling or pedaling. Head to
Confluence Kayaks
near Confluence Park between May and August and book onto one of their guided paddling trips along the South Platte River. Seeing a city from the water is always a great way to get a very different urban perspective. Or hire a bike for a day and join the Coloradan cyclists. There is a bit of an epidemic of cycling here so make sure your lycra is up to date and head out on one of the city's and cycling trails, such as the
Greenway Trail
out along the river.
Front Range
---
The Rocky Mountains will be calling the minute you land in Denver and the Front Range is the closest point of contact. Within two hours of the capital you are entering Rocky Mountain National Park which is by no means a walk in the park – rather, a 660 km 2 expanse of snowy peaks, with roads where moose and deer filled meadows are common place.
Boulder is the 'hip-happening' city in the Front Range, a place where if you don't have Birkenstocks, a bike and an all year round mountain tan you are looked upon as somewhat alien. Fort Collins is in the foothills of the Rockies, and the Poudre River which gathers its power in the peaks flows through the town, so rafting and kayaking are never far from the agenda. This clean water source has been one of the reasons for the surging brewing industry here, led by the New Belgian Brewing Company.
Estes Park takes you even closer to the peaks. You can mellow out canoeing on Lake Estes, or snowshoe around back country trails. Or delve into the deeper countryside, pushing your outdoor skills and taking on the likes of
Longs Peak
, one of the notorious Fourteen'ers, meaning it is over 14,000 feet high. Estes experts need only apply for this one though. And last but not least is Loveland. With walking and cycling trails to places like Devil's Backbone and Horsetooth, it all just sounds too much like a country and western song to be real.
Southwest
---
The southwest is dominated by the San Juan Mountains, the National Forest of the same name and two of the state's most stunning National Parks: Mesa Verde and Black Canyon of the Gunnison. And, in Colorado, with a magic mix like that, comes endless trails for hiking, biking and paddling. There is also a whole string of towns providing these services. Towns that found themselves on the map because of mining, but which now are burgeoning with young people hitting the slopes by day and enjoying a laid back social life of outdoor festivals and fun by night. Forget malls and junk food. This is one big trail of boutique shops, farm to table restaurants and microbreweries. Such as Durango and Telluride, both now developed into tourism hot spots but still with a small town feel, or Ouray and Silverton which are still clinging to their rural and most wonderful rawness.
Northwest
---
We're talking super elevation here, with mountain landscapes that kick you in the teeth a little. These snow covered slopes are like a gravitational force, pulling us towards them as an escape route from the rest of the world we have trampled over, yet always an ominous reminder that they are a force not to be reckoned with. The northwest of Colorado offers these two extremes. The Continental Divide cuts through it, however, leaving us with the most deliciously contrasting landscapes and, consequently, habitats. Almost as if it has been cut by a knife there are arid, red rocky peaks on one side, and forests, meadows and mountain moraines on the other. So, this is the land of skiing, of course, with Vail, Aspen, Snowmass, Winter Park and Breckenridge all top spots for posing on the pistes. Grand Junction is the biggest city here, the toast of the region in fact, bursting to life with vineyard after vineyard and overflowing orchards in summer.
South Central
---
If the north of Colorado is 'the number one single', then this south central region is the 'Best of' album. It would be hard to know which image to use on the front cover though, as the landscapes change so dramatically. One minute you are driving through a scary mountain pass and the next you are descending into a dusty prairie that feels like it goes on forever. So, in the morning you are in South Fork rafting or fishing in the white waters of the Rio Grande River which flows through this region like one big astronomical artery, and in the afternoon you are trekking across a gigantic ranch near the sage brush wilderness of Alamosa.

The San Luis Valley is what dominates the south central region of Colorado, a 200-kilometer stretch of the Rockies with the Sangre de Cristos Mountains to the east and the San Juans to the west. With the 1.8 million acre Rio Grande National Forest filling in the gaps and adding to the already glorious palette. And then it all gets surreal when you hit the Great Sand Dunes National Park, which has the highest sand dunes in North America, packed in between prairie and peaks.
Southeast
---
These are the grasslands of Colorado and with its borders merging into Kansas, Oklahoma and New Mexico, it is strong a hybrid type as well. After all the mountainous regions of Colorado in the north and west, you are really entering the Great Plains here. Such as the 400,000 acre Comanche National Grassland where birds migrate en masse with everything from wild turkeys to bald eagles making their home here. The open space is also a hunting haven for coyotes, prairie dogs and road runners looking for prey.
Tourism is still very quiet here, and indeed the region took a battering at the turn of the 20th century when homesteads were abandoned and families fled to the cities. You can still see signs of these abandoned homes today, as these swathes of land evolve and find their place again. One feature of the southeast is the
Santa Fe National Historic Trail
, a route which traditionally followed the Rio Grande River from western Missouri down to New Mexico serving as an important military and trading artery in the 19th century. Now protected under the US national park umbrella, it goes through five states including this corner of Colorado. There is a Trail Museum in the town of Trinidad, but the Trail is still in its nascent stages.
Northeast
---
This is way off the usual tourist trail, upstaged by the mountain magnets of the rest of the state. But the northeast is the land of big skies and open prairies. It is a very different type of breathing space, a place where wildlife photographers and birders have known for years, getting ahead of the tourism game. At Jackson Lake State Park, for example, hawks and harriers abound, but the proliferation of migratory birds also makes this a hunting haven and licences are granted for this purpose in designated areas only, of course. This lake is also one of Colorado's beaches and, with shallow warm water, it has several swimming and boating spots. Back on land, which is used predominantly for farming and ranches, country fairs, food festivals and rodeos are very much part of the northeast makeup.
• Read more about Colorado highlights
Responsible Travel would like to thank the Colorado tourist board for their sponsorship of this guide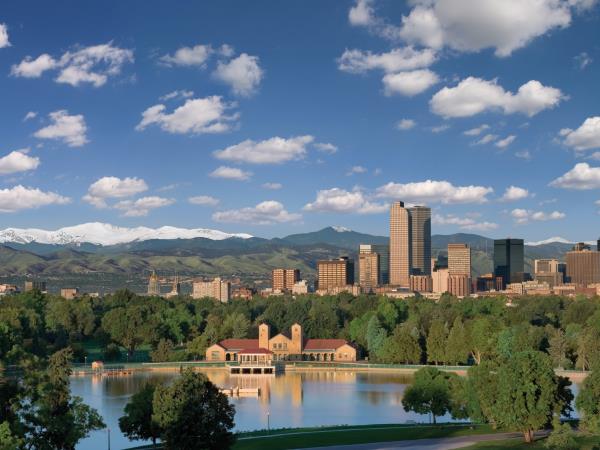 Explore the varied National Parks of the United States.
From
£

3700
18 Days
inc UK flights