Water based activities in Colorado
---
WHERE TO KAYAK AND RAFT IN COLORADO
Rafting would come top of the word association game when it comes to water and Colorado. With the Colorado, Arkansas, South Platte and Animas Rivers being some of the top white water activities spots in Colorado, it is a must do really. Don't for a second think that you are too old/too young/too unfit/too anything. Rafting is for everyone and is guaranteed to bring the sort of smile to your face that you haven't experienced since childhood. It will also bring a lot of icy snowmelt water in your face too, but this is all part of the fun.
Rafts seat between four to eight people depending on the type of raft. They can be used as paddle boats or oar boats, the former being where the guide and passengers all paddle together, so it involves serious team work. The latter is where the guide has control of big oars at the back, and so he/she is doing most of the work, which is ideal when you have younger children. Some rafting companies allow children as young as four years old to take part. There is a foot hold for you to use, so you don't feel as if you are going to go flying out of the boat every time you hit a wave.
Rivers in the US are rated using roman numerals I to VI according to the International Scale of River Difficulty, and these ratings can change according to weather conditions of course. First timers will be happy on class II, III and, depending on conditions, some class IV rivers and rapids. Class V river trips are for those with more experience.
Hotspots for white water rafting in Colorado include Durango, where
Mild 2 Wild Rafting
take you down the Animas River and also have twenty years' experience in doing so. Very committed to safety and Leave No Trace, they have
safety videos
on their website which are very useful if you have not rafted before. The Animas River's natural features have been adapted artificially to help control the flow of water in certain spots, which makes guiding easier and the waters more predictable. This company also leads rafting trips on the Upper and Lower Piedra River in Pagosa Springs and the San Miguel River in Telluride.
Whitewater Rafting Safety | Mild to Wild Rafting & Jeep Trail Tours from Mild to Wild Rafting on Vimeo.
The Arkansas River in Salida has also been controlled for top white water rafting and kayaking experiences.
Rocky Mountain Outdoor Center
offers Class I – III trips around the town, without too many splashes, or you can up the wet factor and head to Class III and above at Brown's Canyon, a wilderness area surrounded by granite domes and vast peaks. Buena Vista, also on the Arkansas River is a top spot for white water rafting too. Over sixteen year olds and those looking for even more adrenaline can head off on The Numbers trips, with constant white waters, sheer drops and screamingly good rides through the waves.

Kate Steppen, Rocky Mountain Outdoor Center
"The Arkansas River is 100 miles of runnable white water and arguably the best place to learn to kayak and raft in the world." [02:03]
In Denver itself you can go white water rafting on the South Platte River, which is a great way to totally immerse yourself in Colorado fun while you adjust to the altitude. Check out
City Wild
for details and start your trip to Colorado as you mean to continue. Most rafting companies also offer river kayaking, either in a traditional hard kayak for the more experienced or if you are a beginner to rapids try the inflatable kayaks, sometimes called 'duckies' which have you bouncing over the rapids just like in a raft, except you are the one controlling the boat. Stand up paddle boarding (SUP) is available everywhere in Colorado now too.
A more mellow alternative to rafting is called 'floating'. Some rafting companies offer a full day trip of rapids and then floating, which is a great mixture as you can let the adrenaline ease off a little after lunch. In Palisade, for example, the water is less wild and one of the top experiences here is to take a 'float' in a traditional wooden 'dory' boat with super skilled oarsman, Rondo Buecheler of Palisade River Trips, who takes you down the Colorado River through De Beque Canyon and the local fruit and wine country. When you 'float' you have time to engage in the stories that bring the river and valley to life as well as sample some of the local wines, of course. When the conditions aren't right for a dory, you can always float in an ordinary inflatable raft.

Rondo Buecheler, co-owner, Palisade River Trips
"The Palisade River through the Palisade food and wine country is almost pristine compared to the rest of the valley." [01:52]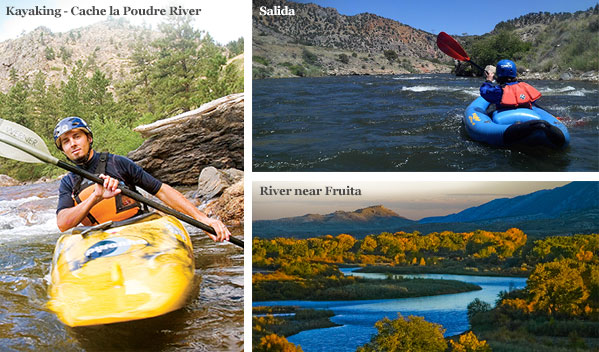 Even more mellow is 'tubing' which is very much a local activity to join in with. But only in flatter waters. These are big rubber rings really, like you get at a water park, except this one is in nature. You can usually rent them in popular tubing spots including Clear Creek in Golden, Boulder Creek in Boulder, San Juan River in Pagosa Springs and the Colorado River in Eagle.
Be aware that helmets aren't always required when rafting in Colorado, unless on the wilder class 4 and 5 rapids, so do ask for one and set a good example! They all supply them, they just don't shout about it. All kayakers use helmets.
There are natural hot springs everywhere in Colorado, some more manicured than others. Such as Glenwood Springs or Pagosa Springs which are like big public swimming pools. Ouray is a little more subtle and Orvis is just downright drop dead gorgeous. However, what most tourists don't know is that there is a whole network of wild hot springs. Many are on private land, so you need to check what the etiquette is around each spring. But these are, literally, holes in the ground, where people have placed a few stones over the years, often beside a cooler source of water so if you are clever you can redirect the water until the temperature is just right. Go in winter for the full steam effect. A truly hot Coloradan will always have the "Hot Springs and Hot Pools of the Southwest" by Marjorie Gersh-Young bible in their car, packed with all the details you need to find the best G-eothermal spots.
• Read more about Colorado activities:winter sports & skiing, hiking & walking, horse riding and cycling
Responsible Travel would like to thank the Colorado tourist board for their sponsorship of this guide
---
Photo credits: [Raftin Arkansas River: Matt Inden/ Miles: Colorado] [Salida: Rocky Mountain Outdoor Center] [Kayaking - Cache la Poudre River: Matt Inden/ Miles: Colorado] [River near Fruita: Matt Inden/ Miles: Colorado]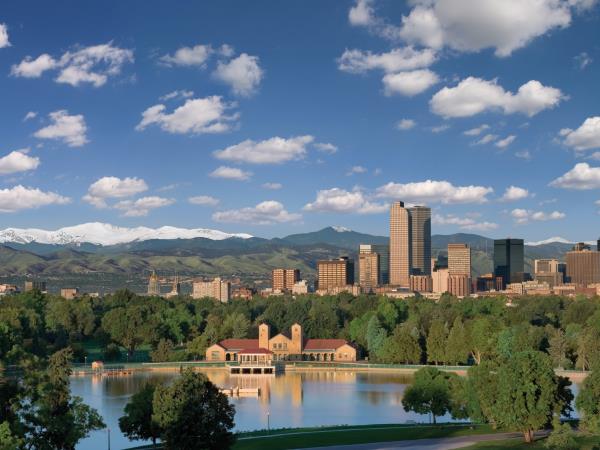 Explore the varied National Parks of the United States.
From
£

3700
18 Days
inc UK flights