Costa Rica family vacation highlights
---
WHERE TO GO ON A COSTA RICA FAMILY HOLIDAY
Buy yourself an old fashioned map of Costa Rica and put it up on the kids' wall, but be prepared to get a lot of thumbtack as you can cover all points of the compass in a fortnight. The capital, San José, is conveniently central, and from here you can head north to Tortuguero National Park or the volcanic terrain around La Fortuna. South to the remote Osa Peninsula , a veritable Pacific Paradise. Head west for Manuel Antonio National Park with monkeys and many marine marvels. And, course, the whole of the east coast is Caribbean, a world of Creole, chilling and Cahuita National Park.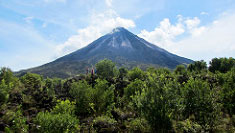 Arenal Volcano
La Fortuna is the best base for visiting the most famous of Costa Rica's 16 volcanoes. Still active but with no recent flows, this 1,633m cone is text book volcanic and you may see sparks and smoke if you are lucky. The region's prolific volcanic, hot thermal pools are also a hit. Go at night and bathtime will definitely be without tears, looking up at Arenal sparking and smoking into the night sky.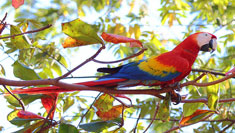 Carara National Park
Get ready for colourful skies here, as this is bird of paradise central, including rare scarlet macaws, hummingbirds and kingfishers. Fauna that is fiery by nature rather than colour include the rare black and green poison dart frogs and also crocodiles, which can be seen safely from a height from the touristy but terrifyingly exciting Tarcoles River Bridge. Indeed, Carara is the indigenous Huetar word for crocodile.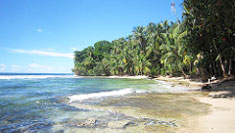 Caribbean coast
Costa Rica's Caribbean coast is pretty undeveloped, with bohemian surfy feel and vibrant, welcoming Afro-Caribbean culture. Beach bungalows, reggae and hammocks are what it's all about. Puerto Viejo is a popular spot, especially for surfing and for its black sandy beach, Playa Negra. All with rainforest hovering in the background. And Cahuita National Park provides the backdrop for its famous white sand beach.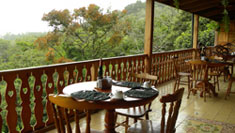 Exquisite ecolodges
Costa Rica really has nailed the ecolodge thing and they aren't all five star Champagne in the canopies either. They have a special certification scheme for them, namely Certification for Sustainable Tourism (CST). Take your pick: on a riverside rainforest in Tortuguero National Park, in dense forest at Sarapiquí or on the Caribbean coast just outside the wet, tropical forest of Cahuita National Park.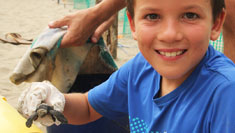 Family volunteering
Costa Rica has a superb conservation record and plenty of family-orientated volunteering projects, particularly in sea turtle conservation. Turtle nesting season is Jul-Dec, so you have three school vacations to get out there and help. Work involves monitoring sea turtles that nest here, protecting their hatchlings and tagging and collecting data. All while living in a community of 200 people on Nicoya Peninsula.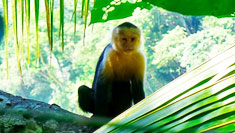 Manuel Antonio National Park
A top spot for little monkeys. White faced capuchin, titi and howler monkeys, that is, all of which inhabit the 1,700 acres of mangrove swamp and rainforest here. Manuel Antonio is on the Pacific coast too, so this is a national park that just keeps giving, which gorgeous, white sand beaches and warm seas. It is the country's smallest park but very popular, so come on weekdays when trails are much quieter.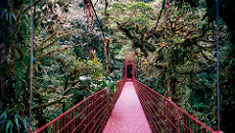 Monteverde Cloud Forest
Like something out of a fairytale, explore magical, misty Monteverde with naturalist guides, hiking, and horse riding or on a canopy tour that straddles vast swathes of the forest. There are myriad trails to see giant trees draped in orchids, mosses and bromeliads, as well as hummingbirds, howler monkeys and a vast array of amphibians. Walking through here with your family is out of this world.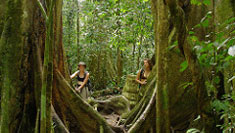 Osa Peninsula & Corcovado National Park
Costa Rica's largest park sees a fraction of the visitors of others as it's off the beaten path and best accessed by an internal flight. Half of Costa Rica's species can be found here, from manatees to monkeys. Hike to waterfalls, snorkel off Caño Island, see turtles and stay at an ecolodge with a perfect mix of Pacific and rainforest as your garden.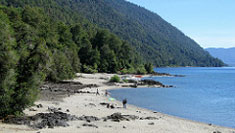 Pacific coast
A popular spot, following the iconic Pan-American Highway, is the Pacific part of the province of Puntarenas, where rainforest meets white sandy beaches, mangroves meet palms. Hike through rainforest with capuchin monkeys swinging above, swim in the calm bay at Playa Blanca where kayaking and snorkelling is the thing to do, or visit Playa Hermosa where surfing is a blissful finale to family vacations.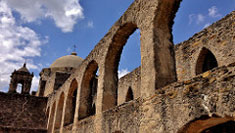 San José
The start and end point for most family vacations, San José isn't the most exciting of capital cities but it is a hub of real Tico life. For shopping head to Mercado Central or, for organic chocoloate and coffee gifts, Saturday's Feria Verde de Aranjuez is the best. For museums, there is one each for ancient gold and jade. For more modern culture, the Museum of Contemporary Art and Design is excellent.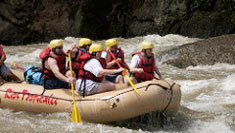 Sarapiquí
On the banks of Puerto Viejo River, this is the gateway to Braulio Carrillo National Park and all round adventure hub. Stay in a jungle ecolodge and enjoy nearby white water rafting on the Pacuare or Sarapiquí Rivers (minimum age usually eight years) although hiking or horse riding through the Proteros Mountains and river valleys is also a hit. As is swimming in the natural river pools.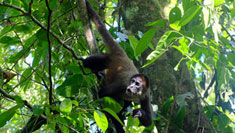 Tortuguero National Park
If you start your family vacation here, and many do, you will feel as if you have been parachuted into paradise. It is a six-hour journey from San José, your final leg being by boat as this otherwise inaccessible rainforest is a water wonderland. Howler monkeys howl, manatees meander, sloths sloth and children squeal with delight. Particularly at the park's famous resident green turtles, which give the park its name.


Sample travel times
---
Small group family vacation (16 days):
San José ► Doka coffee plantation visit ► Tortuguero National Park ► Sarapiquí ► Braulio Carrillo National Park ► Pacuare River rafting ► Arenal Volcano ► Monteverde Cloudforest Biological Preserve ► Manuel Antonio National Park ► Carara Biological Reserve ► San José

Tailor made family vacation (8 days):
San José ► Tortuguero National Park ► Sarapiquí ► Arenal Volcano ► Don Carlos Farm ► San José

Small group adventure vacation (9 days):
San José ► Poas Volcano National Park ► Tortuguero National Park ► Sarapiquí ► Arenal Volcano ► Punta Leona ► Central Pacific coast ► Manuel Antonio National Park ► San José
Travel times in Costa Rica
---
San José – Tortuguero: 6hrs by two buses and a boat
San José – Tortuguero: 30 mins by plane
San José – La Fortuna (for Arenal Volcano): 4hrs by car
San José – Cahuita: 3.5hrs by bus
San José – Monteverde: 4.5hrs by bus
San José – Palmar Sur, Osa Peninsula: 45 mins by air
Monteverde – Arenal Volcano: 4-5 hrs by car