Cuban Salsa dance vacations
Music and dance are an integral part of everyday life in Cuba, breaking down barriers of ethnicity and class. That's not to say you can expect full-blown musical numbers to erupt on every street corner, but you're rarely out of earshot of salsa, trova, mambo, jazz, reggaeton or timba, and you will often encounter local dancers showing off their moves in the street. Cuba has rhythm, and dancing vacations here plug you into an infectious beat.
Salsa is a constantly evolving dance that allows for plenty of innovation and also friendly competition. Steps can be manipulated and varied for spontaneity, or to reference other styles of dance. Just to watch it performed is exciting enough. To dance it yourself, even if you're inexperienced, is a whole new level of fun.
Cuban 'casino' salsa
Though salsa originated in New York during the 1970s, thanks in no small part due to Cuban musicians seeking refuge there after the revolution, the dance has Cuban roots and arguably no one is better known for it than the inhabitants of this Caribbean island. The movements are a hybrid of the Cuban cha-cha-cha, mambo and son dances, as well as other Afro Cuban genres, set to intense percussive beats. You'll find different styles of salsa from Puerto Rico to Colombia, Miami and Los Angeles, but the distinctive and popular Cuban form of salsa is known as casino, the term originating from the dancehalls where typically better-off, white Cubans would spend their nights in the mid-20th century.
Cuban salsa is distinguished from other forms of the dance by its African influences. The body is lower, with bent knees and lots of rolling body movement, while other forms of salsa are performed upright and are very poised. Cali salsa, for example, is characterised by steps so fast you can barely see the dancers' feet, and New York style is performed on a single axis, with dancers always facing the same way; Cuban dancers turn constantly. You'll see fewer spins, hair flicks and elegant poses. Cuban salsa is the opposite of a Strictly-type performance piece; there is much less emphasis on how the dance looks, it's all about how it feels. For many people, this is what makes it so addictive.
Where did the name salsa come from? Opinions vary but some say it reflects the many different ingredients of a tomato sauce. And like any spicy sauce, if you get the technique just right, the results can be absolutely sublime. To get you in the mood, watch the wonderful adult animated film
Chico y Rita
, which follows a dancer and a musician through pre- and post-Revolution Cuba.
Our top Cuba Vacation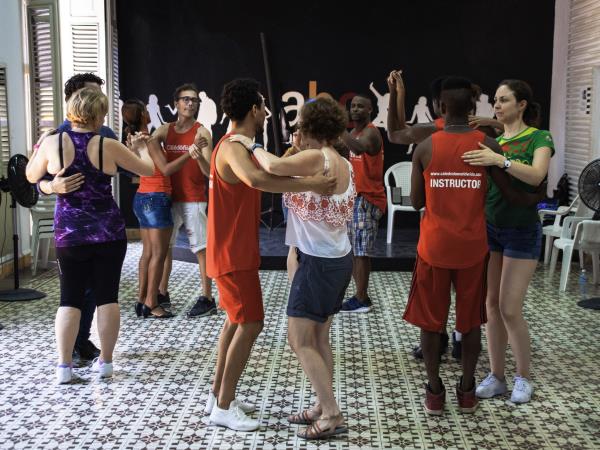 Learn to salsa in Santiago de Cuba
From
£

1875

to

£

1975
15 days
ex flights
Small group travel:
2023: 26 Nov, 15 Dec
2024: 14 Jan, 11 Feb, 8 Mar, 31 Mar, 28 Apr, 30 Jun, 24 Nov, 15 Dec
If you'd like to chat about Cuba or need help finding a vacation to suit you we're very happy to help.

What do dancing vacations
in Cuba involve?
Cuba is tied only with Cali, Colombia when you're talking about the world's most prestigious destination for salsa. A Cuba dancing vacation sees you staying in Santiago de Cuba, the island's second city and the home of traditional Cuban music and dance. Many famous musicians, including several that played in the Buena Vista Social Club, were born here.

Small group vacations involve 30 hours of intensive tuition spread across two weeks, with a professional dance partner for everyone. That means this type of trip is just as suitable for solo travelers as it is for couples, and also that the teaching can be tailored to any level of experience, salsa virgin or veteran. And if you want to branch out a little, you might also try a lesson in son (a close relative to the rumba), cha-cha-cha or many other dances such as rueda or Haitian meringue.
Lessons take place in a studio with dancers from a renowned local school, usually in the mornings when it's cooler. Your afternoons can be spent either exploring Santiago with its Bacardi museum, handsome colonial architecture and UNESCO-rated citadel, or with optional lessons in percussion and Spanish language.
In the evenings, your instructors accompany the group as you explore the city's frenetic nightlife. The Casa de la Trova is a Santiago institution, but there are many smaller, more intimate venues sometimes known only to the locals, where you can put your technique into action on the dancefloor in a welcoming atmosphere.
Casas particulares
Casas particulares The other major attraction of taking a dancing vacation in Cuba is your accommodation arrangements. Typically while in Santiago you will be staying in
casas particulares
. These are private homestays which may not be as luxurious as a hotel but promise a very warm welcome, and an authentic insight into Cuban life as well as delicious homecooked meals.
Many local hosts will only have a limited grasp of English, so brushing up on key Spanish phrases as well as a few dance lessons before departure will come in handy. If you'd like to bring a gift, either for your hosts or your instructors, consider the practicalities that can be difficult to get hold of in Cuba, such as toiletries, vitamins or baby clothing.
Cuban salsa vacation tips
"Every day was wonderful! But highlights include the dance lessons and nights out, the visit to the local Basilica and just soaking up the daily life in Santiago. The homestay family were also a memorable part of the vacation as they were so kind. Book now! This is truly one of the best vacations I have been on. Be prepared to be very hot and to not worry about things not running exactly to plan as Cuba is a very relaxed place. If you can speak some Spanish that will really help as well but you can get by without. I have had the best 2 weeks of dancing with the most amazing professional dancers. I felt very well looked after. I was fortunate to be with a wonderful group of people." – Amanda Harvey in her review of her Cuba salsa dance vacation
Kath Bateman from our supplier Caledonia Worldwide on how casas particulares in Cuba work:
"This type of accommodation is pretty relaxed and informal and is a great way to meet local people and eat good, home cooked food. All our homestay accommodation is licensed by the Cuban government and is regularly inspected. You can be reassured that you will be staying in homes which offer a professional level of service, as well as a friendly welcome and a safe environment. Your hosts may not speak much English, if any, but they will be friendly and will ensure you have a pleasant and memorable stay in their home. We know almost all of the homestay hosts personally, and many have been welcoming our clients for several years. Breakfast and evening meals are not eaten with the family, as they will eat separately from their guests."