Best place to swim with dolphins
---
OUR DOLPHIN WATCHING MAP

These friendly, frivolous cetaceans inhabit most corners of the globe outside of the Polar Regions – so whichever bit of coast you find yourself upon will probably have a dolphin pod not too far away. Some spots are better than others, however – with opportunities to swim, a greater variety of species, warmer waters or the chance to combine your dolphin tour with other wildlife – including whales, turtles and land-dwelling creatures. There are also dedicated diving, volunteering and conservation trips. We've highlighted our top destinations below to help you choose the best place to swim with dolphins or to watch them.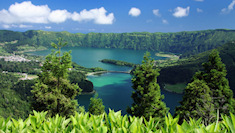 Azores
(Best: May-Sep for calmer seas) The Azores has some of the most abundant dolphin sightings, with seven species commonly seen alongside sperm whales and orcas. This is one of the best places to swim with dolphins, with expert guides and boat drivers who can monitor the behaviour of each species. Week-long trips offer the chance to build your confidence in the open water and use a snorkel around the curious cetaceans.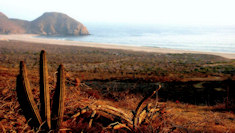 Baja, Mexico
(Best: late Jan-Mar) Baja California is renowned for its friendly, inquisitive grey whales – but bottlenose and common dolphins are frequent visitors to these waters, along with huge, beautiful orcas. This is an extreme setting for your dolphin watching trip – giant cacti dot coastal deserts, while pine forests cover the sierra. It's possible to camp in Baja's paradisiacal bays, kayak through mangroves and see sea lions and blue whales.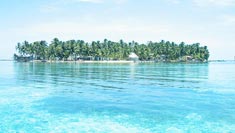 Central America
(Best: Dec-May) Pods of dolphins live along the coast of Central America, including Belize, Costa Rica and Panama. The warm, Caribbean water is perfect for scuba diving and snorkelling with a huge variety of reef-dwelling marine creatures. Dolphin-watching tours can be combined with marine conservation activities, including monitoring reefs, volunteering at sea turtle nesting sites and looking after injured manatees.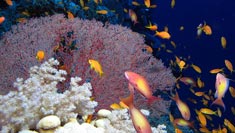 Egypt - Red Sea
(Best: Mar-Nov) A horseshoe-shaped coral reef marks the spot where a pod of spinner dolphins spend their days recuperating after a long night feeding. The reef is "zoned" to ensure boats don't disturb them – and only the curious will come out to inspect the boats. You can snorkel with dolphins, sea turtles and a huge variety of reef-dwelling creatures here, in safe, shallow bays – unusual night boat expeditions are also available.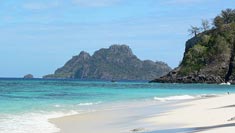 Fiji
(Best: May-Oct) Pods of spinner dolphins corkscrew through the air around Fiji and you can join a dedicated research team to photograph their acrobatics and record their frenzied clicks and squeaks around the archipelago. You'll learn all about these creatures and their habitat, and put your new knowledge to good use by putting together educational materials to be shared in local villages and schools, leaving a lasting impact.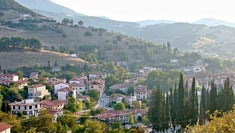 Greece (Vonitsa)
Dolphins have permeated Greek culture and myths throughout history, and the Ionian Sea is still one of the best places in Europe to spot several species of dolphin – including bottlenose, beaked and striped, as well as harbour porpoises and enormous fin whales. Research trips take you out to survey and identify each species, and contribute to valuable data banks to assist the conservation of these incredible species.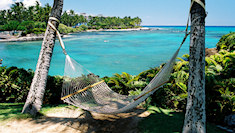 Hawaii
These classic, tropical islands are an idyllic backdrop for dolphin tours. The islands are well set up for seeing these frolicking creatures, and operators offer both boat tours and swimming with dolphins – which makes you wonder why there is also a need to have captive dolphins putting on daily shows in an "aquatic theatre" in Oahu. Leave the circus behind, and see these magnificent mammals in their natural habitat.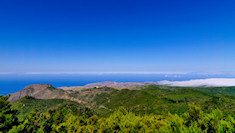 La Gomera
(Best: Mar-Jun) The second smallest Canary Island is a great base for nature loving dolphin-watchers. As well as several dolphin species, including bottlenose, striped and rough-toothed, there are pilot, fin and sperm whales to look out for on the ocean, while on land the Garajonay National Park (a UNESCO site) protects unique flora and luscious landscapes. Scuba diving, biking and yoga are just some of the available activities.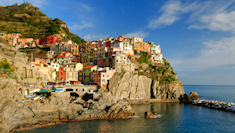 Ligurian Sea
Virtually all of the cetacean species that inhabit the Mediterranean can be found in this region. Ongoing projects have monitored whale and dolphin populations – including striped, bottlenose and the unusual Risso's dolphin, up to 4m long and easily recognised by its scratched, scarred skin. You can join research trips, living onboard and participating in data collection and analysis, as well as daily boat tasks.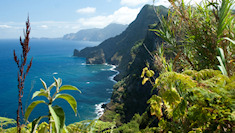 Madeira
(Best: May-Sep) Bottlenose, common, Atlantic spotted, Risso's and striped dolphins are just some of the many species that can be admired off the coast of this volcanic island, although swimming with dolphins is not as easy to arrange here. The "Flower Island" offers many land-based delights, including numerous vegetation zones, water channels, superb hiking and mountain biking and a cable car ride with spectacular bay views.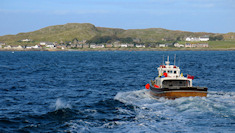 Isle of Mull
(Best: Late Apr-late Sep) This is an idyllic destination for wildlife fans. Daytrips out on the water to look for bottlenose and common dolphins as well as minke whales and porpoises are combined with tours to see otters, puffins, red deer and eagles. Marine biologists guide the boat tours, ensuring a fascinating, educational experience – and if you're lucky you might even spot an orca.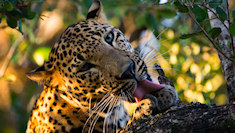 Sri Lanka
(Best: Dec-Apr) Dolphins are present all along the Sri Lankan coast, though the northwest offers some of the best sightings. Spinner dolphins are some of the most exciting, as they speed through the water alongside boats, and jump for the camera. Come in December to April for a chance of seeing blue whales here too – or leave your boat to search for leopards in the nearby Yala National Park.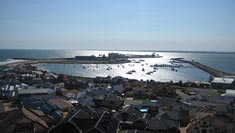 Western Australia (Koombana Bay)
(Best: Oct-Apr) Marine biologists and environmental scientists lead tours to swim with bottlenose dolphins in sandy Koombana Bay, to discover them in their natural environment. An interpretative center offers more information so you can learn about your swimming companions. Fishing, walking through the mangroves or scuba diving in the Indian Ocean are also available here.
Where to watch dolphins
---
RESPONSIBLETRAVEL.COM'S SUPPLIERS RECOMMEND

Sue Grimwood, is a whale watching expert from our supplier Steppes Travel. She shares her best place to watch dolphins:
"In the Azores we saw five species of dolphins, there are plenty out there. Some species can be quite shy. Risso's dolphins are really unusual because they are really deep divers and you don't normally see those unless you're on a deep sea crossing. But the Azores have really good population, and they're the only group of Risso's that have been studied continually for about 15 years. The operator in the Azores is part of the local research team. They photograph a lot of the whales and dolphins that they see, then they upload photos and track them. It's very much hands on research – you can just go and watch the dolphins but if you're interested in the research and helping then you can do that as well."

Amanda Stafford, from our supplier Dolphin and Whale Connection, on how to choose the best place to swim with dolphins:
"Before you choose a destination, ask: are there guidelines in the area? And do the operators follow them? In some parts of Egypt there are no guidelines and it's like a circus. The boats are all charging round; it's dangerous. You've got people snorkelling, they come up and there's a zodiac zooming across the water. There's a fatality waiting to happen. So we work in another region in the Red Sea. The coral reef there is absolutely huge, almost half a kilometre in diameter, and it's a horseshoe. We see the spinner dolphins there in the daytime when they come and rest inside the reef. They've been hunting all night and they need a place to rest, so the reef is divided up into zones. The boats and the people don't go into zone A – it's only the dolphins. They are resting, and they don't get bothered. When they want to see people, they come out into zone B where the people are allowed. The boats are not allowed in there either, so it's safe for swimmers."