Walking in Dominica travel guide
---
2 MINUTE SUMMARY
You need to be able to get one big word under your tongue before thinking about a trekking or walking vacation on this luscious island of Dominica: Waitukubuli. It's the name of their prestigious long distance walking trail that travels the length of the country and it comes from the original indigenous name for the island, meaning 'Tall is her body'. And tall she is, the Waitukubuli National Trail, spanning 185km from Scott's Head in the south to Cabrits National Park in the north. Walking vacations here dip in and out of it, with plenty of hikes around it too of course, or you can take on the whole thing over two weeks.
This Dominica walking vacations travel guide takes you through some of Dominica's walking highlights, some volcanic, some rainforest, some waterfall rich, some coastal. Some fine for independent hiking and others full on jungle treks that you need a guide for. But wherever you go, you will discover a wonderful, wild Waitukubuli.
WALKING IN DOMINICA
---
WHAT DOES THIS TRIP ENTAIL?
Walking vacations in Dominica are not just a walk in the park, but all about engaging with the landscapes and local communities. This is a country that is totally switched on to both its cultural and natural heritage, standing out from many Caribbean Islands in that respect. Where other islands are busy counting tourists rolling off the cruise ships, Dominica is counting its bird populations and training naturalist guides. Consequently, from the minute you arrive, you will be nurtured by nature. It's just in the air. And the forests, volcanoes, rivers and waterfalls. And the people. They respect it, they have a fundamental understanding of it, and a burning desire to share it.


Walking the WNT
---
The Waitukubuli National Trail, or WNT, completed in 2011, takes you up, over and across the entire island, for 185km of mountains, rainforest, dramatic gorges, cliff tops and into otherwise inaccessible communities. It was the brainchild of several local people who recognised that this network of informal trails linking one village with another could be made accessible to tourists. It has now been mapped and signposted and is clearly divided into 14 segments with each segment taking, on average, a day. Making for a perfect, if rather full on, two-week hiking vacation. Most walking vacations in Dominica are tailor made, however, so depending on the amount of time you have, expert tour operators can advise on which segments to take on. It's a small island after all, just the size of Anglesey, so with car transfers you can create a wonderful walking mix.
Read more about the Dominicans who created the WNT
Walking levels
---
The WNT really varies according to each segment. In the north, segments 10 and 11, for example, are completely contrasting. Segment 10 is considered an easy 6.4km hike, with a few hours strolling around the foothills of Morne Diablotins, Dominica's tallest mountain, with views out across the west coast. Segment 11 may only be a few more kilometers, but it takes you through the steep, jagged mountainous terrain of the Morne Diablotins National Park. This is bird watchers' bliss though.
In the south, you have an easy start to the WNT at Scotts Head, with 7km of littoral loveliness that includes a trek alongside an ancient volcanic crater, through some overgrown plantations and ending at the Soufriere Sulphur Springs. But a few segments later, still in the south, you are trekking through full on rainforest of the Morne Trois Pitons National Park, where challenges such as the valley of Desolation, Titou Gorge, and river scrambling await. Along with the 50m-wide, lava heated Boiling Lake. It's as if the movie set just changed from a beach romance to Raiders of the Lost Ark. That's the WNT for you. It keeps you on your toes.
Your walking guides
---
If ever there was a country to walk in the company of expert local guides, Dominica is it. They take their walking seriously here, and they really value the WNT. Which is why there are impressive national training facilities for walking and naturist guides, who proudly earn their "Dominica Discover Authority" (DDA) guide certification and join the Waitukubuli Tour Guide Association. Also, there are several segments of the WNT where guides are a must in terms of safety, such as to the Boiling Lake, and also to some of the waterfalls where flash flooding can occur. Dominica's landscapes are vulnerable to a lot of rain so conditions underfoot can be fragile or unpredictable. If in doubt, bring a guide.

Michael Eugene, co-founder of the Waitukubuli Trail and director of our Dominica supplier Jungle Trekking adventures and safaris:
"My personal favourite segments of the WNT are Segments 10 and 11…done in a single day, as well as segments 13 and 14 – segment 13 by foot, and 14 by fishing boat with the local fishermen."
Accommodation
---
Most walking vacations in Dominica involve staying in several accommodations and taking either day walks from there, or walking from one lovely locally owned village inn to another along the WNT. With your bags being transferred for you by car. And because this is a Caribbean country that is very much switched on to sustainability, there is also an impressive range of eco aware places to stay en route. It's a small island so they know how to source food locally, they also favour natural air conditioning with no shortage of sea breezes to flow through strategically built houses. Swimming tends to be in sea water pools, nearby waterfalls or – for something warmer – a dip in a volcanic hot spring. Accommodation hot water sources are often geothermal too. If it's five star, cultureless resorts you are after, you are on the wrong island. Dominica does things the Dominican way, and it's a green and gorgeous way.
BEST TIME TO GO ON WALKING IN DOMINICA
---
TEMPERATURE & RAINFALL
Michael Eugene, founder of our supplier Jungle Trekking Adventures and Safaris tells us one of his best times to go walking in Dominica: "Planning a walking vacation around the World Creole Music Festival (end October) affords a special dose of local culture that can be blended with hiking and other less-cultural centered activities. The hiking festival, Hike Fest, is also a great time to visit. If you are hiking in May you have long days but it does get hot and humid. Along the trail there are only two directions – up and down. And so added to that the heat and humidity, we have seen experienced hikers have difficulty. So May and June's hot period can be a challenge. But you just need to be careful. However, May is hugely beneficial to local communities as it is generally a period of low income."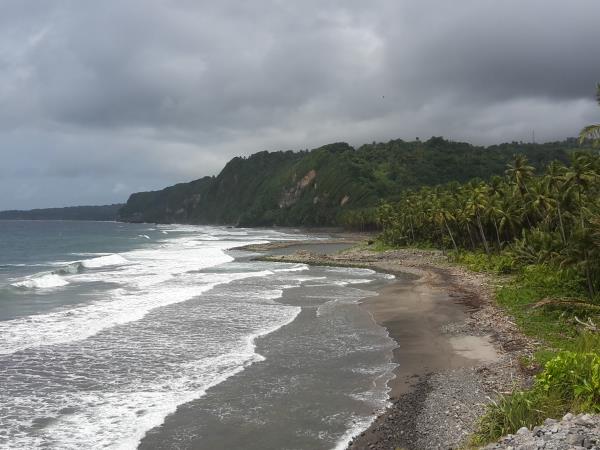 An easy vacation on the rugged Caribbean island of Dominica
From
US $

1600
8 Days
ex flights