DOMINICA WALKING ROUTES
---
MAKE THE MOST OF YOUR TIME
There is one thing that really stands out about Dominica's walking trails: they have a great focus on local people. The Waitukubuli Trail was created by a small group of local people who decided to map the informal back trails around the country that had linked one community with another for generations. And so that is what you find along the way. Small communities, such as the indigenous Kalinago people on the east coast. Or the small mountain communities in and around the volcanic Morne Trois Pitons National Park. Or the remote coastal communities right on the northern tip around Capuchin. And with so many expert walking guides on the island, you won't be short of a story or two, because this is a country that likes to walk and talk.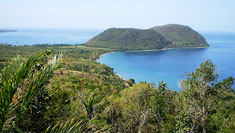 Cabrits National Park
Although this national park is only 5km², its stunning peninsular position on the north coast, also the final segment on the Waitukubuli Trail, captures so much of Dominican biodiversity. With superb hiking trails, many very accessible, you can lose yourself in nature here, walking through rainforests or wetlands and then hopping out to reefs for some cool down fun in the water.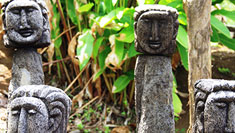 Kalinago Barana Autê Cultural Village
We have the 3,400-strong Kalinago population to thank for the name Waitukubuli as their indigenous language that was first used to name the island. And also the walking trail which passes through their cultural village. Founded, 2006 it is the tourist hub of their 15km² territory. With stunning Atlantic views, you can also gain great views on the island's ancient heritage.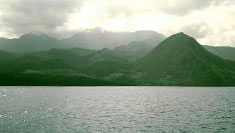 Morne Diablotin National Park
Founded to protect not only its voluptuous volcanic terrain, but also the precious habitat of the endemic Sisserou and Jaco parrots in the park's Syndicate Rainforest. You can hike along the Syndicate Nature Trail, very popular with bird watchers or, for a more challenging trek, you can take on the Summit Trail which takes you to the island's highest peak, Morne Diablotin at 1,447 m.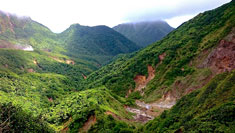 Morne Trois Pitons National Park
There are several Dominican divas competing for attention here – the 1,342m Morne Trois Pitons volcano, Titou Gorge, a 50m-wide lava heated Boiling Lake and the Valley of Desolation, where you have to negotiate steaming, sulphur streams. It may sound like a hike to the gates of hell, but this is, of course, hiking heaven, with many trails starting in the aptly named Laudat, Latin for 'praise be'.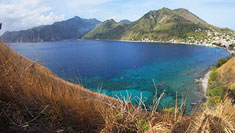 Scotts Head
A glorious send off point for the first segment of the Waitukubuli Trail. An idyllic isthmus separating the Caribbean from the Atlantic, its eponymous village is sheltered by an ancient volcanic crater which also overlooks the Soufrière Scotts Head Marine Reserve, with superb 'straight off the beach' snorkelling. Scotts Head is one beautiful bundle of protected prettiness. And for walkers, it's just the beginning.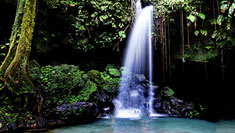 Waterfalls
With so many stunning waterfalls, Dominica has a tourist map to show them all off. The most popular are Trafalgar Falls, a dynamic duo known as Father and Mother at 85m and 40m. Less touristy are Sari Sari and Victoria Falls in the east, both involving adventurous hikes and river crossings to get there. Whether you are hiking there, swimming or abseiling, take a guide; flash floods do happen.


TRAVEL ADVICE
---
TIPS FROM OUR FRIENDS IN DOMINICA
Trekking tips
---
Michael Eugene from our supplier Jungle Trekking Adventures and Safaris shares his Dominica walking vacations travel advice: "Where possible, use the services of a guide – they add to the level of enjoyment and share interesting local stories. We are very friendly in Dominica and are eager to share in a conversation."
"After Tropical Storm Erica hiking activity is still quite brisk on the Trail, however the segments that run along the steep reaches have been affected, and steps and accesses into and out of rivers have gotten eroded and washed away in parts – these add to the adventure and degree of difficulty!"
Packing tips
---
Jem Winston from our supplier 3 Rivers & Rosalie Forest Eco Lodge:
"Always bring a flashlight, a light raincoat, insect repellent, some good hiking shoes (something good and comfortable – NOT brand new. And also, bring good hand luggage. Whatever airline or ferry you use, your bags will often arrive a day or two after you do!!"

Michael Eugene from our supplier Jungle Trekking Adventures and Safaris:
"Pack a light sweater or shawl – it could get chilly at night. Hat and sun screen help to protect from the sun. Also, sturdy hiking boots and a broad brimmed hat are a must. And have loads of drinking water – the heat and humidity will wear you thin."
Way of life tips
---
Jem Winston from our supplier 3 Rivers & Rosalie Forest Eco Lodge: "Please don't then arrive and expect everything to be as at home. It is not. Your favourite brand may not be available, you may get a power cut for a few hours, perish the thought, but internet might go off for an hour or two! Don't get frustrated. Take the time to enjoy the full beauty of Dominica, and don't stress out everyone around you on something that just needs a little patience."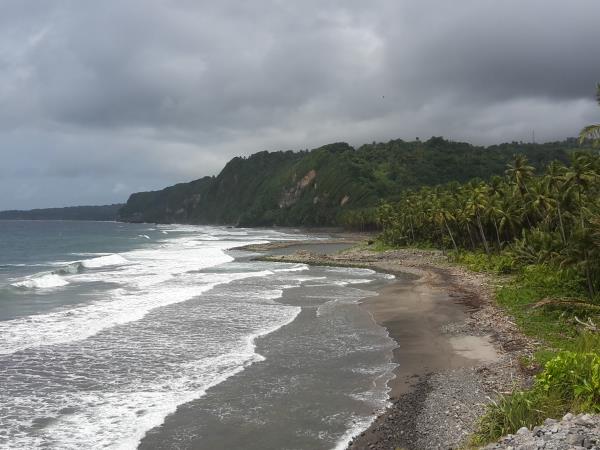 An easy vacation on the rugged Caribbean island of Dominica
From
US $

1600
8 Days
ex flights