Our top ecolodges
---
SASSY, SWITCHED ON AND SUSTAINABLE SLEEPS
Ecolodges are to be found in some of the world's most precious landscapes, such as the rainforests of Costa Rica or Ecuador, the wild and wonderful Alentejo region of Portugal, or the Konavle Valley of Croatia. They are all far from the madding crowd, and created by visionaries, conservationists and pioneers. They give you easy access to places like Yala National Park in Sri Lanka, the Atlas Mountains in Morocco or Caribbean gems like Dominica or Tobago. They come in all shapes and sizes, from wooden cabins overlooking English meadows to tented chalets in the tropics. They all have wonderful stories about how they evolved, communities they support and wildlife they protect. They aren't just ecolodges. They are ecool lodges.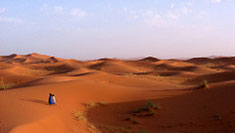 Atlas Mountains
There are two stunning features of ecolodges in Morocco: the Atlas Mountains and the Berber people. Our lodges pay homage to both, not only preserving the mountain wilderness but also the livelihoods of Berber communities. Choose between one in Imlil, the gateway to Mt. Toubkal, and one near Agadir. Both are winners of our World Responsible Tourism Awards, and winners with their guests, of course.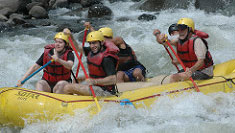 Costa Rica
Lie in a hammock, with nothing but book and binoculars at the Pacuare Nature Reserve ecolodge, surrounded by rainforest, but also within 'hearing the waves' distance of the Caribbean. Where 6km of protected beach is home to giant leatherback turtles. If the Pacific coast is more your thing, there is off grid gorgeousness to be had in the rainforest near Playa Dominical. More hammocks; more heaven.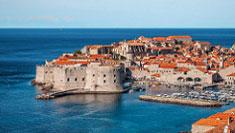 Croatia
Swap big resorts for this traditional stone and wood cottage in a vineyard in the Konavle Valley and be intoxicated by Croatia's natural beauty. This really is eco exquisite, with beautiful handmade furniture throughout, with each touch carefully thought through by the brothers who own it. And being at the heart of the local agritourism network, you won't be short of local produce to buy. Especially wine.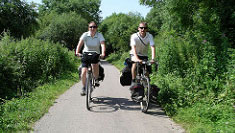 Devon
Not famous for ecolodges compared with tropical locations, Devon does have the crème de la crème, albeit on a farm rather than a rainforest. The farm is managed as a nature reserve, with three small wooden lodges (plus one larger one) in a butterfly and bird-filled meadow, and a stargazer's paradise. Using renewable energy, you will also feel renewed after cycling on nearby Tarka Trail or canoeing on River Taw.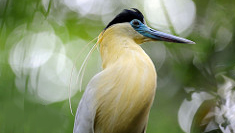 Ecuador
To experience Ecuadorian rainforest in exquisite surroundings, stay in one of the lakeside bungalows at the Napo Wildlife Center on Anangucocha Lake. Co-founded by non-profit EcoEcuador, the center lies within the ancestral lands of the Anangu Quichua, many of whom work as naturalist rainforest guides along trails where wildlife from toucans to tapir, monkeys to macaws are just a few of the forests treats.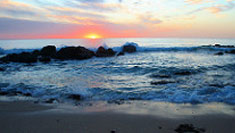 Gambia
The award winning ecolodge in Gunjur is an ambassador in truly responsible tourism. Built in 2002, its original builders are now managers. It's that sort of place. All employees are from Gunjur community, such as the birding guide who's also founder of Gunjur Cultural Heritage Museum. With traditional roundhouses and cabins, and within walking distance of the sea, this is not just an ecolodge; it's an exquisite eco community.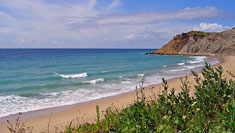 Portugal
Stay in the Southwest Alentejo and Vincentine Coast Natural Park in a sustainably built bamboo apartment, on a biodynamic farm that lives and breathes natural living. Cycle to Odeceixe Beach, or walk beside the stream that separates Alentejo from Algarve. Learn about building with lime, hemp and clay. Savour a landscape where donkeys are still to plough fields, and fish comes straight from the boat. This is pure Portugal.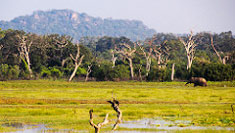 Sri Lanka
You know you've found a gem when every member of staff is an experienced wildlife tracker. Working hand in hand with neighbouring Yala National Park, stay in tented chalets with communal mud hut lodge for meals and mingling, all set in 25 acres of protected jungle. This is off grid 'candles instead of electricity' terrain, but with the best Sri Lankan curries and a dawn chorus that is virtually symphonic.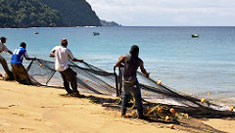 Tobago
The 15 wooden cabins overlooking Castara fishing village on northwest coast of this Caribbean island idyll are placed in such a way that you can't tell where the rainforest stops and the lodges begin. Nor can you see the dividing line between Castara the community and Castara the lodge. They don't serve breakfast, so you have to get out and sup local style. Live and laugh with local people – that's the Tobago way.


Ecolodge travel advice
---
TIPS FROM OUR ECO FRIENDS
Tips on what to do
---

Kathy Jarvis from our supplier Andean Trails and Napo Wildlife Center Ecolodge in Ecuador:
"I most enjoy wandering slowly and quietly along the paths cut through the Amazon forest, with the local specialist guides in search of wildlife. Night walks reveal an amazing array of creatures such as frogs and bats and gently drifting across the lake right in front of where the lodge is situated gives the best chance of watching the resident family of giant river otters."
Tips on what to do
---
Lars Sorensen, owner of Tree Tops Jungle Ecolodge, Sri Lanka: "The best thing to do here is to show up with minimal expectations, relax, be open and see what's going to happen. Be part of and feel the atmosphere of the rhythm of the jungle .The lodge team do take clients on local area walks for bird watching and landscape viewing in the morning and late afternoon, and of course Yala National Park is just 35 minutes away with world class leopard sightings."
Tips on what to do
---

Ian Ripper, owner of our supplier Wheatland Farm Eco Lodges in Devon:
"The Tarka Trail is a wonderful facility for all ages and abilities. An old railway line, it travels from the old clay pits at Meeth (now a Devon Wildlife Trust reserve) through deep countryside following the river Torridge to the estuarine habitat and then the sea. No big hills, good surface and fantastic scenery, with places to get refreshments in most towns along the way. "
Responsible Tourism
---
Mike McHugo, Kasbah du Toubkal ecolodge, Atlas Mountains, Morocco:
"If people are looking for one way to make a difference when traveling in the Atlas Mountains, they are already doing so by staying with us, as they automatically pay a 5 percent levy to the village association. The other best way to make a difference is to make a donation to
Education for All
, which gives opportunities for girls to be educated beyond primary education in rural areas of the High Atlas Mountains."
Keep an eye on the weather
---
Haanim Bamadhaj, from our supplier The Dusun Nature Resort in Malaysia: "It rains at 4pm pretty much every day in the rainy season which makes the perfect time to have a hot tea and watch the storm before the mists rise out of the jungle."
Ecolodge travel advice
---
TIPS FROM OUR TRAVELLERS
At Responsible Travel, we think the best people to advise our travelers are often... other travelers. They always return from our tours with packing tips, weather reports, ideas about what to do – and opinions about what not to.

We have selected some of the most useful ecolodge travel tips that our guests have provided over the years to help you make the very most of your vacation – and the space inside your suitcase.
If it's tranquility you are looking for, away from the heavy 'for tourists' area - this lodge is a must visit, but Sshh - don't tell too many people - it really is too good to share. My most memorable moment? Walking up the path and entering the lodge...the lovely flowers surrounding the gate, the relaxing seated area, the birds singing - it reduced me to tears of happiness." – Debbie Bradley at our Gambia vacation accommodation

"It really isn't that hard to get the train there. Honest… The couple who run the lodges picked us up /drop us off. Perfect. And the farm bikes are great for a quick ride up hill down dale to the pubs for lunch. There's a farm shop within bike/walk distance from the lodges which is lovely for a tasty pie or coffee." – Kath Cox on our Devon Ecolodge vacation

"Ensure that you spend the time talking to / visiting the native communities – even if your main purpose in going to the Amazon is to see the animals. It is a humbling experience to see how these people live." – Julia Saurazas at our Ecuador Ecolodge, Napa Wildlife Center

"If you are looking for a unique, peaceful, wonderful place where you can be totally immersed in nature then this is the place for you. But if you are looking for nightlife and you can't live without a hot shower then it's probably not for you... Our stay was an absolute dream from start to finish. Kamal and the team made us feel so welcome and the food was superb. The most memorable part has to be the wildlife we saw." – Nicola Round at our Sri Lanka eco lodge accommodation.

"I have reduced mobility (MS) and this ecolodge is possible as the staff are so helpful." – Mark Walker in Gambia

"Don't take too many clothes, you really don't need them. For all girls out there, be prepared not to dry your hair with a hairdryer or wear any make up, au-naturele is all that is required. Also take plenty of mosquito spray and sun cream, we went at the end of October and it was boiling." – Katherine Ford on Manda Island, Kenya

"Leave your watch behind. Because time just sort of stopped when I was staying at Castara. The rhythms there aren't based on clocks – they are the fishermen chanting as they pull in their nets, the back and forth of the hummingbirds at their feeders..." – Vicki Brown