Egypt & Jordan travel guide
Unlocking the ancient architecture of Egypt and the traveling trader heritage of Jordan creates a cacophony of cultural contrasts to enlighten and amaze in equal measures. This is your chance to explore beyond Petra and the Pyramids, as Bedouins invite you to spend the night in the desert folds of Wadi Rum and textile traders tempt you with their wares on the back streets of old Cairo.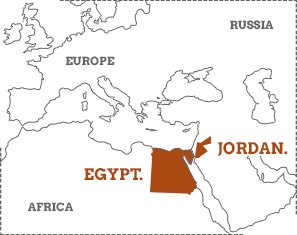 Although not neighbours – Israel and Palestine lie between – a tour of Egypt and Jordan works really well, especially with easy flights between the capital cities.

Small group tours are a great way to explore and share adventures with likeminded travelers, certainly if you're traveling solo; whereas tailor made trips and family vacations let you create your own travelogue, at your own pace. Our Egypt and Jordan travel guide tilts the top of the steaming stew pot you'll find from Amman to Cairo, to reveal the felucca rides on the Nile, the ruined relics of Jerash and Luxor, and so much more...
Egypt & Jordan vacations are…
a fascinating way to follow in the footsteps of Nubian Kings, Nabataean traders, Tintin and Snowy.
Egypt & Jordan vacations aren't…
just about the Pyramids and Petra. There are plenty of unexpected adventures to be had in these ancient lands.
Our Egypt & Jordan Vacations
Egypt & Jordan Map & highlights
You can travel between Egypt and Jordan in either direction, some of our tours include a flight from Amman to Cairo, or vice versa, at the midway point of your journey. We also offer options to hop on a ferry from Nuweiba to Aqaba or take a flight from Amman to Sharm El Sheikh. On the Jordan leg of the tour, travelers will experience Crusader castles and countryside along the King's Highway, from Jerash, just north of Amman, to Wadi Rum and Petra in the south of the country. Flying into Cairo brings you straight to the Pyramids and Sphinx on the outskirts of the capital, before sleeper trains lead south to Aswan. A felucca cruise on the Nile is as relaxing as it sounds, with the temples and tombs of Luxor, including the
Valley of the Kings
, creating indelible memories.
1. Aswan
2. Cairo & the Pyramids
3. Jerash
4. Luxor
5. Petra
6. Wadi Rum

1. Aswan
Set on the southerly banks where the Nile runs wide, Aswan is a relaxed and characterful city where Middle Eastern, African and Nubian influences meet amongst spice stalls, street souks and the riverside corniche. Take a boat ride to the temples on Philae Island that were rescued from the rising waters by UNESCO, as well as taking time out to enjoy a traditional Nubian lunch at a local village.
2. Cairo & the Pyramids
Organised chaos best describes Cairo's collision of contemporary and crumbling city streets, with countless collections of Egyptian art and antiquities exhibited everywhere from museums to markets to mosques. Explore alone or with a guide as you discover the secrets of Egypt's capital one alleyway at a time before heading off in search of Giza's Great Pyramids and the all-seeing Sphinx.
3. Jerash
Extending from downtown Jerash is one of the world's most intact examples of a Roman city, with colonnaded stone streets, all conquering archways and oval forums, many of which have only been uncovered from the sand relatively recently. Temple tours take in sweeping views over amphitheatres, baths, fountains, workshops and ancient athletic hippodrome.
4. Luxor
Make sure you approach Luxor along the Nile by felucca boat to really build anticipation levels. The East Bank supplies contrasting city sights where cosmopolitan café culture sits side by side with the colossal colonnades and temples of Karnak. Opposite, on the West Bank, the Valley of the Kings, and Queens, awaits where excavated tombs attract amateur archaeologists in reverential single file.
5. Petra
Amongst the ancient highlights of Egypt and Jordan there's one that often stands out as the epitome of architectural prowess: Petra. Stepping through the sandstone slither of Al Siq reveals the Rose City at her most dramatic before further investigations, up steep steps to Al-Deir Monastery, provide more points to pause overlooking the desert dunes of Wadi Araba and the Jordan Valley.
6. Wadi Rum
Let tales of Arabian nights inspire you as you venture into the mountainous desert scenery of Wadi Rum on an exciting Jeep safari. Exploring one of Jordan's most spectacular landscapes is one thing, but becoming the guest of Bedouin hosts is quite something else. A traditional welcome, an open fire and a star-filled desert sky at night – absolutely unforgettable.
Our top Egypt & Jordan Vacation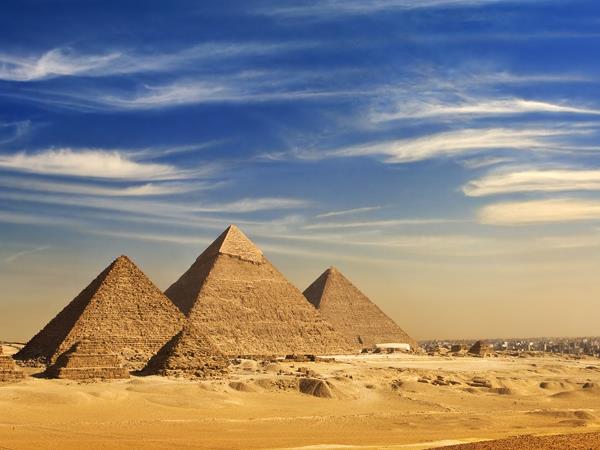 Adventure tour the Pyramids of Giza, Petra & the Holy Lands
From
US $

2985

to

US $

5049
19 days
ex flights
Small group travel:
2019: 8 Jun, 6 Jul, 10 Aug, 7 Sep, 14 Sep, 5 Oct, 19 Oct, 26 Oct, 2 Nov, 16 Nov, 30 Nov, 14 Dec, 28 Dec
2020: 11 Jan, 25 Jan, 1 Feb, 8 Feb, 15 Feb, 22 Feb, 29 Feb, 7 Mar, 14 Mar, 21 Mar, 28 Mar, 4 Apr, 11 Apr, 18 Apr, 25 Apr, 2 May, 9 May, 16 May, 23 May, 6 Jun, 15 Aug, 22 Aug, 29 Aug, 5 Sep, 19 Sep, 26 Sep, 3 Oct, 10 Oct, 17 Oct, 24 Oct, 7 Nov, 21 Nov, 5 Dec, 12 Dec, 19 Dec
If you'd like to chat about Egypt & Jordan or need help finding a vacation to suit you we're very happy to help.
More about Egypt & Jordan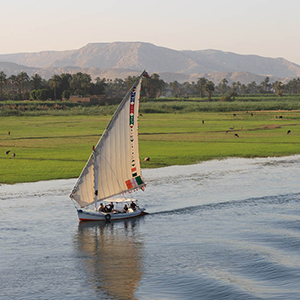 Is this region too hot in summer? Too cold in winter? More comfortable in between? Find out the best time to go to Egypt & Jordan by reading our month by month guide. Also, this page features travel advice from our responsible travelers and our specialist tour suppliers to ensure you know all you need to know about traveling overland, and in the air, within both countries.
Convert currencies