Don't skip the Peloponnese
Nikos Kritsinelias from our supplier Land Life highlights the pleasures of delving into genuine mainland life in his Greece travel advice: "The Peloponnese is an emerging destination and we know its secrets and traditions better than anyone. Our aim is to create strong emotions and memories through participation in the way of living of our country: distinctive gastronomic experiences such as wine roads and olive roads; cultural activities like religious tourism or learning traditional Greek dances! Our guests will live a unique travel experience, by participating actively as locals and not just one more member of a group. We're sure all our visitors will return different from their journey in Greece, filled with memories and richer in knowledge."
Get off Spain's beaten track
Tom Powers, from our supplier Pura Aventura, has spent 20 years working in Spain – and says it still surprises him. He shares his Spain travel advice: "Just go. You think you know Spain; you think you've been there – but you don't. You could spend your life in the country, but you'll never know it. There's almost not a town in Spain that you couldn't go and spend a few nights in. Every village has a story, its own wine, its cuisine... the hotels are amazing quality, even in the middle of nowhere, beautiful hotels that belong in the pages of an interior design magazine. But it'll be £100 a night; in the UK it would be closer to £300 and the food would be disappointing!"
Try refuge trekking in France
Robert Mason, from our supplier Mountainbug, shares his advice on refuge trekking:
"Refuge trekking along the high Pyrenees and Alps is a great way to explore some paths that are completely wild. Between points you stay in refuges, which are like small mountain hostels, a bit like a youth hostel in that it's very communal with communal bunks, but in which you get a really good cooked meal and the chance to meet some interesting people. From mid-July, you can do high-level refuge trekking trips that can last for up to 40 days and travel right the way across the mountains. That's a perfect time to come because the snow has melted and you can access high areas without crampons, ice axes and all the specialist gear. People worry that summer is too hot to trek in, but it's not, for every 100m you travel up, you lose a degree in heat, so August is comfortable too – say you're in the Pyrenees at 1,300m, while it's 30 degrees down in Toulouse, you'll be walking in the far more temperate 20s."
Respect Croatia's tricky past
Croatia travel advice from Ivana Grzetic, from our supplier Adria Adventure:
"Don't talk too much about the past, as people are still sensitive regarding the 1990s. Remember that a lot of these people have been through the war, and so it is nice to be a little bit humble when talking about it because you never know what happened to somebody's family. This applies mostly to the Dubrovnik region that was affected the most. If you do want to talk about it, inform yourself about it before you go."
Our top Europe Vacation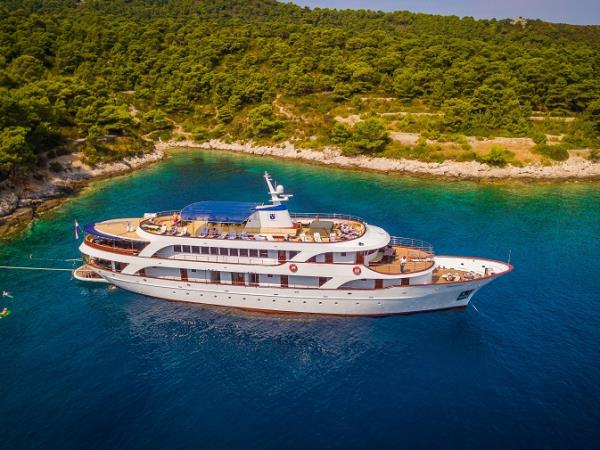 Cruise Split to Dubrovnik in luxury via Croatia's islands
From
£

899
8 days
ex flights
Small group travel:

If you'd like to chat about Europe or need help finding a vacation to suit you we're very happy to help.

HEALTH
If you are camping or hiking in summer, be wary of ticks. Carry tweezers so you can remove carefully, apply a deterrent and then suncream afterwards.
Tap water is a bit of a gamble in Europe – in France and Croatia for example, it's clear as crystal from the tap and you should bring a refillable bottle. In some rural areas of Greece and Romania on the other hand, it's not so safe – check the recommendation for your destination before you guzzle.
Comprehensive travel insurance is essential;, but some policies exclude 'dangerous' activities such as diving, skiing and trekking, so make sure you read the small print.
For EU citizens, holding a European Health Insurance Card (EHIC) ensures reduced-cost, state-provided healthcare cover for any medical treatment that you may need in certain European countries. Each family member will need a separate card.
Summer temperatures can be searing across parts of Europe. Andalucia, southern Italy and inland Portugal, Spain and Greece are particularly oven-like, with temperatures reaching well over 40°C. If planning anything active be sure to have plenty of water and preferably take a break between 12-4pm to avoid the risk of sunstroke and dehydration.
Rabies can be found in dogs, bats, and other mammals in Montenegro and Romania, so avoid touching animals, particularly the huge number of stray dogs in Romania.
SAFETY
If you are sea kayaking or sailing, always wear a buoyancy aid and ensure it is fastened properly. Especially with children, who can slip out of them easily.
If you are hiking, let someone know where you are going and when you plan to be back.
Since the end of the wars in 1995, there are still thousands of landmines in Croatia. Not in tourist areas, thankfully, and areas which are suspected to have mines are marked with mine warning signs. But do talk to a local if you are going off the beaten path.
If you have some free time in France and find yourself wandering near any signage saying 'chaseurs', 'chasse gardee', wander right back to where you came from – this indicates a hunting area. A round a dozen people (mostly other hunters) are killed, and 200 injured each year after being accidentally shot by hunters.
Cyclists in particular should be careful on roads as Greek drivers often like to drive fast and not always in the lane you might expect. Take special care on narrow roads and corners.
Greece is home to some dangerous snakes, including the viper, coral snakes and adders. To minimise bite risks always wear boots, socks and long trousers if walking through undergrowth in rural areas.
Look out for wildlife wherever you are; Europe is much more wild that people may think.
Very low alcohol limits are permitted for drivers across Lapland – just 50mg per 100ml. Attitudes to drunkenness in are also very different to the UK. You can be arrested for being drunk in public and any drink driving is likely to be punished severely.
Always check weather forecasts and information on other local conditions (e.g. crevasses on glaciers) before setting out cross-country – hikers and skiers have died after ignoring advice. Conditions can become treacherous almost any time of the year in Lapland and Finland particularly, apart from in July and August, as well as in high mountains such as the Alps, Pyrenees, Sierra Nevada and Picos de Europa.
Tracking bears in the wild is one of Romania's unique experiences. But never forget bears are large dangerous natural predators who are not there to pose for you. If camping, pitch tents in open spots where bears can see you clearly, and keep rubbish and used sanitary material in sealed bags. And when walking through dense forest, make some noise (talk loudly, whistle, sing) so bears knows you are there.
Most beaches outside of the popular resort areas are unguarded, especially outside of the peak season, although flags are often used to indicate safety. Do not enter the water if there is a red flag, undercurrents can be extremely strong – Portugal is particularly dangerous for this, as well as strong and unexpected waves. Keep an eye out for jellyfish as well.
The good news is that there are a huge number of blue flag beaches where you can be confident of clean water.
For further information on health and safety across Europe, please visit the
FCO
or the
CDC
websites and refer to your chosen destination.
Tips from our travelers in Europe
At Responsible Travel, we think the best people to advise our travelers are often... other travelers. They always return from our tours with packing tips, weather reports, ideas about what to do - and opinions about what not to.

We have selected some of the most useful Europe travel tips that our guests have provided over the years to help you make the very most of your vacation - and the space inside your suitcase.

Greeks eat their evening meals at 9pm or later and lunch is sometimes a mid-afternoon affair.

"Bring waterproofs! We had five solid days of sunshine, but even in these conditions, a waterproof coat and trousers come in very handy for dingy launching and riding, lobster pot launching and retrieval etc where splashing at the very least is inevitable." – Sophie Hood on our wildlife sailing vacation in Scotland

"Be aware of language differences in Romania. Up in the mountains they do not speak Romanian - they speak Hungarian! Your Romanian phrase book will not help you here!" – Mark Stickley

"This vacation can be as active as you make it, but I would suggest taking advantage of the water-based activities in Montenegro. I was particularly lucky to hitch a ride to the coast with a couple staying in the villa on our day off. I found it would have been easier to hire a car, but it's definitely do-able without one." – Mandy Reynolds on our kayaking vacation in Lake Skadar

My jaw dropped at the first view of Dubrovnik but better was to come. The islands were absolutely beautiful, but, most of all I loved my experiences with the people of Croatia... they were honest, friendly, approachable

"In Lapland, it's easy to put too many layers of clothing on when doing sporting activities such as skiing. The warm winter clothes they supply are excellent, so all you need are some thermals for a couple of days." – Thomas White

"When walking in the Italian hills, or up Vesuvius, think skiing - if you let anything slip it could quickly be lost forever, so I had my glasses on a chain and used the wrist strap on my camera, etc. And keep 50c coins handy for automated public toilets!" – Juliet Dunn

"I went to the Azores with the hope of seeing maybe one or two whales but what I saw each day surpassed that expectation. I had a fantastic time and have to admit to having a lump in my throat when I saw my first blue whale. If I was asked would I do it again – YES! In a heartbeat." – Barbara Watt