Family cycling trips abroad
---
TOP PLACES TO PEDAL WITH KIDS
Certain destinations seem made for family cycling vacations. Sweden, France and Spain are top choices, as quiet trails and level routes make for safe, easy, child friendly biking. Kids get a warm welcome here, too, and you'll get a warm feeling, not just from the exercise, but from seeing your young ones pedalling through sensational scenery without a care in the world. Jumping off to swim in a Catalan lake or catch a ferry between islands turns a cycling into a true adventure. And why stop there? Head to Africa for a guided cycling tour, discovering Kenya and Tanzania by bike, with days out of the saddle for game drives proving the icing on this tempting cycling cake.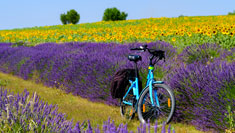 France
While the Tour de France tackles the peaks, family cycling here follows the level cycle paths, quiet lanes and forest trails that criss-cross the country. Routes come preloaded with highlights to aim for and stop off at, such as cycling between chateaux in the Loire, with endless opportunities to picnic on patisserie goodies to fuel the next stage.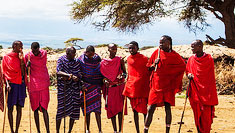 Kenya & Tanzania
East Africa isn't the obvious destination for a family cycling break, but biking is a unique way to explore Kenya and Tanzania. Cycle through open savannah, mountain rain forest and tropical coastline, passing local villages and meeting the Maasai, with a guide and support vehicle as back up. Break from biking, too, for game drives in wildlife hotspots such as the Ngorongoro Crater and Amboseli National Park.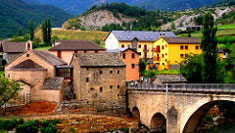 Spain
Catalonia is family biking heaven. Most of the cycling is on trails closed to cars through hugely varied scenery, so you can pedal to lakes and wetlands one day, medieval villages and beautiful coastline the next. Kids are welcomed with open arms everywhere, and flexible vacations that allow time for swimming, horse riding or perhaps exploring Barcelona ensure the cycling never feels too much.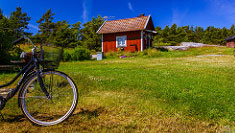 Sweden
Sweden's family-centric culture puts parents and kids at their ease and cycling here suits everyone. The terrain, particularly on Stockholm's archipelago, is easy going, and the tracks are safe and largely traffic free, with self guided trips including good maps and luggage transfers. You can also enjoy a day's cycling through Stockholm's Ecopark, a green oasis packed with cultural heritage and natural features.


Family cycling abroad advice
---
TIPS FROM OUR FRIENDS IN THE KNOW

Carmen Hamdi, founder of our supplier Nordic Trails, has advice on cycling in Sweden:
Cycling in Sweden with kids
---
"Even in the busiest summer season, Sweden is relatively quiet and less stressed than much of Europe, with little queuing and plenty of space and freedom for children. The society is very child-friendly and safe. Cycling in the Stockholm archipelago is popular with families because the distances are rather short (never more than 38km) and some days are also flexible. Here or in the countryside around Stockholm there are plenty of opportunities for swimming, as well as boat trips to add variety. Sweden is child friendly and kids are welcome everywhere. The routes are often away from the traffic and when they are on Tarmac roads they are rarely busy."
THE JOY OF SELF GUIDED CYCLING
---
"You don't follow set trails with sign posts and markings, but you are given very good maps and route instructions and I can safely say that this has worked well, with very few people getting confused about where to go! Actually following the map and making your way from A to B, rather than just following a set route which is all marked out, is also to a certain extent a part of the trip. It adds a sense of achievement to the day!"

Fiona Smart, from our supplier, Mas Pelegri, on why Catalonia is a great family cycling destination:
"It's brilliant for families as you can take any child of any age to any restaurant. They're really happy with families – it's not like the UK! There's lots to do for children of different ages, for toddlers up to 18 year olds. It's a family destination in the school vacations as there are so many adventure activities and outside activities – the weather is such that you can be outdoors and enjoying the countryside – walking, cycling, mountain biking, canyoning, kayaking, rock climbing, quad biking, rope courses, ziplines,... there's so much to do, it's an adventure playground!"

Vivian Campbell, from our supplier Cycle Catalan, who is based in the region of Girona, shares her top tips for cyclists in Catalonia:
TIPS FOR CYCLING FAMILIES
---
"For families we offer the cycle and relaxation tour, and that's very popular for people who come with children in the vacations. We receive inquiries from families who want to do some nice cycling, as well as different things – some beach activities, a little bit of walking; it's more informal."
Packing tips
---
"We always ask people to bring a mobile phone because it's really important that they keep in touch with us if there's an emergency, or if something happened with the bike – then we can pick them up. We do always say bring sun screen even in April or October because if you're out cycling all day you can get a bit of sunburn on your wrists. Also, mosquito or insect repellent; people think that it's Spain and you don't really need it but actually you do in the evenings if you're out and about or at a restaurant. And a camera – always bring a camera or your iPhone; make sure you can take that nice photograph of the vineyard or the grapes and harvest. Capture that moment!"
Tips from our vacation reviews
---
ADVICE FROM THOSE WHO HAVE BEEN THERE
At Responsible Travel, we think the best people to advise our travelers are often... other travelers. They always return from our tours with packing tips, weather reports, ideas about what to do - and opinions about what not to.

We have selected some of the most useful family cycling travel tips that our guests have provided over the years to help you make the very most of your vacation – and the space inside your suitcase.


"Bring something thoughtful to share with the school in Tanzania. It is such a special experience." – Dan Cobley in Kenya and Tanzania

"Take a day or two in Stockholm before the tour starts. It's a very walkable city. But use the bikes for one day and don't miss the cycle out to the Sodra Djurgarden!" – Sue McNuff in Sweden

"Just go for it. You don't need to be a mega cyclist to enjoy the family vacation." – Monica Szolin-Jones in Kenya and Tanzania

"The biking routes are quite difficult, good for our active teenagers but maybe not suitable for all." – Rachel Camina in Catalonia, Spain

"It was very hot in August, although still possible to cycle." – Sara Bodey in Catalonia, Spain

"Don't worry if you go off the beaten track – just enjoy it!!!" – Margaret Steventon in Catalonia, Spain