FINLAND WALKING HOLIDAYS TRAVEL GUIDE
---
2 MINUTE SUMMARY
Finland features quite outstanding wilderness areas. Its boardwalks over bird-abundant wetlands, and easygoing routes past pristine lakes and lichen-covered spruce, ensure summer strolls are as satisfying as blue skies and blueberry pancakes. Walks don't stop when the snow falls, however, and as this is when snow shoes come into play. This does require a certain element of exercise though, if you were thinking it was going to be all downhill. Another, relatively energetic, Finnish pastime is hiking with huskies. This involves a harness, a dog and a fair bit of core control as you embark on a power-assisted hike that benefits the dogs and local people just as much as walkers. Finally, Finns have thought of everything when it comes to alleviating walking-related aches; from hot tubs and saunas to strong coffee and picnics around open fires, Finland is where enjoying the outdoors in all four seasons really comes into its own.
Walking in Finland is...
about being at one with nature and
enjoying each and every moment away from the modern world.
Walking in Finland isn't...
your average walk in the park. Its can require a
certain level of fitness
to get the most from your vacation.
WHAT DO FINLAND WALKING HOLIDAYS ENTAIL?
---
Responsible Travel recommends
Walking through the seasons
---
The beauty of walking in Finland is that you can do it all year round with wilderness trails through pine and spruce forests equally as rewarding when decorated with wild berries and mushrooms
during the summer
, or a blanket of thick snow in winter.
In winter though, there is only one way to get around on a walking vacation here. If you've never tried
snow shoeing
then we highly recommend it. It's not technically difficult, and although you'll need to be relatively fit it's no more taxing than hiking, and suitable for all ages from 17 to 77. Daily distances are about half of those on a hiking vacation; 7km will usually take about six hours and experiencing Hossa and Oulanka National Parks covered in snow makes braving the cold all the more worthwhile, especially when followed by the obligatory sauna or a dip in an outdoor hot tub. All kit is supplied, including cold weather gear, a rucksack, thermos and snow shoes. Just put your best foot forward and away you go.
Small group vacations
---
Whether you're wearing hiking boots or snow shoes, guided small group tours (from two to 12 people) are a great way to walk in the wilds of Finnish Lapland and Kovavaara, without worrying about accidentally wandering into Russia. Average daily distances range from 12-20km. Accommodation in hiking huts and locally owned guesthouses allows walkers to get to grips with rural life as they explore ever deeper into old growth evergreen forests. Hiking and snow shoeing with a guide who knows the natural and social history of the area is incredibly rewarding and there's nothing more authentic than a freshly brewed coffee over an open fire to help you feel fully Finnish.
Walk with dogs
---
Another walking vacation format where Finland excels is hiking with huskies. Not only is this a great way to enjoy the great outdoors but it's also fantastic exercise for the dogs – who have busy winter seasons pulling sleds, but often struggle to get out and about enough during the snow-free summer months. Huskies are incredibly intelligent, loving and loyal creatures, and walking 12km with the same dog – every day if you wish – lets you bond with your husky, as well as participating in a traditional Finnish activity that benefits both the natural world and local people living in these remote, rural regions.
Walking in Finland is great for discovering traditional lifestyles within a wonderfully wild environment. You'll find everything from bogs, swamps and marshlands to vast taiga forests leading to crystal clear lakes and waterfalls, during and experience that's as Finnish as saunas and lingonberry pancakes.
BEST TIME TO GO ON A WALKING HOLIDAY IN FINLAND
---
TEMPERATURE & RAINFALL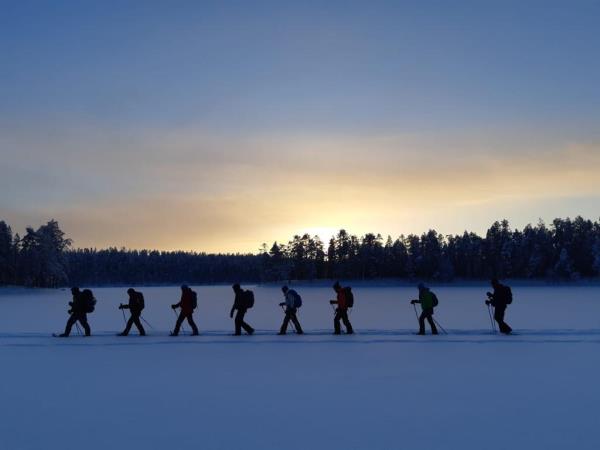 A hut-to-hut snowshoe tour in beautiful Hossa National Park.
From
€

1000
7 Days
ex flights