WHERE TO GO WALKING IN FINLAND
---
FINLAND WALKING MAP & HIGHLIGHTS
One of the best places to go walking in Finland is the uninhabited
Wild Taiga region
, along the border with Russia. Around the town of Kuhmo, in Kainuu, is prime hiking country, with well managed trails through ancient spruce forests in Martinselkonen Nature Reserve and boardwalks over swamps and pine heaths in Hossa National Park. If you're looking to go hiking with huskies, head north to the wetlands and old growth forests of Teerisuo-Lososuo Mire Reserve, some 35km from Kuhmo. For
snow shoeing
, continue to Oulanka National Park, in
Finnish Lapland
, where the 80km Karhunkierros Trail and nearby Riisitunturi National Park offer access to snow-bent scenery as well as helping to support reindeer farmers on Kärpäskelhä pasture land.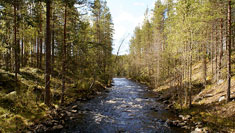 Hossa National Park
There are around 90km of circular and connecting walking trails within Hossa National Park. These take you through pine forests and around lakes as well as over swamps and marshlands via a series of sturdy wooden walkways. Trails are pretty easy going and ideal for those wishing to keep an eye out for swans, cranes and tell-tale signs of wolverines as well as wild blueberries if walking in August.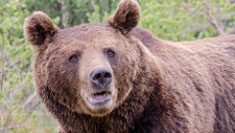 Martinselkonen Nature Reserve
Set within the taiga forests and wetland areas of eastern Finland, close to the Russian border, Martinselkonen Nature Reserve provides protection for moose, spruce and brown bears as well as walking trails over swamps and marshlands surrounded by old growth forests shrouded in lichen. Follow a 16km trail past the bird-abundant lakes and ponds, en route to a cosy cabin on Arola Farm.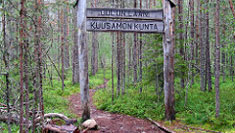 Oulanka National Park
The 80km Karhunkierros trail takes in Oulanka National Park's most spectacular scenery including a sublime snow shoe trailknown as the Little Bear. This leads over suspension bridges and the banks of the River Kitka before heading up to the Kallioportti viewpoint for pines for as far as the eye can see. This is Finnish Lapland at its best, with walks to lakes and waterfalls often best experienced coated in snow.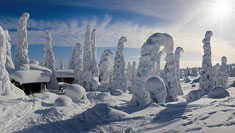 Riisitunturi National Park
Come for more than 40km of hiking trails and stay for the sloping bogs as Riisitunturi National Park, in Finnish Lapland, is blessed with both as well as fantastic hilltop views to make uphill aches all but disappear. Winter walks in Riisitunturi can be so surreal, with giant spruce contorting under heavy white cloaks to create wondrous white monsters either side of snow shoe trails.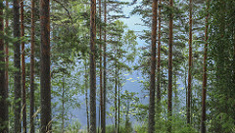 Teerisuo-Lososuo Mire Reserve
A vast expanse of open mires stretch to swathes of spruce and untouched islets, covered in old growth forests, to offer trekkers a 12km trail in quintessential Kainuu country. Hiking with a husky on a harness and a knowledgeable local guide is one of the best ways to experience Teerisuo-Lososuo Mire Reserve. Pristine pines reflected in vast lakes add to a really unique walking experience.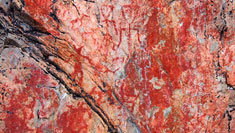 Värikallio rock paintings
The Värikallio rock paintings are one of Hossa National Park's highlights, and there's a 16km hiking trail and 7km snow shoe equivalent which lead directly to the observation platform over Lake Somerjärvi. Take your time to enjoy coffee and sandwiches next to an open fire in a traditional Finnish kota, surrounded by snow-covered scenery, and scenes of the Stone Age will never be far behind.


FINLAND WALKING HOLIDAYS ADVICE
---
TIPS FROM OUR FRIENDS IN FINLAND

Urpo Heikkinen, from our Finnish supplier Upitrek, offers advice for snow shoeing and walking in Finland:
Get set for snow shoeing
---
"You don´t need to be super fit or an athlete, but it makes your vacation more enjoyable if you are fairly fit. Snow shoeing is very easy, technically, so any exercise beforehand, like walking, cycling or swimming, will help you get in shape. When we snow shoe in a group it is always flexible, and those who are in better form can go in the front where the snow is softer and therefore harder to walk and those who are not that fit can walk in the back on the harder, easier track. Age is not a limit; someone who is 75 years old can be as good as a 30-year-old."
What to expect
---
"Expect plenty of trees but not so many people. We have just five million people in Finland, and so many walking trails that you can usually walk on your own. Don't expect massive wildlife safari options like in the jungle; there are animals like elks, reindeer and bears but they are afraid of people so it is not that easy to see them. There are wilderness cabins that are simple but clean and nice, and these are free to use for everyone. Plenty of commercial accommodation is available too, from hotel rooms to simple cabins. Walking trails also vary a lot; some are very easy and flat whilst some are more challenging and go more up and down."

Aki Käräjäoja, from our Finnish supplier Routa Travel, shares his passion for hiking with huskies:
Hiking with huskies
---
"Basically, hiking with huskies is walking with a husky dog. Each person gets a husky to hike with and a belt which is attached to a leash with shock absorber. Your hands are free. The huskies are wearing the same harness as in winter when pulling the sled. The idea is to slow down the dog, not to run. Huskies are born to pull which means they do help the hiker when going uphill – especially at the beginning of the tour. Going downhill, one gets a good thigh and core workout as it takes some power to avoid running."
Benefits and bonding
---
"Our dogs are very social and enjoy meeting new people. They truly enjoy going for a walk where they get their own person to work and bond with. It is good physical exercise for dogs but even more for their minds as they get to explore and study new surroundings. For travelers, it gives a great opportunity to bond with huskies and it is also a very good workout for some muscles people do not normally use that much when hiking. The huskies are also very happy and positive and share this spirit with their hiking companions."
Husky hiking vacations
---
"We usually walk around 12-16km per day. However, as we mostly deal with small closed groups we tailor the level of activity to each individual tour and can do longer or shorter days as there are many trails to choose from. The terrain is not very hilly; most trails lead us through old-growth forests and peat bogs. There are some technical parts with stones and tree roots but mainly fairly easy terrain for walking; wet places, like peat bogs, have wooden duck boards. It is good to be reasonably fit for hiking with huskies but not more than for normal hiking. Downhills can be hard if one has problems with back, knees or other joints. However it is possible to also hike with a husky that is not pulling so strongly and then it is more or less similar to normal hiking."
FINLAND WALKING HOLIDAYS TRAVEL ADVICE
---
TIPS FROM OUR TRAVELLERS
At Responsible Travel, we think the best people to advise our travelers are often... other travelers. They always return from our tours with packing tips, weather reports, ideas about what to do – and opinions about what not to.

We have selected some of the most useful Finland walking vacation tips that our guests have provided over the years to help you make the very most of your vacation – and the space inside your suitcase.
"We'd never heard of husky trekking before, but now we are raving about it – so much easier and more fun than normal trekking! Also, the scenery was fantastic – pristine pine forests dotted with lakes but the most enjoyable part was getting to know our guide, Aki, and of course the dogs! We each had a dog on a harness that pulled us along – power assisted hiking! Our lunch spot was lovely; as were the pancakes we cooked and ate with wild berries (blueberries) from the forest." – Responsible Travel's founder Justin Francis went on a husky hiking vacation in Finland

"The entire week was an amazing experience, but I particularly liked staying overnight in the remote huts without electricity. Furthermore, seeing the Northern Lights was like a dream come true. Even though the walks were not really very long, and you might be expecting a more challenging week, you will be tired in the evening." – Dani Rotzetter

"Pay attention to the suggested list of clothing; it is cold and clothing will get wet. Bring a bottle for both hot liquid and another for cold liquid. Cross-country ski pants are better than down-hill pants." – Richard Wisentaner

"I loved the frozen trees at Riisitunturi; the ability to walk all day without meeting anyone else; learning how to make a fire in a snow pit and cooking reindeer sausages in the open air; spotting fresh wolverine tracks and bear markings. Evenings are spent around a roaring fire in the main lodge, or in the sauna. Airport transfers are in warm buses. They recommend you bring your own vest and long johns - I'd add a decent hat, scarf, sunglasses and thin gloves so you can operate your camera without your fingers falling off." – Jay Sivell on a snow shoeing vacation in Finland

"I thought that 'winter equipment provided' meant snow shoes, skis and boots etc. but all clothing (plus thermos, head torch and rucksack) was also available to borrow - no need to pack anything other than a few base layers and something comfortable for the evening. Having said that, it was nice to wear my own ski gear but don't buy things if you don't already have them....except maybe a balaclava for the minus 30 days!" – Pauline Hawes on a Finland snow shoeing vacation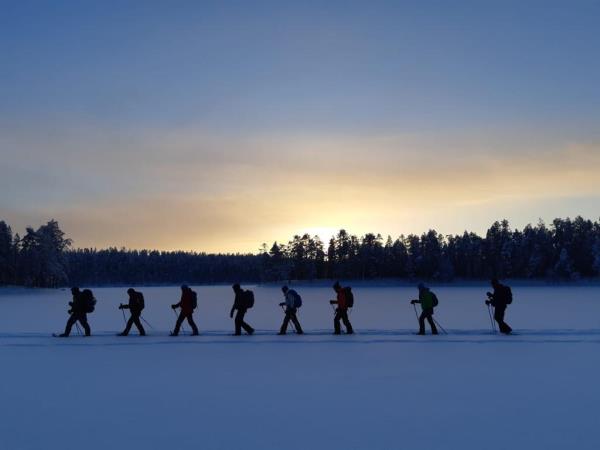 A hut-to-hut snowshoe tour in beautiful Hossa National Park.
From
€

1000
7 Days
ex flights