Flight free rail vacations
When the UK's Rail Delivery Group announced that it was pulling out of the legendary Interrail scheme in August 2019, the uproar was loud enough to be heard even among the generally furious tenor of the ongoing Brexit saga (the decision, apparently, was unrelated to Brexit itself but the timing lent itself to scepticism). So controversial was the move, that just one day later it was reversed so that inbound train passengers on the Eurostar – whether European or not – could continue their journeys beyond London without being put off by the often eye-watering ticket costs of train travel in the UK.

And so while the Brexit process to date makes lifeboat management on the Titanic look slick and professional, the UK has at least managed to preserve one of the great benefits of a harmonic relationship in Europe.

The Interrail scheme was launched in the early 1970s, allowing young Europeans limitless travel around the continent for a month, with adult passes were introduced in the late 1990s. The Eurail scheme is pretty much the same thing, but for non-Europeans.

Interrailing became a new Grand Tour, a rite of passage for generations of young people, enabling them to enjoy cultural exchange, foster friendships that would endure for their whole lives, and consume staggering quantities of alcohol from Helsinki to Naples. In 1991, 29 European countries took part and 400,000 passes were sold. But by 2005, that had slumped to just 100,000.

The reason: the European Union began deregulating its airspace in the mid-1990s. A proliferation of new destinations appeared, served by a swathe of budget airlines and small airports, and suddenly it no longer seemed so glamourous to travel Europe by train when the journey could be made cheaply and in a fraction of the time by plane.
But although the flame of rail travel in Europe was flickering – witness the sad disappearance of so many sleeper trains in recent years – it looks as though it is now burning strongly again. In 2018, 300,000 Interrail passes were sold, around a third of them to travelers aged over 27. There is renewed interest in seeing Europe by train, in slowing things down, and keeping your vacation's carbon footprint to a minimum.
Lauren Hammond, from our Europe rail travel partner Euroventure, explains: "We have a commitment to sustainability, so for all of our trips we show the carbon emissions savings you make by taking the train. Our four-week Whole Hog tour through 12 cities uses just 200kg, whereas the equivalent journey by air would use 1,206kg." Pretty impressive, right?
Flight free rail vacations are those where you have no final destination – where you travel from A to B, and then on to C, and D, and E and beyond. Where the appeal is the journey itself, and the endless possibilities that a rail pass can give you. But if the most time you normally spend on a train during your vacations is getting to and from the airport, how do you start?
Our Flight free Vacations
"People often don't realise they can do these massive trips without flying, or how convenient they can be," advises Lauren. "There are no hours waiting around in the airport, no worries about overweight luggage or bags going missing. And some of the distances involved are actually quite short, so they don't take much more time than flying anyway."
Euroventure specialises in self guided and independent trips by rail, plus guided small group tours. The latter is ideal for young people fresh out of school or university wanting to broaden their cultural horizons, make friends easily, and capture the obligatory selfies in a host of beautiful European cities. But crucially, they also offer the ability to build your own bespoke rail itinerary.
"Our trip planners create a logical and realistic route, incorporating the train as well as the bus and ferry if necessary," says Lauren. "You choose the level of accommodation you want, from shared room in a hostel dorm up the scale, the standard of transport you want, and what activities you'd like to be included at each stop, if any. We put it together entirely tailor made, wherever you want to go. Especially if you want to go for a longer multi-destination trip, which can be intimidating. It's massively convenient to have someone come in and arrange everything for you."
Time restraints and complexity are the two main issues that put many people off going on vacation by train. Putting it all in the hands of experts who can oversee everything from booking tickets to making seat reservations and providing walking directions between pre-booked accommodations and stations, means total peace of mind. The only thing you'd need to sort out yourself is your travel insurance.
Our top Flight free Vacation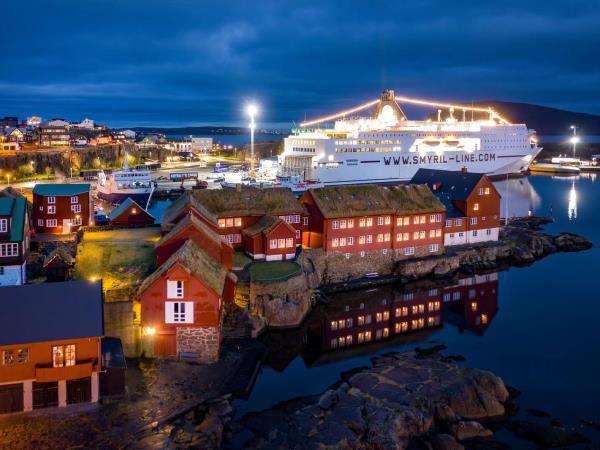 Amazing opportunity to travel flight free to Iceland
From
£

4980
15 days
ex flights
Tailor made:
This trip can be tailor made throughout the year to suit your requirements
If you'd like to chat about Flight free or need help finding a vacation to suit you we're very happy to help.

Is a European rail vacation
right for me?
"While our group tours are mainly aimed at people aged 18-35, we get a big mix for our self guided trips, including families who want to do something a bit different," says Lauren. "Our most popular trip is one we call the Whole Hog. It's a bucket-list four weeks seeing as much as possible and great for anyone not wanting to travel alone."

If you're new to traveling around Europe by rail, then even with an Interrail pass in your pocket it can seem a daunting prospect to get further than Paris. Potentially, you've got to juggle the language and timetables in several different countries. That's why there is a clear advantage in using responsible tour operators such as Euroventure that can put together practically everything for you step by step, allowing you to build up your confidence and capability.

Plus, if you're interested in a more environmentally friendly way of traveling, going by rail allows you to substantially cut your carbon footprint while still covering a lot of ground in a short space of time.