Fort Myers & Sanibel hotel guide
Fort Myers & Sanibel travel guide
---
2 minute summary
The region known as the Beaches of Fort Myers and Sanibel is a very well kept secret – made up of over 100 islands strung out along the Gulf of Mexico in an unusual east-west orientation, it's just so laid back, so wonderfully natural and so not what instantly springs to mind when you think, 'Florida'. Everyone knows it's the Sunshine State, but Florida is so readily placed in the same breath as the home of a certain Mr. M Mouse that its terrific nature and unspoiled gems can get overlooked. Not this one though. A haven of perpetual sunshine and white sand beaches gently lapped at by warm, turquoise waters and decorated daily with seashells that glint and glimmer with an ethereal beauty; as the name suggests, Fort Myers and Sanibel is infamous for its beaches, but has an incredible amount of protected wildlife too. Everything is accessible, but nothing feels crowded, so you'll feel as though you're privy to personal wildlife watching; surrounded by nothing but space and serenity on the beaches; and feasting on delicious, fresh seafood while watching the sunset, all in your very own private paradise.
Find out more in our Beaches of Fort Myers and Sanibel hotel guide.
The Beaches of Fort Myers & Sanibel is...
packed full of wonderful
wildlife & nature
The Beaches of Fort Myers & Sanibel isn't...
commercial
or overrun
with dominant resorts
What we rate & what we don't
---
RESPONSIBLE TRAVEL'S BEST & WORST
Underrated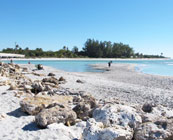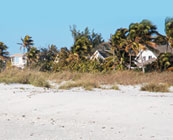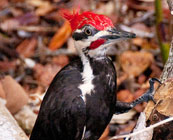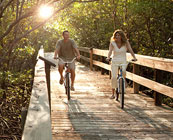 Sanibel
What sleepy, seductive Sanibel provides by the bucketload is that rare gift: peace and quiet. There's nothing fast-paced or in your face about it. Much of the island is protected, so all sorts of flora and fauna thrive there and its impossibly beautiful beaches shimmer as if looked at through a luminescent kaleidoscope – a mass of bright, shiny sea shells that glint in the hot sun.
Captiva
Captiva Island sits to the north of Sanibel, linked by a bridge and is a smaller, less populated destination with a real desert island vibe. A place of sunseekers and lazy picnics, there's little to do, but that's the point – but for a few good seafood restaurants, it's a pocket of paradise wrapped in soft, white sand beaches and scattered with pretty, pastel-coloured seashells.
JN Darling Wildlife Refuge
Named after Jay Norwood Darling, the 20th century Pulitzer prizewinner who campaigned to protect Sanibel from developers, this is a whopping 7,600-acre wildlife refuge that's home to more than 245 bird species, 60 types of reptile, 35 mammal species and miles of paddling, hiking and biking trails. Open year round, you can organise recreational experience tours there lasting up to half a day.
Biking trails
There are 37km of easily navigable, mostly flat biking trails connecting the far east of Sanibel Island to Bowman's Beach in the west via a fantastic 6.4km 'Wildlife Drive' stretch that runs right through the JN Ding Darling Wildlife Refuge. There are some shorter, very scenic sections that run for only a couple of kilometres, or you can pre-plan your route and go for miles exploring the whole island.
Rated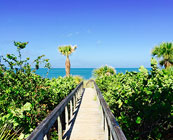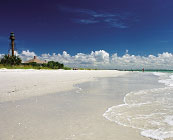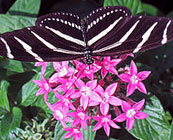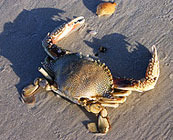 North Captiva Island
It would be reasonable to assume that Captiva and North Captiva Island are the same; they're not. Severed from its parent island by an angry hurricane and only accessible by boat, North Captiva is tucked away among the mangrove islands. There are no cars and no crowds, just a couple of social clubs to keep the locals lubricated. All you need do is sit, grab a drink and watch the sunset. Bliss.
Beaches
The beaches of Fort Myers and Sanibel deserve their own spotlight here, they really are that good. The sensational seashells in every colour of shining pearl that wash up, as if painting a divine but different picture daily, do add an extra level of 'wow', but the sand on which they sit is gloriously soft and the sea that brings them in is aquamarine, warm and clear enough to see your feet in.
Sanibel-Captiva Conservation Foundation
Committed to the coastal habitat and aquatic resources in and around the waters of Sanibel and Captiva, this foundation manages over 1,300 acres of land on the islands and provides a wide choice of educational and very interesting programs for people of all ages from beach and trail walks to boat tours, wading trips and kayaking. There's a Nature Centre with trails and a butterfly house too.
Sanibel Sea School
Running half day and full day course for both adults and children alongside longer summer and winter camps, the Sanibel Sea School will teach you everything about marine ecosystems and conservation, all taught in a vibrant and very captivating way. Programs include courses for kids aged 6-13 as well as those for adults, families and groups, and involve lots of fun outdoor activity.
Overrated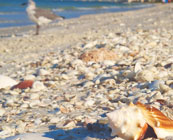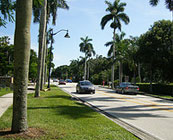 Shelling
Shells are undeniably one of the earth's most beautiful natural gifts, but rarely do shells taken out of their natural habitat look as lovely as those left sitting where they washed up. It's not a great idea to hoard them – especially on the scale encouraged here – so, look at them, learn about them and marvel at their shiny coats, but then leave them in their sandy beds where they belong.
Driving
Of course Fort Myers and Sanibel couldn't remain a 'paradise lost' forever and while the region is popular with visitors anyway, it's getting more popular year on year and so traffic is getting heavier too causing pollution, noise disturbance and a danger to wandering animals. It's ridiculously easy to hire alternative transport in the area – be it bike, boat, or Segway – so go for something greener.
Food, shopping & people
---
DISCOVER fort myers & sanibel LIKE A LOCAL
Eating & drinking in the Beaches of Fort Myers & Sanibel
---
Wicked Dolphin Rum Distillery is an artisan rum producer that makes award-winning rum; you can take a tour there to understand their 'farm to bottle' process and, of course, taste the goods.
Sanibel Island's Farmers Market takes place every Sunday during autumn selling an irresistible bounty of locally produced fruit and veg, cheese, meats and bread.
Fort Myers and Sanibel is the place for seafood – restaurants offer daily happy hours where you can feast on a platter of shrimp, clams and oysters for as little as £10.
Infamous pirates

Lafitte, Blackbeard, Black Caesar and Gasparilla

are all said to have had camps on Sanibel and Captiva.
People & language
---
Fort Myers hugs the shores of the wide Caloosahatchee River, which created the town and levered its importance during the Seminole Wars – three conflicts between the Seminole, the collective name given to the various groups of native Americans and African Americans who settled in Florida in the 18th century, and the US Army between 1816 and 1858. Sanibel and Captiva were first settled more than 12,000 years ago by ancestors of the Calusa Indians.
Legendary pirate, Gasparilla, is said to have built a prison on the 'Isla de las Captivas' where he held prisoners captive in order to command ransom, hence the islands name today, Captiva.
Gifts & shopping
---
You can pick up some weird and wonderful shopping at the Ortiz Avenue Flea Market in Fort Myers – a massive 600 stalls selling locally made clothes and shoes, exotic foods, handmade toys and Mexican handicrafts.
Fort Myers Farmers Market is held weekly at the edge of Centennial Park and sees farmers, florists, fishermen and horticulturalists gather to sell all sorts of lovely things from mangos to mangrove snapper.
The walls of Cabbage Key's historic inn are papered with more than

$70,000 autographed dollar bills

. $10,000 falls off annually and is given to charity.
How much does it cost?
---
A beer: £2.60
A basic lunch: £6.50 - £10
Bike hire: £25 a week
Boat hire: 5 people,
half day - £129
Half-day course at
Sanibel Sea School: £35.60
A brief history of Fort Myers & Sanibel
---
The Calusa Indians were the first to discover the beauty of the Fort Myers and Sanibel region as long ago as 5,000 B.C., and by the turn of the 20th century, Thomas Edison, Henry Ford and other prominent Americans who spent their winters there had helped place the area firmly on the modern day map. Today, approximately 515,000 people live year-round in Lee County, which includes Sanibel & Captiva islands, Fort Myers Beach, Fort Myers, Bonita Springs & Estero, Cape Coral, Pine Island, Boca Grande & Outer islands, North Fort Myers, Lehigh Acres and more than 100 coastal islands off the mainland.
Read more ▼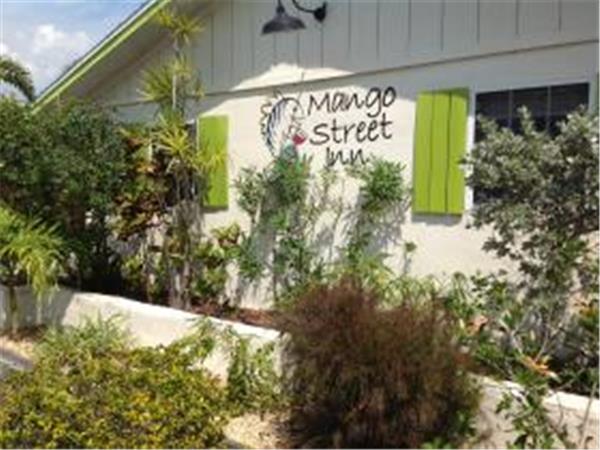 Unique bed and breakfast style inn on Fort Myers Beach
From
US $

105
per accommodation per night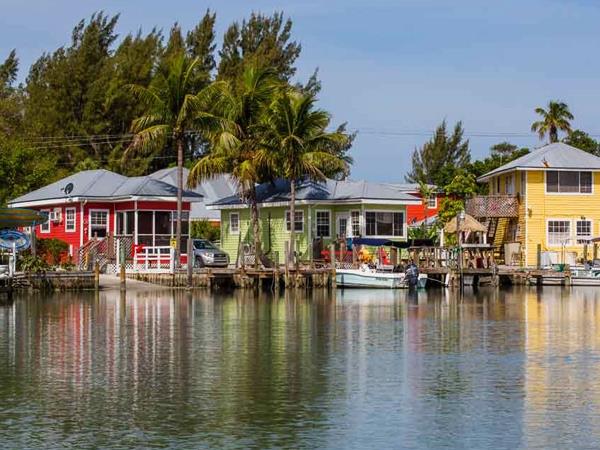 Charming waterview cottages by Gulf of Mexico and sunset bay
From
US $

119
per accommodation per night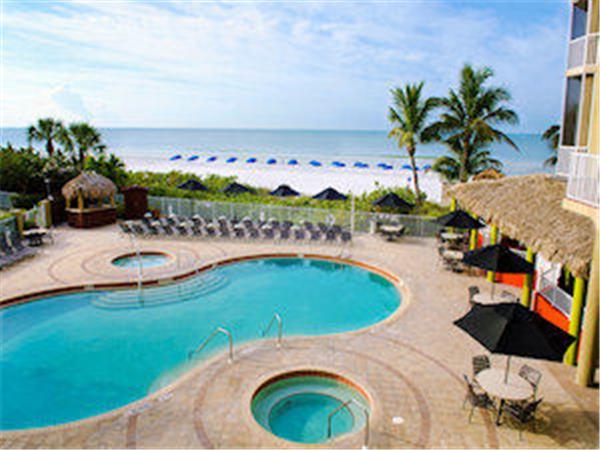 Luxurious all-suite accommodations with beach front location
From
US $

169
per accommodation per night