Fuerteventura travel information
Where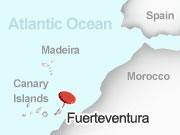 Fuerteventura, located at Latitude 28° 27' N Longitude 13° 51' W, is the second largest island of the Canaries, measuring 110 km (75 miles) from north to south, and 20 km (15 miles) at its widest point with a surface area of 1600 sq km (620 sq miles). Its name derives from the Spanish for 'Strong wind'- for the north east trade winds blow strongly across the island for most of the year. Its closest neighbour is Lanzarote, some 10 kilometres (7 miles) the north and Gran Canaria 80 kilometres (50 miles) to the west. The west coast of Morocco is 100 km (60 miles) to the east.
Getting there
By ferry:
There are regular ferry services from Lanzarote (20 minutes on the high speed ferry from Corralejos), Tenerife (7 hours from Morro Jable) and Gran Canaria, (7 hours from Morro Jable).
By plane:
Easyjet now have scheduled flights from Liverpool to Fuerteventura on Monday, Wednesday and Saturday, and from Stansted to Fuerteventura on Wednesday and Saturday. Monarch airlines have weekly flights to Fuerteventura from Manchester, Birmingham, Gatwick and Luton on Wednesdays. There are also charter flights from major UK cities including Manchester and Liverpool. There are frequent interisland flights to the other main islands of the archipelago from the international El Matorral airport.
Getting around
By bus:
There are regular buses between Corralejos and Morro Jable but getting to smaller villages off the main north south axis can take time and services are infrequent.
By car:
There are a wide selection of car hire agencies at the airport and in the larger towns on the island. 4 x 4 jeeps and land cruisers are available for hire as many of the roads and tracks in the remoter parts and the natural parks of the island are unsurfaced. Do remember not to drive off marked tracks in Natural Parks, and that soft sand can be treacherous! Remember also that driving is on the right hand side.
Public vacations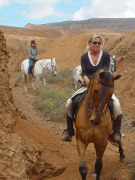 1 January - New Year's Day
6 January - Epiphany
March/April Good Friday
1 May - Labour Day
30 May - Day of the Community - Canaries Day
24 June - St. Johns Day
15 August - Assumption - Asunción
20 September - Our Lady of La Peña
1 November - All Saints' Day
6 December - Constitution Day
8 December - Immaculate Conception
25 December - Christmas Day

Read more about events in Fuerteventura.

Weather
Fuerteventura has more than 3000 hours of sunshine per year and an average annual temperature of a balmy 22 degrees. Rain is very rare but is most likely between October and March. The trade winds blow from the north east most of the year ensuring that even the hottest of days will feel cool and pleasant. The Calima however - a hot dry wind from the east occasionally brings heat and dust from the Sahara - with temperatures that can rise over 40 degrees. Sea temperatures range from 18 degrees in January to 23 degrees in October. Read more weather information.



Traveling with children
Fuerteventura is a perfect family vacation destination. Local people dote on children and are very family orientated - and you will see small children out with their parents late into the evening. Crime is rare in nearly all towns and villages and there is in general a warm and welcoming friendly atmosphere. Most of the beaches on the east coast have shallow, calm waters perfect for learning to swim. Larger beaches have lifeguards and flags clearly marking safe areas for swimming.

Electricity
230V AC, 50 Hz; European round two pin plugs are standard.

Dialling code
+34

Money
Euro

Time zone
The same as the UK - both GMT and BST



Discover the island of Fuerteventura or find vacation.
Responsible Travel would like to thank the Fuerteventura tourist board for their sponsorship of this guide