Walking in Fuerteventura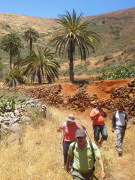 Walking is growing in popularity throughout the island, and a series of marked paths are now being planned, which will enable walkers to trek from one end of the island to other - a week long walk of more than 155 kms (100 miles). The plains and hills are crisscrossed with ancient paths, so best walk with a guide if possible. There are several walking companies which offer guided walks through some of the most beautiful parts of the islands, from the dunes of Corralejo to the rugged high volcanic cliffs above the wild and beautiful Cofete beach in the south.
In the middle of the island a popular trek takes walkers through the old historic town of Betancuria - the first European settlement in the Atlantic - along a green valley watered by distinctive windmills of the 1930s introduced to the island by returning immigrants from the USA.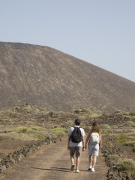 Close by, in the pretty village of Vega de Río de Palmas, a path leads to a rocky ravine where the tiny chapel to the Virgen de la Peña is perched on the side of a rocky ravine. Her saint's day in September is celebrated with a Romeria or procession which draws islanders from all over Fuerteventura.
Other walks in the south take trekkers up from the beach of Cofete to the lofty mist shrouded peak of Mount Jandia, at 807 metres the highest on the island. The historic volcanic core of Tindaya near La Oliva has excellent views to Lanazarote, and sometimes even Mount Teide on distant Tenerife. Here, the distinctive podomorphs - foot-shaped carvings left by the original settlers on the island more than a thousand years ago can be found on the summit. Walkers must have a permission from the Environmental Agency (Medio Ambiente) and have to be accompanied by a park guard.

Jesus Marrero, Walking guide
"The island is virtually untouched; we have wonderful beaches, a fantastic climate and the west coast, which really is a treasure trove of rugged cliffs" [1:12]

Read about more
activities on Fuerteventura
Responsible Travel would like to thank the Fuerteventura tourist board for their sponsorship of this guide