GALÁPAGOS LAND BASED HOLIDAYS TRAVEL GUIDE
---
2 minute summary
Although the islands of the Galápagos instantly call to mind small ship cruising, there's much to be said for swapping berths for beds. Those staying on dry land get a deeper understanding of the landscapes and culture of the Galápagos that life afloat often fails to reach. Hiking up the Sierra Negra volcano on Isla Isabela or to the unmissable Tortuga Bay on Santa Cruz, are definitely recommended, whilst the tiny coastal village of Puerto Velasco Ibarra on Floreana offers simplicity in its purest form, as well as intriguing insight into the island's past. Throughout a land based vacation you'll get to stay at locally-owned hotels and eat out at restaurants, alongside local residents – called Galapagueños. This provides a beneficial experience for everyone, as well as presenting lots more chances to discover the delights of sweet and sour ceviche, complete with popcorn.

You may be on dry land but a land based vacation is certain to still make a splash.

Read on in our Galápagos land based vacations guide.
WHAT DOES A GALÁPAGOS LAND BASED HOLIDAY ENTAIL?
---
Galápagos land based vacations feature accommodation on dry land rather than overnight on a boat. Trips can be tailor made to suit families or couples, or they can be organised small group vacations accompanied by a tour leader. Most land based tours will feature two or three nights spent on the inhabited islands of San Cristóbal, Floreana, Isabela and Santa Cruz where you'll make short journeys by boat, bus and on foot to snorkelling spots, research centers and uninhabited islands renowned for wildlife. Your tour guides will have been certified and trained by the Galápagos National Park Authority which means that not only will you benefit from their expert knowledge of the wildlife that lives on the Galápagos but you'll learn more about the islands' human communities, too. Staying in small, locally-owned hotels and eating at island restaurants also puts money into the pockets of local people who need it most.
There are around 30,000 people living on the Galápagos Islands and land based tours enable you to experience authentic local life as well as providing small boats or light aircraft to hop from one island to the next. Combining wildlife watching with walking over lava fields and up to volcanic craters is another key ingredient of land based tours, with more time on land meaning more time spent getting closer to marine iguanas, giant tortoises and sea lions without worrying about getting back to the boat. Snorkelling and kayaking are pretty much always included in land based itineraries, with boat rides out to some of the best spots for turtles, rays and coral reefs the perfect way to experience the best of both worlds. To make an even greater contribution to the preservation of this extraordinary environment, you can volunteer on conservation projects as part of a small group vacation, living in shared, self-catering accommodation.
What we rate & what we don't
---
OUR BEST & WORST OF GALÁPAGOS LAND BASED HOLIDAYS
Underrated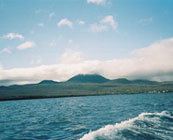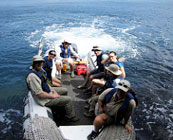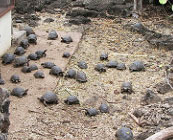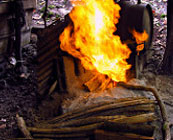 Isla Floreana
Isla Floreana has a human history that's just as fascinating as its natural equivalent with tales of buccaneers, baronesses and eccentric Europeans, increasing anticipation during a 2.5hr boat ride from Isla San Cristóbal. Local guides know Floreana's cultural history inside out with visits to Puerto Velasco Ibarra unveiling what it's like to be part of a population of just 150, outnumbered by penguins.
Responsible Tourism
Land based vacations help to provide a living for Galapagueños, especially within villages that have previously struggled to survive commercially due to the strict national park controls restricting fishing and farming. Staying on land rather than on a ship lets residents benefit from tourism and further recognise the need to keep the environment protected, reduce waste and commit to a sustainable future.
Volunteering
Volunteering projects offer a chance for travelers to do much more than simply visit the Galápagos; they provide a chance to become part of the local community. Placements on the islands of Santa Cruz and San Cristóbal normally last at least a couple of weeks with tasks including replanting indigenous plants, clearing invasive species or assisting English language teachers at the local school.
Santa Cruz highlands
Alongside giant tortoises, the Santa Cruz highlands showcase traditional farming practised in places like El Garrapatero. Sugar, coffee and Galápagos moonshine, made from distilled sugarcane, can all be found in them there hills and you'll also have a chance to see the hard work that goes into growing organic produce; certain to leave a lasting impression when contemplating future purchases.
Rated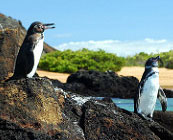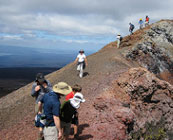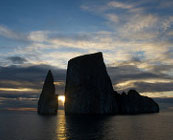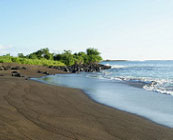 Wildlife encounters
Animal encounters on a Galápagos land based vacation can never be underestimated with giant tortoises, marine iguanas, sea lions, penguins and turtles all to be found living within habitat that's remained largely untouched since Darwin's day. A lack of predators on the island means the animals have no fear of humans and observing them without cages, and on their terms, is an extra special experience.
Hiking
Land based vacations offer opportunities to explore the Galápagos islands on foot with the 17km hike up to the rim of Volcán Sierra Negra, or the steep walk to the top of Cerro Tijeretas, on San Cristóbal, just a couple of reasons to pack your hiking boots. Exceptional views provide just rewards for highland hikers whilst lagoons at Tortuga Bay are just a 3.5km walk from the bustle of Puerto Ayora.
Kicker rock
Cutting clear of the ocean by some 140m, the weather-beaten León Dormido (Kicker Rock) serves as a symbol of all that the Galápagos islands stand for: a sanctuary for wildlife. Sea birds and sea lions stick to the rocky crags above the surface, while below the waves, rays, hammerheads and white-tipped sharks offer snorkellers one of the most exciting underwater experiences imaginable.
Beach time
Villamil Bay on Isabela, Garrapatero on Santa Cruz and practically the entire north coast of San Cristóbal conjure up those crisp white sand and clear blue ocean hues that screen savers were made for. Kick back, snorkel, swim, soak it all in, as some of the beaches and isolated coves you'll discover on a Galápagos land based vacation are absolutely beautiful, just as nature intended.
Overrated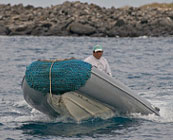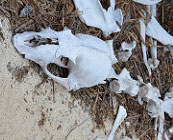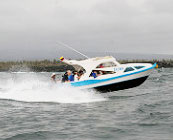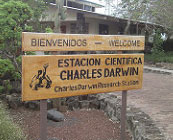 Cheap boat tours
Cheap is not always cheerful and if you're on a land based vacation in the Galápagos and thinking about a cheap boat trip then make sure you ask for an environmental certificate from the national park authorities first. If it looks too good to be true then it probably is; with poor working conditions and a lack of environmental care just a couple of costs that can be cut to offer cheap boat tours for tourists.
Taking souvenirs
It's amazing how many people think it's fine to stick stones in their pockets as souvenirs. Same goes for black coral, shells, volcanic rocks, animal parts, native wood or plants. It's not fine to buy them from a stall holder either, so report this practice, and don't fund it. Locally-made and ethically sourced items make great souvenirs so ask your tour op or guide where to look for a little something to take home.
Speedboats
If you're harbouring thoughts of James Bond zipping across ocean waves from one deserted island to the next then please slow down for a moment and think about what effect a speed boat's engine will have on the unseen marine life below the surface. Noise, pollution and seasickness are all consequences of speed boats so opt for a slower, less damaging alternative when planning a tour.
Charles Darwin Research Station
This is an incredibly important center of research and vital to ensuring some of the most endangered animals on earth are reintroduced to their natural habitat. However, if you're heading to the station hoping for a theme park then think again. This is not a family fun zone packed full of interactive exhibits; it's a research center, for research. So don't expect too much for the kids.
Food, shopping & people
---
TRAVEL LIKE A LOCAL ON YOUR GALÁPAGOS LAND BASED HOLIDAY
EATING & DRINKING IN THE GALÁPAGOS
---
The Galápagos boasts exceptional seafood as well as Ecuadorian classics such as encocado: fish, shrimp and rice in a creamy coconut sauce. Lobster in coconut is another classic – but don't order it outside of the regulated Sep-Dec season.
Fresh pineapple, mango, papaya and bananas will all feature within juices, smoothies and milkshakes although they can be a tad on the sweet side. Ask for "menos azúcar" for a less sugary alternative.
Try bolónfor breakfast, a fried green plantain dumpling stuffed with cheese, ham or bacon, which is then refried until crisp.
How much does it cost?
---
Hand crafted wooden figurine: £5

Lonesome George T-shirts: £30

Bottle of Chilean wine: £4.25

Return beer bottles to get your deposit back and reduce waste!
People & language
---
Around 30,000 people live in the Galápagos with about 12,000 in the town of Puerto Ayora, on Santa Cruz. Of the 21 Galápagos Islands only five are populated: Baltra (basically an airport), Santa Cruz, Isabela, Floreana and San Cristóbal. Spanish is the most widely spoken language, with tourism, fishing and farming the main areas of employment for those who have migrated from mainland Ecuador and Peru.
Tortuga gigante = giant tortoise

León marino/lobo marino = sea lion

Pinzón de Darwin = Darwin's finch

Zayapa = Sally Lightfoot crab
Gifts & shopping
---
There are several craft markets on islands, with Charles Darwin Avenue on Puerto Ayora probably the best bet for a browse. Official Lonesome George labelled clothing is worth keeping an eye out for as part of the profits fund environmental and educational projects.

Coral, shell, solidified lava and animal products should be avoided, and reported, at all costs.

You might not be able to come home with your own penguin chick, but you can sign up for an adoption pack that contributes to conservation of giant tortoise, Galápagos penguins and hammerhead sharks, to name but a few of the species covered on the Galápagos conservation website.