How to see wildlife on land in the Galapagos
---
DON'T GET LEFT ALL AT SEA
If you're based on dry land on one of the inhabited islands of the Galápagos, you may be wondering how to see the archipelago's famous wildlife. Joining a small group tour, with an expert guide, is certainly one of the best ways to do this. Some of the tour leaders were born and raised in the Galápagos and understand the importance of preserving the islands' natural ecology as well as how to promote responsible tourism through watching wildlife in the right way.
Although Galápagos land based vacations aren't about continual cruising, there will be daily opportunities to get out onto the ocean by boat for animal encounters above and below the waves. Read on to find out how to see wildlife on a Galápagos land based vacation.
Where to watch wildlife
---
If you're staying on land in the Galápagos you can expect to visit around four or five islands over the course of a week or 10 days, traveling between them by small private boat or light aircraft. You might also travel by boat to reach snorkelling and swimming spots that are renowned for their abundant wildlife. You can also travel to more remote parts of an island, the deserted beaches and the volcanic slopes, on foot or by bus.
As you'll be staying overnight in small towns, don't expect to see too many animals hanging out by your front door; you'll need to head to the highlands of Santa Cruz for giant tortoises. There will, however, be plenty of sealions and marine iguanas, especially around the docks and beaches.
Typically, the inhabited islands of San Cristóbal, Floreana, Isabela and Santa Cruz will all feature on a land based tour, alongside chances to explore further afield on the uninhabited islands of North Seymour and Bartolomé. Pinnacle Rock, off Bartolomé, and Punta Cormorant, on Floreana, are just a couple of well known settings to watch wildlife with Las Tintoreras and Los Túneles, just offshore from Isabela, providing a couple more. From San Cristóbal's Kicker Rock to Tortuga Bay on Santa Cruz, a Galápagos land based tour won't leave you all at sea when it comes to choosing where to watch wildlife.
Which animals to look out for
---
From penguins, sea lions and white-tipped reef sharks around Bartolomé's Pinnacle Rock, to pink flamingos at Punta Cormorant and giant tortoises on Isabela, animal encounters are ever present. Some are surreal: iguanas, pelicans, boobies and spiky puffer fish; whilst others are serene: manta rays, hammerheads and eagle rays. Island hopping with a certified wildlife watching guide allows insight into animal behaviour in the safest way possible as well as extolling the virtues of conservation to allow the Galápagos to remain as nature intended.
Water based wildlife watching
---
Travelers can also spend time with sea lions, reef sharks and turtles whilst snorkelling and sea kayaking. This is a much more immersive way to watch marine animals in their natural setting without upsetting the environment or disturbing behaviour patterns. Sea kayaking, especially, lets you explore around the edges of islands where secret coves, beaches, solidified lava channels and mangroves appear, alongside cliffs and shorelines awash with frigate birds and blue footed boobies. Snorkelling might not get you quite as far, but it will place you in direct proximity to sea turtles, sea lions and parrot fish, to name but a few.
What to expect on a typical tour
---
Land based tours, in general, are for small groups although tailor made tours can work really well for families. As you're staying on land rather than on a ship, you'll have many more opportunities to experience the individual character of each island, after other travelers have returned to their boats, as well as allowing deeper insight into local life. For instance, you'll get to stroll back from the local pub over sandy streets or watch the experts haggle at the early morning fish market surrounded by impatient pelicans and salivating sea lions.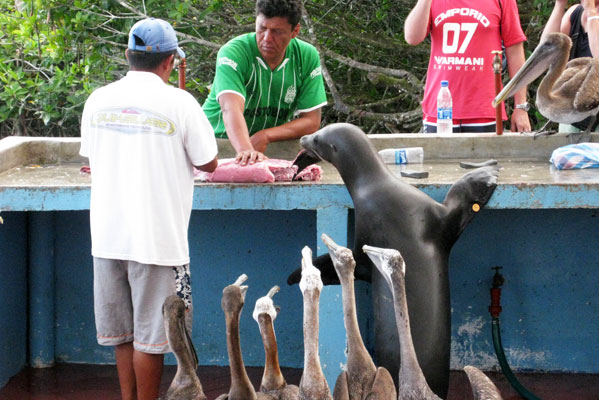 All land based tours will be accompanied by a tour guide who will have received training and certification from the Galápagos National Park Authority. Land based tours definitely give you a more rounded perspective when it comes to the history and the human heritage of the islands as well as offering lots of opportunities to watch wildlife, without the cruise boat price tag.