Things to see & do in Germany
Wanderlust
No wonder they invented the word. Literally 'a lust for hiking', Germany's long distance walking routes are not just tokens of this love, they are like Cupid's arrows firing straight into every hiker's heart. Such as the iconic Rennsteig, an ancient 170km trail through the Thuringian Forest and Highlands, in Central Germany. Not to be confused with the Rheinsteig trail, following the course of the Rhine. Which may sound like it should be flat, but in fact this is gorgeous gorge territory, so there are plenty of ups and downs, be it over vineyard bedecked hills, ancient forest covered escarpments or along river cliffs, such as at the famous Loreley. Walking through Saarland's Bliesgau UNESCO biosphere reserve, or Wadden Sea World Heritage Site are also hidden hiking gems. And as for Bavaria, well, you will feel left out without a knapsack on your back and a pair of Meindls on your feet. The production of these fine hiking boots has been part of the Bavarian economy since 1683. These boots are made for walking, as is their country.

Electric bikes are the norm in Germany and so I didn't feel like such a granny cycling on one.

Get in German gear
Cycling has long been the chosen mode of transport for Germans and it is of no surprise that the country is falling down with cycling vacations. From the flatter, calf-friendly routes around Lake Constance, Schleswig-Holstein, Friesland, the Weser Valley, the North Sea and Baltic coasts and the Muensterland, to the more challenging ups and down of the Harz mountains and Black Forest.
Guten Appetit
Germany is like one big farmer's market. You can fill a picnic pannier at the local butcher (metzgerei) which doesn't just sell cuts of meat but, in most cases, also salami-filled rolls and all round deli deliciousness. The timelessly tempting Bäckerei and Konditorei, bakery and pastry shops respectively, will have your mouth watering and your brain unable to choose. And the markets themselves are always brimming with seasonal produce from white asparagus in spring, cherries, apples, plums and berries in summer to an eclectic array of mushrooms in autumn. Look out for Federweisser stalls at this time of year too, serving young, freshly bottled wine, often served with seasonal onion tarts.

So, think beyond the sausage and sauerkraut cliché associated with Germany. Food is a national obsession. Michelin Star restaurants abound, every dietary need is catered for, and regional specialties are, well, special. From superb fish on the island of Rügen, Black Forest smoked ham and trout (as well as cake for afters of course), Westphalia pumpernickel, Frankfurt asparagus with herb rich green sauce to Saarland's fine cheese menu.
Our top Germany Vacation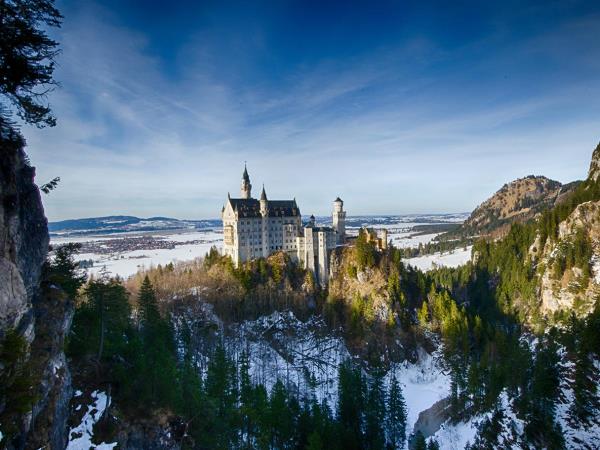 Enjoy sparkling winter walking in the German Alps
From
£

1329
8 days
inc UK flights
Small group travel:

If you'd like to chat about Germany or need help finding a vacation to suit you we're very happy to help.


Why would you drive along a wine trail when you can hike it or cycle it? Saxony has a 55km wine hiking route. Always best to take your time when it comes to fine wine.

Wine o'clock
It may be famous for beer, but the wine is sublime. And everywhere, with 13 wine growing areas, six of them in the Rhineland-Palatinate region. Riesling reigns, with the Ahr Valley famous for reds, Franconia for its dry Silvaner, Baden for Pinots and Saxony for Müller-Thurgau. Sample some by cycling or hiking the Weinstrasse.

Responsible Travel would like to thank the German National Tourist Board for their sponsorship of this guide.