Gozo arts and crafts
From the earliest times, Gozitans have had to be a self sufficient people, dependent on their own skills as farmers and craftspeople to survive. Until recently, each village and town would have had their own artisans, who could make and repair everything needed for daily life, from shoes to beautifully carved gable ends in the golden local limestone, or from woven textiles to very fine lace.
In the 1960s, with migration, and the easier access to mass produced goods, it looked as if the traditional skills, the arts and crafts on Gozo, would disappear for ever. However, when it was realised that the artistic heritage of the island was of such unique richness and importance, small craft centers were created which enabled older craftspeople to pass on their skills to the young.
The lace workers of Gozo were famous for the intricacy and beauty of their work, with each village having its own specific design. Woven on tubular pillows distinctive to the island, the fine lace work made from finely spun local wool, or linen, was a highly prized part of a Gozitan woman's household.
Each maker would pride herself on the intricacy her work, and many would sell their produce, making a welcome contribution to the household budgets.
Everyone who had a moment free in the house would be involved in the lace production, from the women actually manipulating the intricate bobbins, to children making lace balls they could sell for pocket money. It was said that the lace from the west of Gozo, where there was little alternative income available, was more complex than that of the east, where many of the men would have had jobs in Malta and so did not need the extra money their wives brought in.
Today, the increased availability of better paid factory work has meant the laborious process of hand making lace is not nearly so popular, and much of the lace now in sale is machine-made. Filigree jewellery needs the same application of skill and patience as traditional lace making and has a long history on the island. Today artisans at the Ta' Dbiegi Crafts Village still make filigree out of gold and silver and artisans can be seen working in their workshops with their jewellery on sale close by.
Another significant element of the arts and crafts on Gozo, and one which plays a vital and continuing part of the island's heritage is stone masonry, with skilled artisans still plying their trade using traditional tools, shaping the soft honey-coloured limestone with hand saws, rasps and special mallets.
There are two types of limestone, the hard corraline and the softer globerina, the latter being still the principal building material on the island.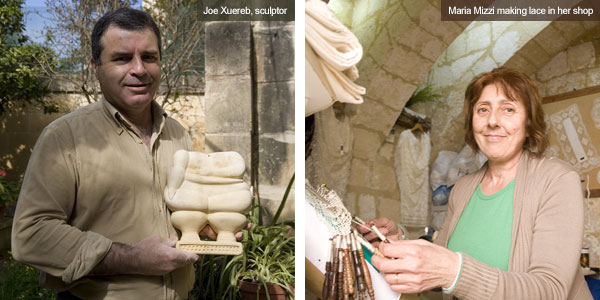 Described as Gozo's Henry Moor, Joe Xuereb is a leading local sculptor, who takes his inspiration from figures and statues of rounded fertility goddesses found close to Ggantija to create abstract shapes and statues from the local stone. So soft that it can be worked with wood chisels and rasps Joe says that he misses its golden colour and texture whenever he leaves the island and is always looking forward to starting a new work. His statues and sculptures adorn many public buildings and the larger hotels around the island.
At the Ta' Dbiegi Craft Village in Gharb artisans in the principal arts and crafts of the island can be seen in their small workshops which are open to tourists to visit and to buy their wares – from lace to jewellery and woven fabric. Glass blowing is practised here by a father and son team, who have state of the art furnaces to produce modern glassware unique to the island and which is also sold for export.
Responsible Travel would like to thank the Ministry for Gozo for their sponsorship of this guide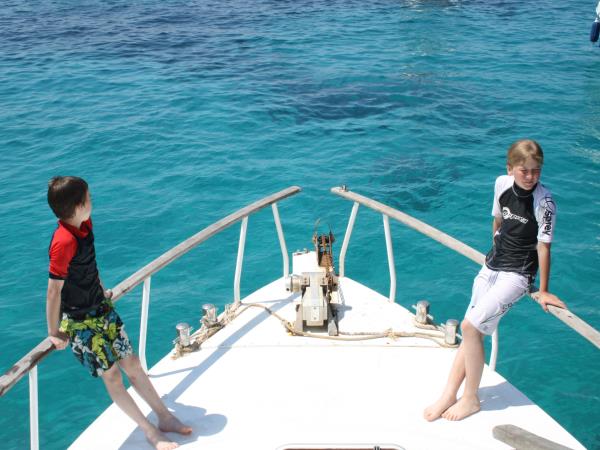 Family activity week on the beautiful Maltese Island of Gozo
From
£

1375
8 Days
ex flights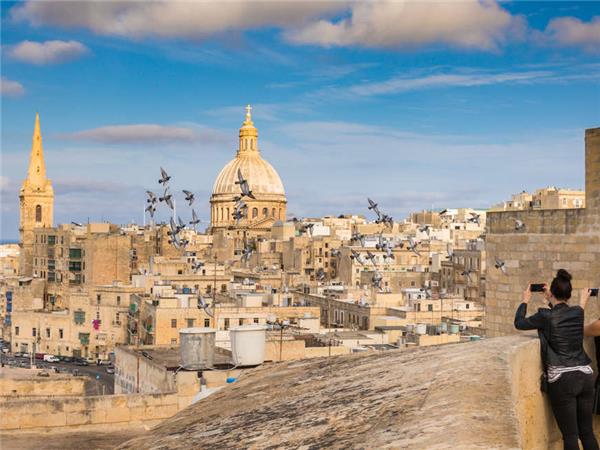 Enjoy the highlights of Malta, Gozo on a fascinating tour
From
US $

1480
8 Days
ex flights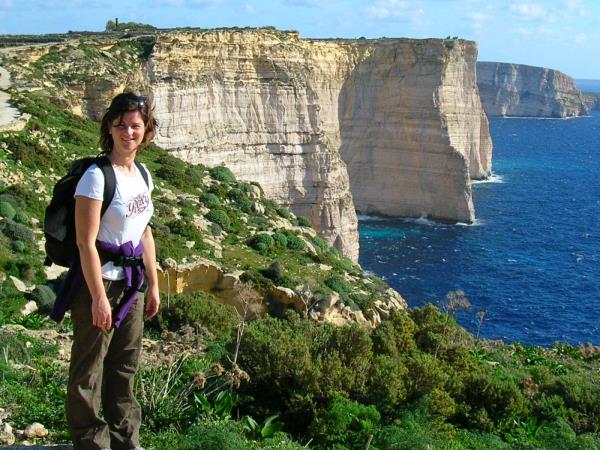 Explore Gozo's impressive coastline and cobbled streets
From
£

999
5 Days
inc UK flights