Nature watching tips
for the Great Ocean Road
Responsible Travel Tips
Visiting a place shouldn't mean spoiling it. You may want to get back to nature, see native Australian creatures up close and experience some of the world's most beautiful landscapes, but you also need to know how to leave this wonderful region just as unspoilt as you found it.

Follow our top tips for responsible nature-watching and future generations will be
just as thrilled to discover the Great Ocean Road as you will.
1. Save energy
When you're on vacation don't stop taking the energy-saving steps you would normally take at home. Simple things like not having the air conditioning on all the time, always turning everything off when you leave the room and not leaving the TV on standby, can make a big difference. If your room is only a couple of floors up, take the stairs rather than the lift – free exercise as well as energy-saving.
2. Be water wise
Water shortages are becoming a major issue for many destinations around the world, including Victoria, so it's important to do your bit to minimise impact on the water supply. Saving water while you're on vacation can be as easy as reducing shower time (four minutes maximum is recommended), using a plug when filling the sink, and turning off the tap when brushing your teeth.
3. Reduce, reuse, recycle – and refuse
Buy products with minimal packaging and recycle any packaging where possible. Avoid individually wrapped items, bring your favourite toiletries from home instead of using hotel-provided miniatures and encourage your accommodation to stock refillable dispensers. When you're out and about, carry a reusable water bottle and don't forget rechargeable batteries for your camera and other gadgets. Disposing of rubbish properly is also essential to being a responsible visitor.
Use the right bin for your litter, recycling where possible, and if you smoke, dispose of your butts in public butt bins. Once you've finished your trip, pass on your brochures and guidebooks to a friend or second-hand bookshop or even leave them at your hotel for another guest to use – this also makes your suitcase a little lighter for the journey home.
4. Choose to stay in 'green' accommodation
A range of green accommodation options are available in Victoria. See a selection of
recommended places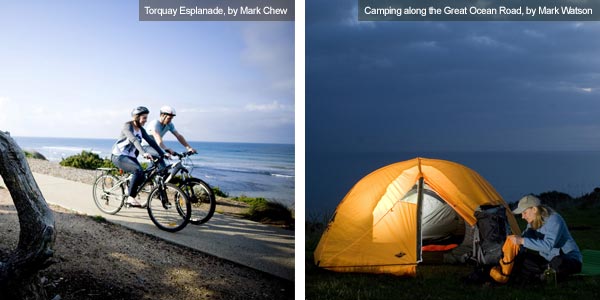 5. Have a car-free day
Incorporate car-free days into your vacation and, if you're traveling within a city or town, see what's within walking or cycling distance – nothing beats seeing a city on foot or by pedal power. Seek out guided walking tours, select a hotel close to a station or tram route, rent a bike, or just hit the road on your own two feet.
6. Reduce your carbon footprint
Whenever you travel by plane, train or car, you leave behind a carbon footprint. However, there are lots of ways to reduce greenhouse gas emissions while traveling.
As an international travel destination, flying is often the only practical way to get to Victoria, but most airlines have schemes to offset the emissions caused by your flight. In Australia both
Qantas
and
Virgin Blue
offer the opportunity to fly 'carbon neutral'. If you need to rent a car, book a small one — or a hybrid. A growing number of car rental companies are offering hybrid vehicles and while they may cost a little more than standard vehicles, you can often make up the difference with your savings on fuel. If a hybrid isn't available, rent the smallest car that's realistic for your needs. You could also consider joining
Greenfleet
who (for a fee) will plant enough trees to absorb the annual greenhouse emissions from the average car.
7. Select an eco-accredited tour operator
Ensure that your itinerary has the minimum environmental impact by choosing only tour operators and service providers with eco accreditation – a sort of rubber stamp which affirms their green credentials.
8. Leave only footprints
Take care when visiting areas that are home to wildlife and native vegetation and don't remove anything from these sites.
In Victoria's national parks all native plants and animals, geological features and historical and cultural remains are protected by law and must not be disturbed or removed – so respect their right to remain as you found them.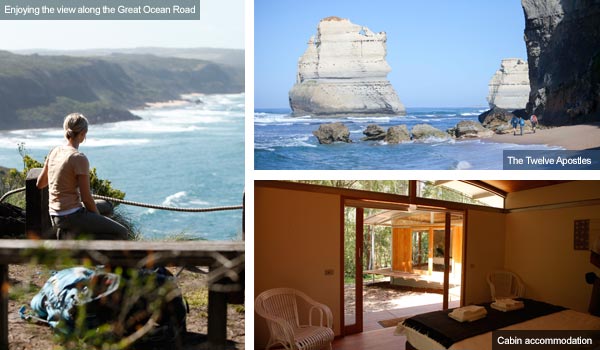 9. Keep to the track
Short cuts made by vehicles or feet soon become ugly erosion scars, so to protect the environment it is vital that both people and vehicles keep to designated paths and tracks. Wheel marks can last for years in some environments and can lead to severe erosion and weed invasion. Note that in the Mallee in particular, the soil is held together by mosses and lichens – fragile plants easily destroyed by wheels and feet.
10. Dispose of all waste appropriately
Dispose of rubbish only in the bins provided or by taking it with you when you leave. In remote and wilderness areas bushwalkers and other visitors should 'carry out what they carry in' and with some parks, especially those near the city, now operating a 'no bins' policy, people are asked to take their rubbish away with them. Bring a carrier bag to keep rubbish in until you can dispose of it properly.
Responsible Travel would like to thank Tourism Victoria for their sponsorship of this guide
Photo credits:
[Page banner:
Diliff
]
Back to the top
Convert currencies