Staying in Indian palaces in Rajasthan
You will see the term 'Heritage Hotels' bandied all over Indian travel websites, with photos of gardens that make you feel like a goddess, balconies that are begging for a serenade and bedrooms that will make you feel positively regal. And Rajasthan really is the place to experience these palatial abodes, mainly due to the fact that this desert state was, over the centuries, home to many Maharajas and their royal residences. The residences survived British colonialism because Rajasthan had garnered status as a princely state, one of many privileged regions where India's own royalty could maintain their luscious lifestyles and semi-autonomous rule. Indeed many of these royal families still exist today, and have opened up their homes, galleries and gardens to people passing through.
Our India culture Vacations
High end homestays
We are always quick to shout about the benefits of homestays and community led tourism, and it is important to highlight these hotels are also homes. And very much at the cultural heart of Rajasthan. They have also been home to people who have been wholly committed to preserving the traditional culture of Rajasthan, be they Maharajas, Sultans, Mirs, Nizams, Zamindars or Nawabs.
Over the centuries, wealthy influences have been prolific in Rajasthan, emanating from both Hindu and Muslim traditions. Regardless of their backgrounds, over a thousand years of culture, fine arts, architecture, music and cuisine have been protected by these families. Now, as they are opening up their doors for some of the most sumptuous overnight stays you could imagine, you can see that they have done so in a way that is both classy and culturally sound.
Royally Rajput
Most heritage hotels in Rajasthan are Rajput-owned, the word Rajput meaning 'son of a king', and these days it refers to an often privileged and aristocratic patrilineal clan. Today, Rajputs are the largest group with royal heritage to be involved in the cultural preservation and sustainability of their property and, in many cases, may even be tour guides in their own domains. Hospitality is fundamental to aristocratic etiquette in India, and treating people royally is part and parcel of this.
Pick a palace
When you take a look through the luxury vacation itineraries that have been carefully crafted by our Rajasthan experts, you will see that many of them book you into these stunning restorations of forts, palaces and castles along the way. Such as a Beaux-Arts palace in Udaipur built by ruler Udai Singh in the 16th century and overlooking the iconic Lake Pichola; or a 19th century former home of the Maharaja of Jaipur. You can stay in a Maharaja's palace where the family is still resident in eastern Rajasthan, or head into the Aravelli Hills to stay in a restored fortress, originally built by the Jhala Rajputs who ruled the Mewar Kingdom. In Jodhphur, you can stay at the Ajit Bhawan, a Rajput palace hotel and in Jaisalmer, you can stay in a hotel inside the walls of its famous fort built in the 12th century by the Rajput ruler Rawal Jaisal.
One example of restoring architectural heritage in a sustainable way is at Ramathra Fort. Just a few years ago it was a ruin, but it has now been carefully rebuilt using local materials and traditional methods, and employing men and women from small rural villages around the area. Ramathra dates back as far as 1645, when it was granted as a fiefdom to Thakur Bhoj Pal, the son of the Maharaja of Karauli. It is still in the hands of his descendents who are doing more than their fine share to contribute to fine Rajasthani tourism.
Our top India culture Vacation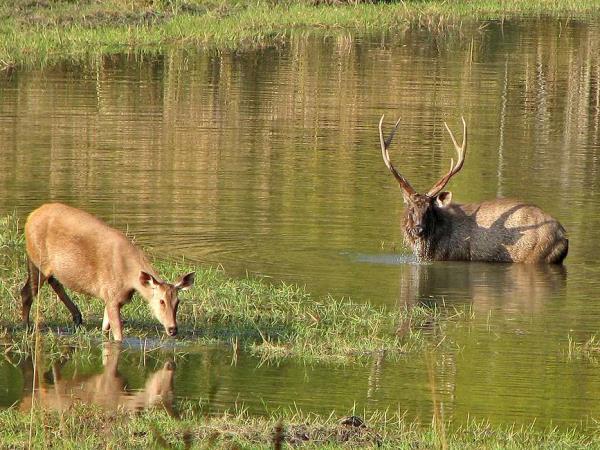 Brilliant experiences including Tigers and Temples
From
£

1199

to

£

1299
11 days
ex flights
Tailor made:
This trip can be tailor made throughout the year to suit your requirements
If you'd like to chat about India culture or need help finding a vacation to suit you we're very happy to help.

When staying in a restored palace or fort in Rajasthan, you will be able to get involved in activities enjoyed by the privileged few in the past. The Aravelli Hills, which translates as 'line of peaks', is a luscious green belt that straddles the otherwise desert state. It's alive with the sound of wildlife. Go horse riding here to quietly follow in the trails of monkeys, langurs, sloth bear, spotted deer, sambar deer and many more, just as they would have in times gone by. Although hunting may have been more on the cards back then, sadly.
If you go on a horse riding vacation in the Jagnath Wildlife Sanctuary, you enter the world of the Sonagara family of Kaniwara, in the Jalore District, which was a gift from the Royal Family of Marwar (now Jodphur) seven generations ago. As well as staying in nearby restored castles or forts, you can spend time on safari here, as it is not only habitat to the endangered Asiatic wild cat, but also leopard, hyena, Indian gazelle and blue bulls. You will also get a chance to ride the Marwari horse, bred in the 12th century by the Rathores, then rulers of Marwar and famous cavalry fighters. These elegant equines are recognisable by their prowess in dressage, their inward turning ear tips and their ability to cope with desert landscapes.
For those seeking artistic rather than equine expertise, Rajasthan's palaces and historic hotels are very often curators of fine art and local crafts, as there is a long history of artistic skills in this state. This is because these palatial dwellings were often so much more than homes, many of the privileged rulers opening up their residences in the past for public use, such as artisan workshops or scholarly debates. On tailor made vacations in Rajasthan you can, therefore, go shopping with local experts at jewellers and meet artists who are celebrated for being 'by royal appointment'. Or learn the fundamentals of classical Indian miniature painting from an art scholar and have guided tours of some of the finest private art collections in the world. And of course, you will always be invited to enjoy the finest of local food. Because, in these palaces, many royal banquets await.