Things to do in South East Asia

Laos is the centerpiece of a captivating Southeast Asian cocktail; its position screams out for an adventure combining its equally enticing neighbours.

Combine your cultures
Cambodia, Vietnam, Laos and Thailand; four countries pushed to the forefront of people's travel imaginations by their crowd pulling 'wow' factor – the historical grandeur of Angkor Wat, the sensational pace of Saigon, Laos's dreamy old world magic, and Bangkok's bustling blend of ancient and modern. Then there's the small, but remarkable aspects of each destination - long lines of saffron robed monks on their alms round at dawn, the luscious green of Vietnam's paddy fields, the shy smile of school children lining the banks of the Mekong River – day-to-day occurrences for the local populations, but enchanting sights and sounds that will stay with you long after your trip has ended. Laos has the enviable position of lying long in the middle of them all, but most people tend to start in Thailand then work their way round - whichever direction you choose to travel, an Indochina tour through all four very different countries represents the ultimate Southeast Asian adventure and an opportunity that no one should miss.

The Indochina route will surprise travelers with its historic lure; a charm that ranks far higher than luxury or modern convenience.

Step back in time
From the provincial and pretty streets of Hoi An, an ancient Vietnamese port town that blends skilled tailor shops with traditional wooden houses along its lantern-lined streets, to Angkor Wat, Cambodia's most iconic site and the largest religious monument in the world, Indochina's atmospheric pull is truly that of yesteryear. Laos, known as the 'land that time forgot' has been a blank canvas for heady imperial ambition since the lowland Khmers settled there in the 12th century. The entire city of Luang Prabang, developed architecturally in the French colonial era, is a World Heritage Site, and going back further still, The Plain of Jars at Phonsavan dates back millennia and provides an invaluable insight into the prehistory of all of Southeast Asia.

Discover the differences between Indochina's regional dishes, select the freshest vegetables from local markets, and learn to tell your galangal from your ginger with expert local chefs.

Treat your taste buds
For hardcore foodies, cooking trips that take you up and down Thailand, from the Isaarn influence of the north, to the fried squid of the southern fishing villages can be arranged. Alternatively, get picky kids to embrace the fragrant Laotian cuisine with a local cookery lesson; they'll be requesting extra lemongrass with their larb in no time.
Our top Indochina Vacation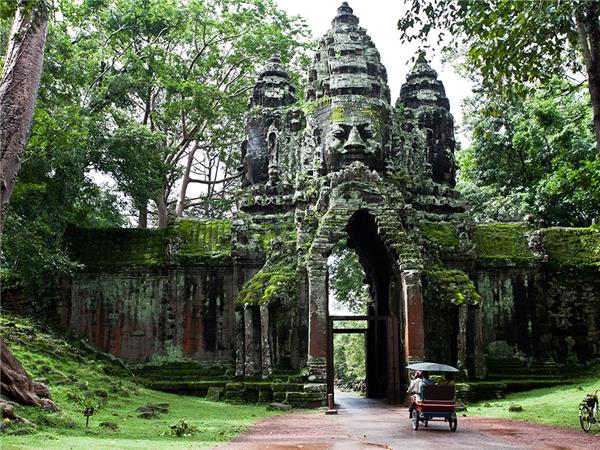 An awesome adventure Cambodia Laos Thailand & Vietnam
From
US $

4335

to

US $

4685
30 days
ex flights
Small group travel:
2022: 12 Jan, 19 Jan, 29 Jan, 2 Feb, 5 Feb, 12 Feb, 16 Feb, 23 Feb, 16 Apr, 15 Jun, 20 Jul, 17 Aug, 7 Sep, 14 Sep, 15 Oct, 26 Oct, 2 Nov, 16 Nov, 23 Nov, 26 Nov, 30 Nov, 3 Dec, 7 Dec
If you'd like to chat about Indochina or need help finding a vacation to suit you we're very happy to help.


There are lots of very special cultural hotspots dotted around Indochina, you just have to make a bit more effort to see them.

Learn about the locals
Head to Sapa in Vietnam and there's a colourful culture that's remained intact from the outside world and feels very real and spiritual. Over in northern Thailand there are traditional tribes that speak a multitude of languages; trekking with them through the glorious mountain scenery they have called home for centuries is one of the most insightful and rewarding things you can do.