Best time to visit Israel and Jordan

In the desert in January, night temperatures can be 2°C – bear that in mind as you set up camp in Wadi Rum.

Tours of Israel and Jordan are popular in the shoulder seasons of spring and autumn. Jordan's deserts can reach tarmac-melting temperatures in summer, yet be below freezing in winter, so milder months like May and October are your best bets to visit. In spring, north Israel displays its diverse flora, and wildflowers carpet the hillsides. By summer, the temperature in the low-lying areas of both countries gets really hot – the Dead Sea, the Red Sea and Wadi Rum can see heat in the 40°Cs. Whenever you go, check the calendar: Israel's social diary is crammed with various religious festivals all year round, which can take the city crowds to whole new levels.
Israel and Jordan, month by month
January is the coolest month in both Jordan and Israel, with an average daily high in the low teens. But it's the night time temperatures that you need to note if you're heading to Wadi Rum on a desert camp. Take warm clothes as the mercury can drop below zero degrees centigrade. In February, northern Israel is starting to become a wildflower garden. On designated flower trails around Galilee you'll see carpets of trembling cyclamen. Later, dark Gilboa iris and little bee orchids will appear, too. March is Purim – a Jewish festival – in Israel. It's a festival that everyone, religious or not, can enjoy. It brings family fun to cities across the country, and delicious food, too (look out for distinctive triangular hamantash pastries). Ramadan is observed by Muslims in both countries. It's a 30 day period of fasting, and its start dates for the next few years are: 10 March 2024; 28 February 2025; 17 February 2026; 7 February 2027. In Israel, Memorial Day and Independence Day both fall in late April or early May each year – both important days for the nation. In late spring and early summer Jordan experiences the khamsin – high desert winds. In summer some tours don't run to Israel and Jordan, as it can be uncomfortably hot in the desert. It doesn't matter if you're on the Jordan or Israel side: the Dead Sea is scorchio in August. Its low-lying position makes it, like Death Valley in the States, a real heat trap. The average high is 36°C but it often creeps beyond 40°C. Jerusalem is busy in September and October for Rosh Hashanah (Jewish New Year) and Yom Kippur. Meanwhile, at the Dead Sea resorts Eilat and Aqaba, the diving is at its best – abundant sea life, and cosy water. Many Christians descend on Nazareth, Bethlehem and Jerusalem in December for Christmas, to celebrate this special time of year at source in the Holy Land.
Our top trip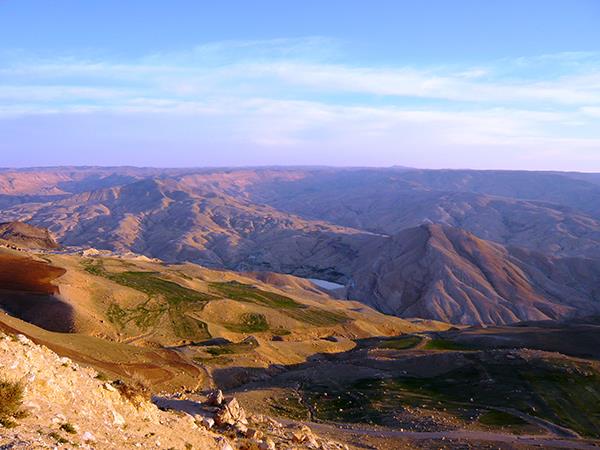 A tailor made tour of Jordan & Israel, breathtaking sites & fascinating history
From
£

3295
15 days
ex flights
Tailor made:
Departures can be arranged at anytime to suit you throughout the year
If you'd like to chat about Israel and Jordan or need help finding a vacation to suit you we're very happy to help.

Things to do and things not to do
in Israel and Jordan
Things to do in Israel and Jordan
Crack out the palazzo pants. Loose, conservative clothing will help you feel comfortable and stay respectful whether you're visiting churches and mosques, walking about in Amman, or keeping warm at night in the desert at a Bedouin camp. And to complement your floaty trousers? Good walking boots will help you on the uneven surfaces at archaeological sites, allowing you to climb the rocky trail up to Masada in Israel, the wadis at Dana Nature Reserve and to The High Place, up 750 steps, at Petra.
Feel reassured. Israel and Jordan are both perfectly safe to visit when done properly – and Jordan is one of the safest countries in the Middle East. Go with a vacation company that employs local guides who are up to date with the latest travel advice. Crossing the border between Jordan and Israel is simple, though there may be some queues. You may see some army personnel in Israel, but definitely not everywhere. The Israeli Defence Force is particularly present in Jerusalem's Old City and in Bethlehem.
Listen to both sides. It's hard not to have an opinion in this polarising part of the world; it comes with the territory. Aside from your guides, it might be best to take everything you hear with a Dead Sea-level pinch of salt, and do some background reading before you go.
Things not to do in Israel and Jordan
Contribute to erosion. They've lasted for millennia, but archaeological sites like Petra risk being eroded by touchy-feely tourists. Avoid using walking poles, taking donkey rides – their hooves chisel away at the canyon floor – or buying any sand art. Taking souvenir stones and rocks away is obviously off the cards. At the Dead Sea, sink holes loom as the lake shrinks away – steer clear.
Miss the hummus bars. Bored of hummus ever since four separate people brought it to your last group picnic? Rethink this Middle Eastern staple. In both Amman and Jerusalem you'll find a new appreciation for this chickpea classic, whether it's served rough and ready with half a raw onion and some bread in Israel's hummus bars or as the base of a delicious Jordanian breakfast with fuul (creamy mashed fava beans) and a stack of flatbread.
Disrespect local culture. You'll be welcomed into people's homes on tours of Israel and Jordan. You could wind up staying in a kibbutz (a collective community way of living, unique to Israel) on the West Bank, dining in the community hall. You could make your bed in a communal goat hair tent with a Bedouin tribe in Wadi Rum. A visit to Israel and Jordan is as much about the people as it is about history, or archaeology. Be gracious.
Israel and Jordan vacation advice
Naomi Jackson, Middle East and Africa product manager for vacation company Explore, has this advice about visiting Israel and Jordan:
Surprise highlights
"The surprise highlight? The food. Homemade hummus, flavoursome falafel and freshly baked bread. An Explore favourite is knafe, a traditional Middle Eastern desert of warm cheese, sugar syrup and nuts."
Cultural considerations in Israel and Jordan
"Both countries are fairly liberal and open-minded but as with all Middle Eastern countries it's essential to have respect of the mix of culture and religions. Ensure you have layers to be able to cover shoulders and knees at a minimum."
Liz Pepperell, from vacation company Odyssey World, picks out the highlights in Israel:
Don't miss these sights
"The Galilee area, north of Jerusalem, is the destination of pilgrims and nature lovers. At Masada, a mountain crowned by an ancient fortress, ride the cable car to the top for a tour."
Don't forget to bring
"Breathable modest clothing with layers – the desert can get cold at night – a plug converter, and sturdy walking shoes."
Emma Campbell, destination manager at Tucan Travel, has this advice on visiting Israel, Jordan and adding in Egypt, too:
Best time to go
"Egypt, Jordan & Israel can be visited all year round, though some people like to avoid the peak summer months when temperatures are quite high."
Cultural customs
"Clients should know that these countries can be quite culturally diverse. Some places require a more conservative dress sense so it's wise to ensure that both males and females dress accordingly and are covered up at some locations."
Advice from our travelers
At Responsible Travel, we think the best people to advise our travelers are often... other travelers. They always return from our tours with packing tips, weather reports, ideas about what to do - and opinions about what not to.

We have selected some of the most useful Israel and Jordan travel tips that our guests have provided over the years to help you make the very most of your vacation - and the space inside your suitcase.

Try for an extra day in Petra! [Bring] Plenty of sunscreen and light, but good walking shoes. Flipflops for the Dead Sea.

"Truth be told, almost every moment was a memorable moment. It's difficult to choose one. Jerash in Jordan was a surprise. More Roman ruins than I saw in Italy. Petra Kitchen was a lot of fun and now I can prepare what I learned and feel like I'm back in Jordan. Dinner at Fauzi Azar Inn - best meals we had on the tour and we had really good meals. Singing and dancing at Bedouin Camp was great too!" – Helga Trim

"We had cool temperatures and rain during the first days of April. There had been snow in Petra the week before we arrived. Pack layers of clothing and check the weather forecast." – Alfred Heynen

"Staying at the Bedouin camp supported the local people there as well as helping us learn about their past and current ways of life. Our guide was mindful of supporting small local businesses during stops we made. We were reminded of environmental impacts and water conservation in particular." – Helen O
More Israel and Jordan articles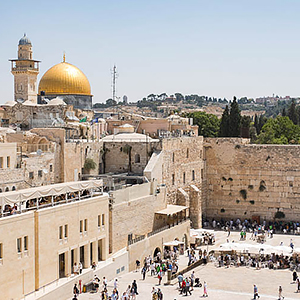 Whether you're a pilgrim or a Petra-head, read our Israel and Jordan travel guide.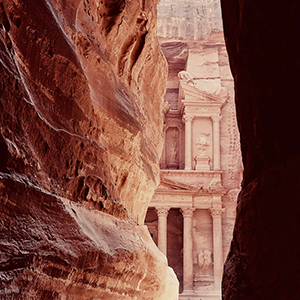 Make the most of your time in the Middle East by visiting Israel and Jordan together.