Visiting Israel and Jordan together
Israel and Jordan share more than a border. Both once fell under the Assyrian empire over 2,500 years ago, and both formed part of theRoman Empire in the 1st century. You can see well preserved Roman ruins across both countries today, from Jerash in Jordan to Caesarea on Israel's Mediterranean coast. Most importantly for three of today's major world religions, both countries feature heavily in the Bible, the Torah and the Qua'ran. Mount Nebo in Jordan is said to be the place where Moses was buried, whilst the Western Wall in Jerusalem is the last remnant of the Second Jewish Temple.

Jesus' life was lived out across the two countries, from his birthplace to his burial site. You could say that Israel and Jordan make up the Middle East's Bible Belt.

The two countries share some cuisine, too, and a delicious one at that. You'll find hummus, falafel, mint tea and pistachio pastries in markets in both countries. The differences are perhaps more interesting than the obvious similarities. Jordan's national dish is mansaf, which shows the country's Bedouin heritage. It's a dish of minced lamb, spices, yoghurt and onion served with Bedouin bread and rice in a massive sharing platter. Israel has a lot of traditional Jewish dishes to bring to the table – the kind that have scored starring roles in Yottam Ottolenghi's bouji cookery books in the UK, but have humble origins in little Jewish kitchens.
Our Israel and Jordan Vacations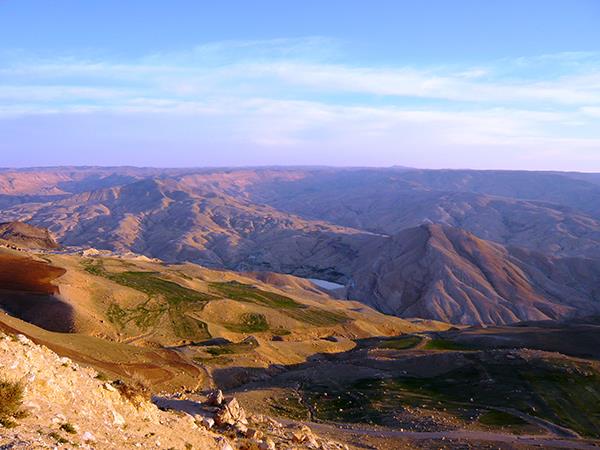 A tailor made tour of Jordan & Israel, breathtaking sites & fascinating history
From
£

3295
15 days
ex flights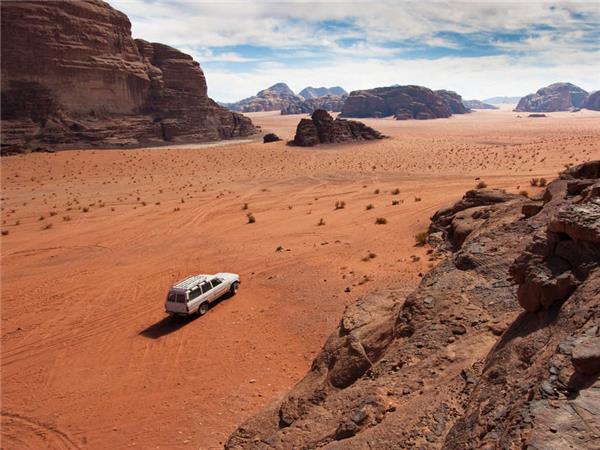 Tour the historical & cultural sites of Jordan and Israel
From
US $

2970

to

US $

3110
11 days
ex flights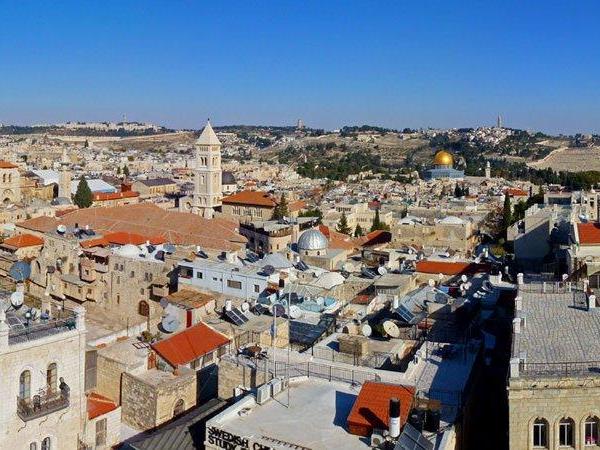 Great combination of religious sites, culture & landscapes
From
£

2249

to

£

2649
11 days
ex flights
Though most cultural tours of Israel and Jordan miss out Tel Aviv in the interest of time, the beachside capital has much more in common with Amman in Jordan, than Jerusalem does. Tel Aviv is relaxed and foodie – an attitude that fits well with Amman's own cafe culture and modern infrastructure. If you're on a tailor made tour, you could request time to explore it.

Israel is a more difficult country to visit than Jordan, because in doing so, you could end up entering into a complicated political argument on your return. Even when you're there, Israel isn't always an easy visit: feeling a prickle of unease every time you see an armed soldier, and dealing with the crowds of pilgrims in the labyrinthine streets of Old Jerusalem can be exhausting for the average traveler. Jordan makes a pleasant contrast: it's one of the safest, most peaceful places to visit in the world – let along the Middle East.

On the other hand, Israel's more varied landscape makes for a welcome break after Jordan's relentless desert ; over 90 percent of Jordan is super arid. Though the carved sandstone – both manmade and wind-whittled – at Wadi Rum and Petra make Jordan anything but monotonous, Israel's northern climes, especially in spring, when wildflowers bloom around Lake Galilee, might come as a welcome change.
Why combine Israel and Jordan?
Naomi Jackson, Middle East and Africa product manager for vacation company Explore, has this advice about visiting Israel and Jordan together: "Jordan and Israel neighbour one another, sharing both rich Arabic culture and extensive history that spans this region. The countries have a volatile history which is better understood when you speak to the local people. Today, although the countries are not friendly, they are civil and so we're fortunate enough to be able to travel safely across the land border crossings to take advantage of the time spent in the region and maximise on vacation time. The awe-inspiring experiences of seeing the Treasury in Petra and sleeping under the stars in Wadi Rum can be rivalled only by looking out over the Dead Sea from the top of Masada Sky Fortress and by the maze of narrow paths that run through Jerusalem's historic Old City."
Our top Israel and Jordan Vacation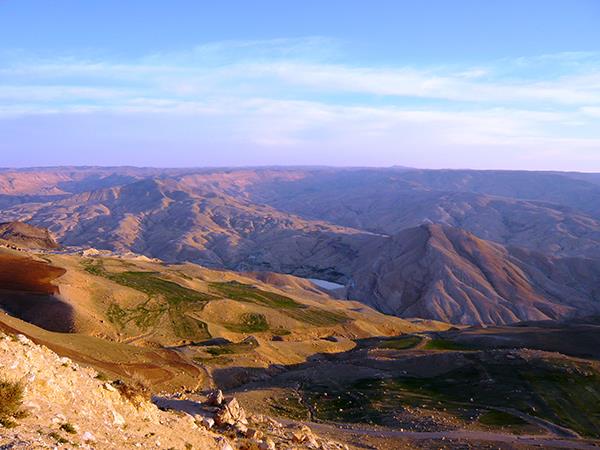 A tailor made tour of Jordan & Israel, breathtaking sites & fascinating history
From
£

3295
15 days
ex flights
Tailor made:
Departures can be arranged at anytime to suit you throughout the year
If you'd like to chat about Israel and Jordan or need help finding a vacation to suit you we're very happy to help.

Is it safe to visit Israel and Jordan?
Though you can visit Israel and Jordan together very happily, diplomatic relations between the two nations are complicated. The two countries entered into a peace treaty together in 1994, but not everyone is happy with it and some Jordanians are critical of Israel's actions on the West Bank and in East Jerusalem. In 2015-2016 there was an escalation of violence in the Israeli-Palestinian conflict that garnered worldwide press and criticism, and strained relations between Israel and Jordan. The result is that sometimes, Israelis can have difficulty crossing the Israel/Jordan border. Tourists will have no such problem. As you cross between Jordan, Israel and go over to the West Bank you will probably also swap guides, so that you'll get a local guide for each area – and be able to listen to a range of viewpoints, too. Both small group and tailor made tours run to both countries, and both will employ local guides.
Crossing between Israel and Jordan is easy for most visitors. There are three crossing points between the two countries. The Allenby/King Hussein Bridge is closest to both Amman and Jerusalem. Wadi Araba Crossing/South Border is deep in the south, linking the Red Sea resorts of Aqaba (Jordan) and Eilat (Israel). Lastly, the Sheikh Hussein/Northern Border crossing is in the Galilee area. All border crossings might take a bit of time if there are queues and the Israeli border force can be particularly thorough.

In Israel you may want to politely ask for an entry stamp on a piece of paper, instead of on your passport. Sometimes, this gets done automatically anyway. Having an Israel passport stamp won't affect your entry into Jordan, but it may affect your ability to enter a few other Muslim countries in the future.
How long do you need to see Israel and Jordan?
A flight to Amman in Jordan, or Tel Aviv in Israel, takes around five hours. In the interest of minimising your air travel, and maximising your sightseeing, you can easily visit Israel and Jordan together using only one return flight. Once you're here, these two diminutive countries can be combined in a comfortable, if fast-paced two-week tour by road – no extra flights required.
If you've got less time than two weeks you can still see many of the key sights. If you've got
11 days
, pick a tour that starts in Amman, heads south to the Dead Sea, Petra, Wadi Rum and Aqaba at the Red Sea, before crossing into Israel at Aqaba/Eilat to see Masada, Jerusalem and Bethlehem and ultimately flying out of Israel. Most sights are no more than a few hours' driving apart at most, so you can still fit most things in.
If you've got a bit longer, in
15 days
you can fly in and out of Amman, seeing Israel's sights within a Jordanian sandwich. From Amman you can cross into Israel via the Allenby/King Hussein Bridge, and visit Jerusalem very easily. Make the city your base for a few day trips around Israel. With a few extra days, you'll have time to head to northern Israel for the day, visiting Nazareth and the Sea of Galilee, and also head to Haifa on the coast. Back in Jordan you have time to see all the key sights – including plenty of time in Petra.
More about Israel and Jordan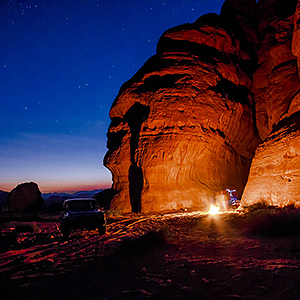 You can visit Israel and Jordan at any time of year – you're unlikely to encounter bad weather or particularly bitter temperatures. Check our weather charts and decide for yourself the best time to visit Israel and Jordan.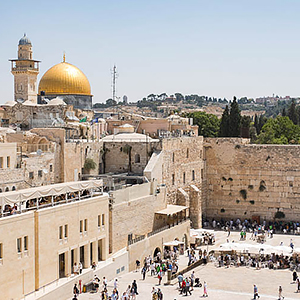 These two small nations are very easy to combine into one vacation. Whether you're a pilgrim or a Petra-head, read our Israel and Jordan travel guide and discover how to get the best out of both countries.