Responsible tourism in Kamchatka
---
TRAVEL RIGHT IN KAMCHATKA
Fiercely independent of Russia and yet hugely tainted economically by the fall of communism and the subsequent loss of local jobs, responsible tourism in Kamchatka is about a region striving to reapply boundaries that have been broken for some time and so have fallen out of line with its vision for a positive and sustainable tourism future. Salmon poaching has become synonymous with survival and efforts must be made to ensure that new generations of Kamchatkans recognise the value of their abundant natural resources and are able to seek out work to support them. Similarly, trophy hunters may bring in big bucks, but the wildlife they're diminishing is priceless and conservation efforts across the peninsula will need a significantly increased amount of funding and support if the balance is to tip back in favour of preserving Kamchatka's incredible wildlife instead of destroying it. A Kamchatka conditioned by a well oiled but invasive tourist industry is not what responsible travelers will come out for, they will come to see nature as it should be and as it is rarely seen elsewhere.
People & culture
---
Poaching and trophy hunting
Poaching & trophy hunting
---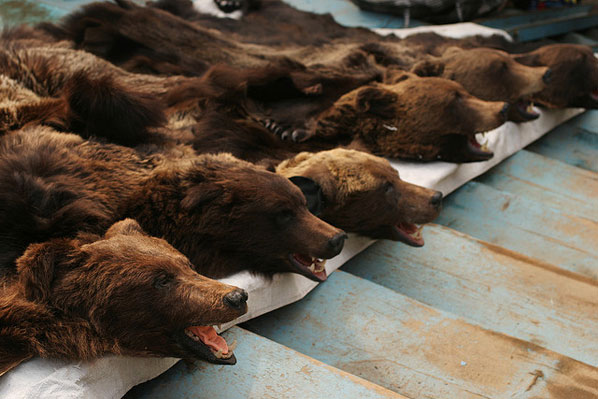 Kamchatka is recognised as one of the world's most important ecoregions due to its globally significant biodiversity – arctic and alpine tundra; freshwater lakes; boreal coniferous forests, and a UNESCO listed volcanic landscape – it has it all, within which shelter thousands of brown bears and some of the world's greatest diversity of salmon. Sadly though, this abundance of nature is what attracts its main threat – poachers and trophy hunters.
The issue of poaching in Kamchatka is not black and white, in fact there is a pretty sizeable grey area. The region's post-Soviet economic state is still massively depressed and poaching, certainly for salmon, is a direct consequence of that – there certainly are no other jobs for the locals and their actions are understandable, if not agreeable.
Less agreeable is the plight of the beautiful brown bear – Kamchatka has the largest population of lumbering, salmon-swiping bears in Eurasia, but they too are in trouble. Legal hunting wipes out an average of 1,000 per year, with foreign hunters that have more cash than conscience shooting around 300 of theses bears in a senseless pursuit that costs upwards of £5,000 per dead bear. Their trophy? A photograph, posed proudly with a bear's head in one hand, gun propped in the other; others keep the bear's paws for keepsakes or – and we're not sure which is worse here – grill the paws along with the tongue and eat them washed down with 'celebratory' shots of vodka. They leave the rest.
The post-communist economic transition hit Kamchatka hard and led to the closure of most state farms and fish plants, so now there are entire villages without a single job – it is not surprising then that most Kamchatkans are not losing sleep over poached fish or dead bears. For future sustainability however, what has to be avoided is an entire generation being raised with a resigned indifference to the region's breathtaking natural resources. A poaching committee has been established among Kamchatka's local administration, which has so far seen a small reduction in poaching incidents and a rise in reported violations – hopefully the world's pricked interest in Kamchatka's priceless wilderness, together with the rising surge of responsible tourism can help to show Kamchatkan authorities that their regions' bears are worth a lot more alive than dead.
What you can do
While we don't advocate hunting as a tourist, visitors to these regions should be aware that it is a traditional way of life – and one which has been sustainable for thousands of years. As a visitor to Kamchatka, the best thing you can do is travel with an open mind, and engage with your hosts to learn more about subsistence living there. The most effective thing we can do as tourists is put our money where our mouths are and book a trip to Kamchatka to see its incredible wildlife in a responsible manner, pushing the point that bears are worth far more alive than they are dead.
Cassia Jackson, from our supplier, Heritage Expeditions, shares her opinion on hunting in Kamchatka: "In Kamchatka, hunting practices are tightly managed so that the local communities can continue in their traditional ways of life. When a local economy has to be supported by measured hunting practices then it's impossible not to understand, or at least recognise a grey area where hunting is concerned, but it isn't something we advocate responsible travelers buying into in terms of trophy souvenirs - the purchase of which will only add further demand to the supply."
Wildlife & environment
---
Underfunded conservation
Conservation concerns
---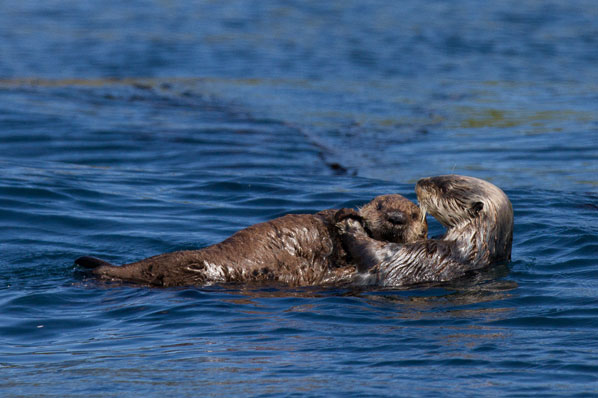 In the Soviet years, Kamchatka had been the beneficiary of massive subsidies from the central government because of its many strategic military installations, including a nuclear submarine base. But those subsidies have since dried up, and one of the big issues that the region faces being both so far away from, and so fiercely independent of Moscow, is that the land and wildlife there has been all but forgotten about for many years and there is a resultant lack of resources to support it – conservation is massively underfunded.
Although the local government has opened Kamchatka's doors to travelers in an effort to promote and develop the region's many tourism possibilities, there have been rumblings of concern that the authorities are encouraging lumber and mining interests to become more active in many of the region's watersheds. In addition, there remains an issue about increasing number of large-scale fish-poaching operations, and of course the popularity of hunting in the area, which may bring in rich tourists, but concomitantly threatens to endanger their very reasons for doing so.
On a positive note though,
the WWF
has been working with the Save Salmon TOGETHER Fund to monitor fishing activities in Kamchatka and with independent observers who assess the fishing activities of fishery companies as part of the Marine Stewardship Council (MSC) certification. This work has meant that by 2016, 10 percent of all salmon catches in Kamchatka were certified according to the standards of MSC (Marine Stewardship Council).
Heritage Expeditions are also hugely involved in supporting Kamchatka's conservation efforts, as Cassia Jackson further explains:
"For a number of years we have worked with
Birdlife International
and two Russian researchers who have been instrumental in the work around the spoon-billed sandpiper, the cause of which has been getting quite a lot of attention in the last few years particularly in the UK with organisations such as Birdlife International and
the WWT
coming together in support. It nests up in the Russian far east just above the Kamchatka peninsula in the Chukotka coastline and numbers are really dire; there are less than 200 breeding pairs in the wild. We provide logistical support and one year provided the transport for four eggs to be transported from Petropavlovsk-Kamchatsky to the UK, where they're being looked after as part of a captive breeding programme – one of them actually hatched on the ship! A couple have been released back into the wild, but their situation is, sadly, incredibly dire and there is simply no money to assist these essential programmes within Russia that have to rely on international partnerships and passengers getting involved."
To assure quality conservation in Kamchatka will require collaboration between government, industry, advocates of responsible tourism and of tourists - based on an appreciation of the region's most irreplaceable assets and on a commitment to putting outstanding natural beauty over commercial interests wherever necessary.
What can you do?

You can support conservation in Kamchatka locally either by joining a future voyage, or by donating from a distance – get clued up about the sustainability issues the wildlife and birdlife face there and which UK organisations are supporting them, so you can pay an active interest and find out how best your support can be utilised. Heritage Expeditions are currently looking into doing a marine mammal survey in the near future for those of you that may want to join.
Responsible tourism tips
---
TRAVEL BETTER IN KAMCHATKA
Most travelers to Russia require a valid visa covering the period of travel in Russia. Make sure you allow enough time to get this. It takes at least 20 business days (four weeks) to process most visa applications. As part of the visa application process, anyone over the age of 12 will need to visit a visa application centre to submit biometric data (scanned fingerprints).
There is a big difference between traveling in Western Russia and the Russian Far East. It is almost as if they are two different countries. Travel within Kamchatka and on Sakhalin Island is relatively straightforward, as you will find a good number of English speaking people who are happy to help you. Chukotka on the other hand is very different and you should be prepared for this. As Chukotka is considered a 'frontier zone' within Russia you need a special permit to visit and a guard will want to check your passport and documents and possibly take you aside for questioning. Don't be daunted by this, it's normal, so just be polite and patient.
If you're cruising, you will have a Russian crew on board, some of whom speak English. This presents a great opportunity for cross-cultural learning and it is an interesting facet of voyages.
Please respect the wilderness around you: no plant, animal or rock should be deliberately disturbed or removed and no collecting of specimens or souvenirs is permitted during visits.
No rubbish of any kind – orange peel, tissues, film packaging – may be left on the land. Rubbish takes a long time to break down, attracts rodents and spoils the natural appearance of the site.
No avian food products such as chicken or eggs are permitted on land due to risk of spreading disease to birds.
It's important to be mindful that some of the wildlife you may encounter can be dangerous, so give all animals the right of way. Wild animals, particularly seals, are extremely sensitive to movement and a person's height above the ground in relation to their size.
Get no closer than five metres to all wildlife animals who could be courting, mating, nesting and rearing young. Approaching too closely may cause parents to abandon young, leaving them vulnerable to predators.
Do not touch any wildlife and keep noise to a minimum. Disturbance of nesting seabirds can lead to exposure of eggs to chilling, sunlight and predators and wildlife may leave the area before you have a chance to observe them.
Keep to formed tracks where provided to minimise damage to fragile soils and plants.
Respect the privacy of the local people: do not enter private property without an invitation and never glance into houses or photograph through windows.
Please ask permission before taking photographs of locals if they are reluctant subjects and be aware that hesitation probably means no.
Do not take photographs of government officials and border guards.
Always ask permission before entering graveyards or other areas of religious or cultural significance.


Photo credits:
[Poaching 'trophies' :
Brian Jeffery Beggerly
] [sea otter conservation: Katya Ovsyanikova, Heritage Expeditions]