Marine life in KwaZulu-Natal
The Indian Ocean off KwaZulu-Natal is one of the most biodiverse marine hotspots in the world renowned for the humpback and southern right whales which migrate north along the coast during June and July and back south again in September and October. Dolphin sightings are also a daily occurrence year-round with the 110 km stretch of coastline from Umhlanga Rocks just north of Durban to Tugela Mouth often known as the 'Dolphin Coast'.
One of the world's great marine migrations, the Sardine Run, also takes place each year in June and July when huge shoals up to 7 kms long made up of millions of silver sardines (pilchards) migrate along the south coast creating a feeding frenzy of sharks, dolphins and sea-birds in their wake.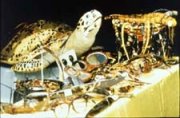 The northern Elephant Coast has coral reefs that are home to more than 1200 fish species including manta rays, leatherback and loggerhead turtles, colour-changing octopus and giant potato bass while south of Durban, Protea Banks is known for its many shark species and the Aliwal Shoal reef has regular sightings of dolphins, manta rays, hump-backed whales and ragged tooth sharks.
Game fish species in the Indian Ocean include dorado, tuna, barracuda, kingfish, black and blue marlin, sailfish, spearfish, wahoo among many others.
Whales
From mid-May to mid- September, humpback and smaller numbers of southern right whales migrate along the coastline of KwaZulu-Natal from their feeding grounds in the nutrient-rich waters of Antarctic to their breeding grounds off the coast of Mozambique making the return journey between September and December. Whales are sometimes visible from the shoreline but boat-based tours will ensure a far better view.
Distinctive behaviours that can be observed include 'blowing' when the expulsion of breath causes a spray of water into the air and 'breaching' when the whale bursts out of the water with an arching back before crashing back down into the water. Breaching is thought to have a number of purposes including communication or to remove parasites and usually happens several times in succession. 'Lobtailing' is when the whale slaps the flukes of the tail on the surface of the water while 'spy hopping' involves lifting the body out of the water to the height of the flippers in order to get a view of the surrounding area.
Humpback Whales.
These phenomenal mammals can weigh up to 35 tons and are approximately 15 metres in length. Usually black on top and white underneath, they have long, narrow flippers and perform spectacular breaches leaping high out of the water.
Southern Right Whale.
The Southern Right Whale is also around 15 metres in length but weighs in at a heavier 50-60 tons. Southern Rights do not have a dorsal fin and are often covered in wart like growths.
South Coast
Protea Banks Sharks.
A 90-minute drive south of Durban and 8kms offshore from Shelly Beach just south of Shepstone on the south coast, Protea Banks is widely considered to be among the best shark diving sites in the world.
The reef itself is an old fossilised sand dune with depths ranging from eight metres to 40 metres in an area about 4kms wide. Zambezi (Bull Shark), Tiger, Hammerhead, Blacktip, Ragged-Tooth, Bronze Whaler and, if you are lucky, Great White sharks can all be seen.
Aliwal Shoal.
Five kms offshore from uMkhomazi, a 30-minute drive south of Durban on the South Coast, this spectacular reef ranges in depth from five metres to 30 metres. Regular sightings include dolphins, manta rays, hump-backed whales and ragged tooth sharks during their winter migration between July and November. The best visibility is usually from May to September.
Sardine Run
One of nature's great migration phenomenons, this extraordinary event is witnessed every year along the KwaZulu-Natal coast during late autumn and early winter (May, June July). According to folklore, the sardines will arrive when the last aloe plant has bloomed. Often referred to as 'The Greatest Shoal on Earth', the sardine run occurs when millions of sardines (actually pilchards) migrate from their spawning grounds on the southern tip of Africa following a cool north-flowing current moving in the opposite direction to the warm, south flowing, Agulhas current.
The shoals are about 6kms in width and about 15kms in length. If the water temperature remains about 20C, the sardines will stay in the cooler waters further south or alternatively move northwards further out to sea on the far side of the Agulhas current. The sardines are followed in a feeding frenzy by sharks and game fish while pods of dolphins join together into super-pods to herd the sardines. Thousands of cape gannets also circle the shoals, plunging into the sea at speeds of 150 kph to eat their prey. Usually the shoals break up and venture out into deeper water just north of Durban.
Elephant Coast
Due to the Mozambique (Agulhas) current, the average water temperature on the Elephant Coast is 26.5C, ideal for sharks, whales, whale sharks, dolphins, manta and eagle rays. The area is also home to loggerhead and leatherback turtles who lay their eggs on the beaches here every November. The reefs off the Elephant Coast here are home to up to 100 species of hard and soft coral and more than 1200 species of fish.

KwaZulu Natal nature and wildlife

KwaZulu Natal whale watching

iSimangaliso Wetland Park in KwaZulu Natal

Bird watching in KwaZulu Natal
Responsible Travel would like to thank Tourism KZN for their sponsorship of this guide