Things to see and do in KwaZulu-Natal
There's no shortage of things to see and do in KwaZulu-Natal. Here are our Top Ten KwaZulu-Natal tips.
1. Durban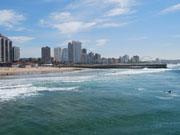 KwaZulu-Natal's most cosmopolitan city and the first port of call for most visitors to the province, Durban has been undergoing a renaissance in recent years. Its beachfront location on the Indian Ocean and year-round tropical weather have made it South Africa beach resort.
With its luxury hotels along the Golden Mile, world-class cuisine and top family attractions Durban is one of the most vibrant cities in Africa. Read more about
Durban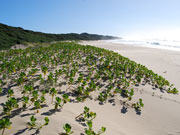 2. Beaches
KwaZulu-Natal is renowned for its world-class beaches. The combination of a balmy climate and wide, golden bays bordered by the warm waters of the Indian Ocean and the sub-tropical vegetation of the interior has made the coastline paradise central for vacationmakers.
Top beaches include Durban's Golden Mile and the resort area of Umhlanga Rocks while on the south coast Hibberdene, Margate, Marina/San Lameer and Ramsgate all have Blue Flag status.
Willard Beach and Clark Bay in Ballito are among the best beaches along the North Coast. All KwaZulu-Natal's designated swimming beaches are protected by shark nets and many have professional lifeguards in attendance. Read more about
beaches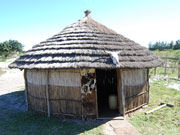 3. Township Tours and Community Tourism
Cultural tours which offer visitors the chance to experience modern-day life in a township or village homestead are becoming increasingly popular.
Durban's Umlazi township, South Africa's second largest after Soweto, has a population of more than 750,000 and is developing fast with investment in schools, infrastructure and housing. As well as guided tours, visitors can eat at top class restaurants and experience typical township cuisine.
Homestead stays also offer the chance to experience what everyday life is like for modern-day Zulus in the rural areas. A homestead or 'Umuzi' is a group of circular thatched houses belonging to an elder and his extended family. A stay will often include visits to local schools, shops and village communities. Read more about
Township tours and Community Tourism
4. uKhahlamba-Drakensberg
A UNESCO World Heritage Site, the Drakensberg Mountains – the 'Berg' as they are affectionately known – form the highest mountain range in southern Africa with peaks up to 3,482 metres (11,424 ft). Their respective names in Zulu and Afrikaans (uKhahlamba/Drakensberg) mean 'Barrier of Spears' and 'Dragon Mountains' respectively and vividly conjure up the soaring grandeur of these dramatic, craggy peaks and sandstone cliffs. Famous for its hiking routes, the Berg is also famous for the rock art left behind by the San people with literally thousands of individual images from around 500 sites, some dating back around 2,400 years.
Read more about
uKhahlamba-Drakensberg
5. Battlefields
KwaZulu-Natal is home to some of the most famous battlefield sites in both British and South African history. At the heart of Zululand, the battlefield region contains a combined total of 63 sites from the Voortrekker-Zulu conflict of 1838; the Anglo-Zulu War of 1879; and the 1st and 2nd Anglo-Boer Wars of 1880/81 and 1899/02 respectively. These include the sites of the Battles of Blood River, Isandlwana, Rorke's Drift, Laing's Neck, Majuba and Talana. Read more about
Battlefields
6. Hluhluwe-Imfolozi Game Park
Once an exclusive hunting ground for the great King Shaka, the Hluhluwe-Imfolozi Game Park is the oldest game park in Africa, officially established in 1895. The park was instrumental in saving the white rhino from extinction whose numbers had declined to a mere 20 individuals in 1900 and now numbers well over 10,000. All the 'Big Five' can be seen in the park, including both white and black rhinos and the park is also one of the world's top locations for viewing the exotic nyala, a spiral-horned antelope with distinctive vertical stripes on the side of its body. Read more about
Hluhluwe-Imfolozi Game Park
7. iSimangaliso Wetlands
This UNESCO World Heritage Site on the Elephant Coast in the far north of the province is made up of five major eco-systems of international importance which are also protected under the Ramsar Convention, an international conservation treaty.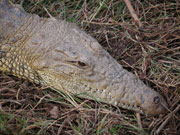 The park is the last pristine subtropical area on the south-eastern coast of Africa.
The 220 km coastline of the 332,000-hectare park – formerly known as the Greater St Lucia Wetland Park – has ten unique destinations between Maphelane in the south and Kosi Bay in the north offering everything from pristine wilderness and superb game viewing to activities such as scuba diving, horse riding, kayaking and fishing. Read more about
iSimangaliso Wetland Park
8. Midlands Meander
Winding through the well-tended farmland stretching inland northwest from Durban, the 'Midlands Meander' is a route created by a group of like-minded small businesses to showcase the top attractions the region the has to offer. These include everything from arts, crafts, restaurants and accommodation to a wide range of sporting, environmental and historical attractions and now includes a network of 134 members. At its heart is Pietermaritzburg, the capital of KwaZulu-Natal, a vibrant city combining the best of Zulu, Boer and British influences. Read more about
Midlands Meander
9. Whale watching & the Sardine Run
The north coast of KwaZulu-Natal is renowned for the Humpback and Southern Right whales which migrate north along the coast during June and July and back south again in September and October. Dolphin sightings are also a daily occurrence year-round. One of the world's great marine migrations, the Sardine Run, also takes place each year in June and July when huge shoals up to 7 kms long made up of millions of silver sardines (pilchards) migrate along the south coast of KwaZulu-Natal creating a feeding frenzy of sharks, dolphins and sea-birds in their wake. Read more about
whale watching
Diving
KwaZulu-Natal is steadily building a reputation as one of the world's top diving destinations with some sites being regularly voted among the top ten dive sites in the world.
These include Rocktail Bay & Sodwana Bay, both in the iSimangaliso Wetland Park on the Elephant Coast, with coral reefs that are home to more than 1200 fish species including manta rays, leatherback and loggerhead turtles, colour-changing octopus and giant potato bass.
Protea Banks, off Shelly Beach south of Durban, is widely considered to be among the best shark diving sites in the world while the Aliwal Shoal reef, also on the South Coast, has regular sightings of dolphins, manta rays, hump-backed whales and ragged tooth sharks.
Back to the top
Convert currencies