Scuba diving in Lanzarote
The upwelling of the nutrient rich waters of the Canary Current make the seas off Lanzarote some of the richest in fish species of the northern hemisphere.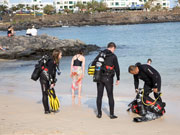 With a water temperature ranging from 18 to 25 degrees centigrade and visibility up to 50 metres (150 feet) the island has some of the best diving conditions in the archipelago and there are many dive spots suitable for both beginners and advanced divers.
There are well equipped dive schools in the coastal resorts of Playa Blanca, Puerto del Carmen and Costa Teguise offering PADI courses at all levels taught by experienced and well qualified dive masters.
The underwater landscape of the island is extraordinary, with caves and grottoes formed by the explosive volcanic eruptions on the island when rivers of molten lava cascaded into the sea. Off lying reefs teem with fish of all kinds, from barracuda and parrot fish, to sea bass and bream and on drift dives along the reefs the lava walls encrusted with corals and anemones are a perfect habitat for large moray eels and groupers.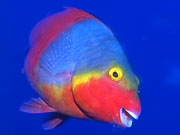 Big ray, dolphins, pilot whales and hammerhead sharks can be seen in the waters to the north of the island which has some of the best diving locations, although open to the massive Atlantic swells, it is for more experienced divers only.
On the sheltered southern coast, many excellent dive spots can be reached from the beach, and night dives are practised here in the clear waters just below the beach wall in Puerto Del Carmen. There are also several wreck dives off Arrecife and Puerto del Carmen on the eastern coast.
It is at such wrecks where the occasional manta ray can been expected to put in an appearance. Some of these wrecks are within 100 feet of the surface and are accessible for relatively inexperienced divers.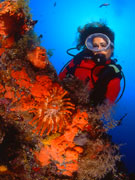 To the north of Lanzarote the waters of the Chinijo archipelago are a designated Marine Reserve which is one of the largest in Spanish waters and the number of divers permitted to visit the zone is carefully controlled by the marine authorities.
A huge range of fish species can be seen here, and there are excellent drift dives which can be accessed from the deserted beaches of La Graciosa, the only inhabited island of the archipelago.
Dive boats from the major resorts and from the northern port of Orzola take groups of divers to the Marine Reserve.

Jose Luis García Blanco, PADI instructor
"I have dived all over the world for many years but I like Lanzarote because here the sea is clean all year and we have a very good sea life, with different coloured fish"

Find out more about
Lanzarote activities
Responsible Travel would like to thank the Lanzarote tourist board for their sponsorship of this guide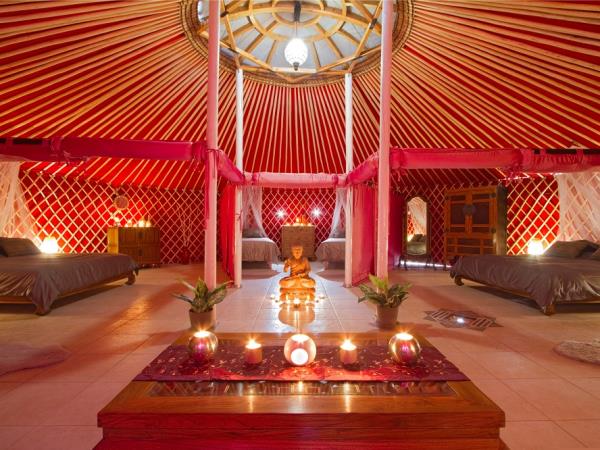 Luxury large yurt, inc Hybrid car & airport transfers
From
€

2100
per accommodation per week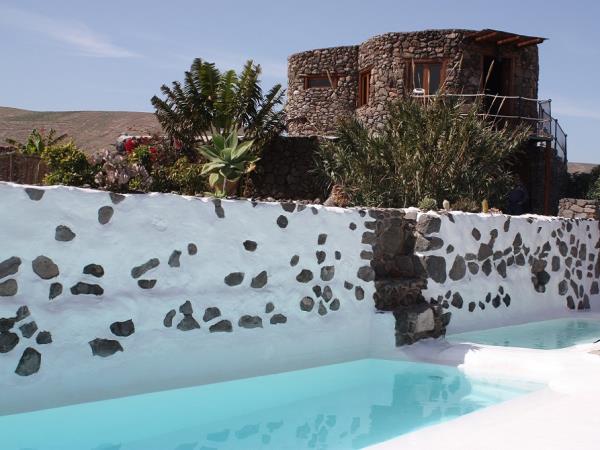 360º views, ideal couples/single travelers, pick-up incl
From
€

665
per couple per week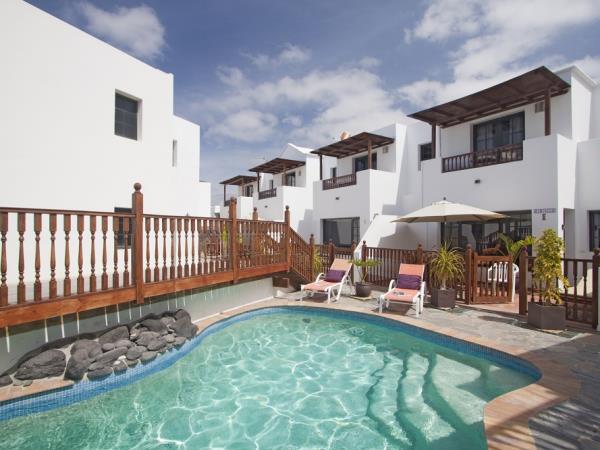 2 bed villa, shared pool, airport pick-up included
From
€

700
per accommodation per week (sleeps 4)