Things to do in Madagascar
Look for Lemurs
High up on any list of things to do in Madagascar are the irresistible lemurs. Their ancestors are believed to have floated across to Madagascar some 65 million years ago on natural "rafts" of vegetation, and evolved into over 100 species. The name comes from the Latin 'lemures', meaning ghost, and many Malagasy fady taboos involve lemurs, with some seen as benevolent ancestors, and others as bringers of bad fortune. Different lemurs inhabit different regions, and more are expected to be discovered. Sought-after species include the ring-tailed lemur and the sifaka, which appears to dance around on its back legs. The indri is the largest living lemur, and its eerie, whale-like song sung is by several individuals each morning to communicate with other groups. Take a guided night trek to spot nocturnal species, including one of Madagascar's most bizarre-looking lemurs – the aye-aye, with its freakish, long, skinny finger.
Sadly, at least 17 species are known to have become extinct since humans arrived on the island, all of which were larger than the surviving lemurs, including some as big as gorillas.
World-class hiking
To really experience it, you'll have to leave the 4x4 behind and set out on foot. Hikes take anything from a couple of hours to several days. Stop by some of the little villages along your route to add a cultural element to your nature tour, and enjoy a warm Malagasy welcome.
Trekking vacations are popular
.

Madagascar is quilted with montane forest, rain forest, waterfalls, limestone karsts, sweeping cliffs, baobab-dotted savannah and jagged peaks.

Our top Madagascar Vacation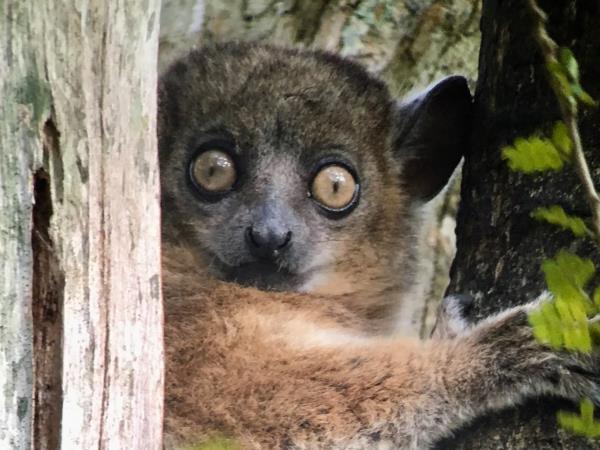 An adventure observing unique wildlife in Madagascar
From
£

3695
20 days
ex flights
Tailor made:
This trip can be tailor made throughout the year to suit your requirements
If you'd like to chat about Madagascar or need help finding a vacation to suit you we're very happy to help.

River canoe expeditions
Laurenne Mansbridge, from our supplier Pioneer Expeditions, recommends a river expedition to get to the heart of Madagascar:
"My favourite things to do in Madagascar are definitely the river journeys, because they allow you to get into the middle of nowhere, to places where there's no roads in and no roads out.
You trek to the departure point and then go out on the inflatable canoes – it could be for one day or three days – but you have to complete the full journey. You see a lot of Malagasy life that way – you might come across a village right on the bank and see the people who live off the river – sapphire miners, people panning for gold – and they're always pleased to see you and interested in the weird tourists in the canoe."