Mayan marvels
The Mayan civilisation dominated Mexico's Yucatán Peninsula between 600-900AD. During the 1990s as part of the creation of the Mayan Trail, or Ruta Maya that stretches through all the Mayan civilisation countries which include neighbouring Belize and Guatemala, many of Mexico's sites were unearthed and restored and are now highlights of cultural vacations in Mexico. Some are UNESCO World Heritage Sites, such as Chichén Itzá, Uxmal and Palenque; all are at different stages of restoration. These were massive cities after all, and if you find yourself walking across a big hill in Palenque National Park's jungle, the chances are you are walking over some ancient palace or pyramid. It is hard to see them all, but they all have something unique about them, and keen historians often add the neighbouring Guatemalan Mayan marvels onto a Mexican vacation.
Getting truly multi-cultural
There are over 60 indigenous groups and just as many languages, meaning that Mexico defines itself, in its constitution, as a "pluricultural" nation. The most prolific groups to meet on your travels are Nahuatl, Yucatec (Maya), Zapotec and Mixtec. In Oaxaca, for example, there are 12 community museums run by local villages with Zapotec weaving, archaeological artifacts and traditional healing methods on display, plus guided tours into their lands.

Stereotyping Mexicans is not only rude, it is wrong. With over 60 languages spoken here, this is multicultural central.

Our top Mexico Vacation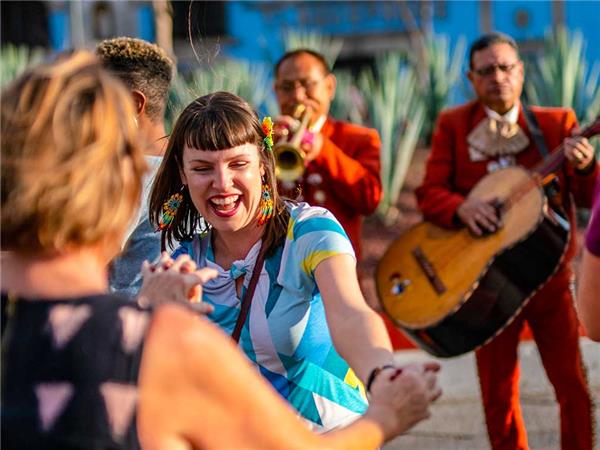 2 week discovery Mexico's Aztec, Zapotec & Mayan cultures .
From
US $

1346

to

US $

2090
15 days
ex flights
Small group travel:
2023: 10 Jun, 17 Jun, 24 Jun, 1 Jul, 8 Jul, 18 Jul, 22 Jul, 5 Aug, 12 Aug, 19 Aug, 2 Sep, 16 Sep, 30 Sep, 3 Oct, 7 Oct, 10 Oct, 14 Oct, 21 Oct, 4 Nov, 7 Nov, 11 Nov, 14 Nov, 18 Nov, 21 Nov, 25 Nov, 28 Nov, 5 Dec, 9 Dec, 12 Dec, 16 Dec, 19 Dec, 23 Dec, 26 Dec, 30 Dec
2024: 6 Jan, 9 Jan, 13 Jan, 16 Jan, 20 Jan, 27 Jan, 3 Feb, 6 Feb, 10 Feb, 17 Feb, 20 Feb, 24 Feb, 2 Mar, 9 Mar, 12 Mar, 16 Mar, 19 Mar, 30 Mar, 6 Apr, 9 Apr ...
If you'd like to chat about Mexico or need help finding a vacation to suit you we're very happy to help.

Mexican food please
You can just eat your way around Mexico. Food trails and gastro tours are all the rage, with taco trails in Mexico City, market tours in Oaxaca, and yummy Yucatán seafood at every turn. Puebla is also embracing tourists' food fest fancies, justified given that it is home to the national favourite, Mole poblano – a sauce to accompany meat made with chillies and chocolate.

Not only is the food superb, you have tequilas, mescal, margaritas, heritage and contemporary beer to accompany it.

Savour the whales
Whale watching between February and April along Mexico's Baja California Peninsula is a veritable orgy of cetaceans. One of the longest peninsulas in the world, it proffers 3,000km of coastal homes to dolphins, blue, sperm whales and orcas.
Most magically, almost every grey whale in existence gathers around four mangrove lagoons here to breed and birth. You can camp on lagoon islands, surrounded by their moving sights and sounds. The whales are almost habituated, coming up close to check out the fiberglass panga boats that take handfuls of tourists for viewings. Off the southern tip lie the humpbacks, who sing and dance their way through the breeding process. A tour de force in nature's theatre.