Things to do in the Middle East

Thereís more to the Middle East than ancient history. Think golden coastline, lofty peaks and rolling desert Ė all helped down with some local wines and a healthy serving of mezze.

Rich in history and blessed with starkly beautiful landscapes and dazzling seas, the Middle East wonít disappoint when it comes to keeping you active. Whether you want to get your kicks underwater, with top notch diving and snorkelling, or above ground, with desert hiking and biking, there are plenty of exciting options. And, of course, history and archaeology buffs are endlessly entertained by the living, breathing monuments to the past that exist all around them.
Our Middle East Vacations
Ancient history
You canít visit the Middle East without being aware of the regionís past glories Ė they are all around you. Lebanonís storied town of Tyre, for example, is home to sprawling Roman ruins dating to the 2nd century AD, while in Jordan youíll find Roman ruins at Jerash in addition to the rock hewn tombs of Petra, built by the Nabataeans millennia ago.
Egyptís
Valley of the Kings
and
pyramids
are amongst the most impressive ancient structures in the world, and are testament to the power, organisation and engineering genius of their makers. Persepolis in Iran, begun by Darius the Great in the 6th century BC, is one of the most magnificent ruined cities around, spreading out over 13 hectares. Israel, meanwhile, boasts masses of sites and digs covering the Persian, Byzantine, Roman and Hellenic periods, including Caesaria, where incredible ancient harbour ruins and beautiful beaches sit side-by-side.
There are also castles and fortresses dating back to the time of the crusades. Jordanís Karnak has stood the test of time impressively well, as has the Nimrod Fortress in the Golan Heights. Omanís imposing, 17th century Nizwa Fort is no less impressive, and offers dramatic views over date plantations and mountains from its tower.
Religious sites
The Bible, the Torah and the Quran loom large over the Middle Eastern landscape. Most important, of course, is Jerusalem, whose holy sites are significant for Jews, Christians and Muslims, and include the Western Wall, Temple Mount (Al Haram Ash Sharif) and the Church of the Holy Sepulchre. The Church of the Nativity stands in Bethlehem in the Palestinian Territories on the site where Jesus was believed to be born.

Other key religious sites across the region include Mount Sinai, where it is believed that Moses received his Ten Commandments from God, and Jordanís Mount Nebo, from where Moses looked out over the Promised Land.

Some of the worldís oldest, most beautiful and most open mosques can be found in Iran, with most dating back 500-1,000 years. The best examples include the Blue Mosque of Tabriz, and Shirazís Nasir al-Mulk, known as the Pink Mosque, after the rose-coloured tiles that cover the interior. Unlike in many countries, most Iranian mosques are open to non-Muslims; all visitors must remove their shoes before entering, and women must wear a headscarf.
Desert safaris
Looking out over endless swathes of creamy sands and twisted rocks is one of the highlights of a visit to this region. Deserts are places to ponder peace, camp under an explosion of stars, and spend time with the Bedouin tribes, traveling in a caravan of camels, taking tea and listening to music and folk tales around an open fire.
Omanís desert is dotted with isolated settlements of semi-nomadic Bedouin people, and highlights include the Empty Quarter, or 'Rub Al Khali', which is part of the world's largest sand desert, and Wahiba Sands, famed for towering sand dunes that reach up to 100m. Jordanís Wadi Rum hides jagged mountains and huge, empty plains, while Egyptís striking White Desert not only features white chalk rock and limestone formations, but also tombs, carvings and caves.
The Middle Eastís deserts can be explored in many ways. Popular options include 4X4 safaris, hiking or biking trips and camel trekking.
Our top Middle East Vacation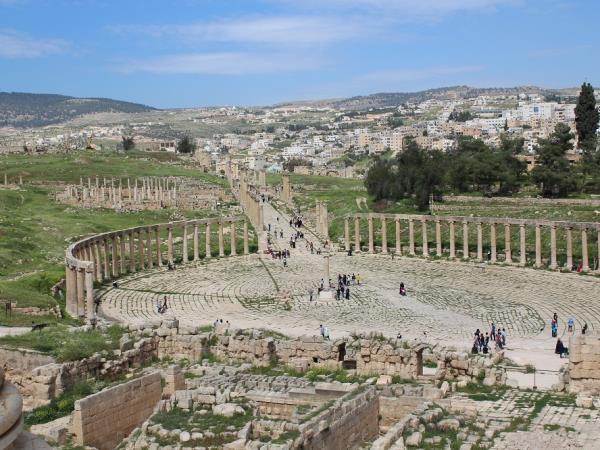 A fabulous family vacation including the best of Jordan
From
US $

1850

to

US $

3000
9 days
ex flights
Tailor made:
This trip can be tailor made throughout the year to suit your requirements
If you'd like to chat about Middle East or need help finding a vacation to suit you we're very happy to help.


Youíre unlikely to visit the Middle East without visiting the ancient worldís answer to the shopping mall - a souk, where past meets present and spices and pomegranates are sold alongside rugs and leather goods.

Shopping the souks
Omanís Mutrah, a short distance from Muscat, is great for hand carved silver and gold jewellery; Cairoís Byzantine Khal al Khalili is tousity but good fun and authentic; while Jordanís Jabal Amman, a buzzing district stretching out along Ammanís Rainbow Street, offers books, handmade soaps, wall hangings and olive oil. In Iran, Tehranís Grand Bazaar has 10km of corridors, and Tabrizís historic covered market even contains mosques.
Walking & cycling vacations
If you prefer trekking to tombs and temples, never fear Ė the Middle East offers enough walking territory to keep you going for weeks. And if youíre worried that Middle Eastern walks only involve baking in a hot desert, then donít be. Yes, there are trails though barren and dusty lands, but you can also wander through olive groves, lush valleys, fields of wildflowers and along coastal paths with the tang of salt in your mouth.

Highlights include hiking Jordanís Dana Biosphere Reserve, which has 320km2 of shark-tooth mountain ridges, towering cliffs, and sandstone and granite canyons; tackling the Galilee Walking Trail, a 65km pilgrimage route also known as the Jesus Trail, which takes you through some of Israelís eclectic landscapes; and following the Palestinian leg of the Abraham Path, which traces the footsteps of Prophet Abraham and is a fantastic opportunity to connect with remote local communities.

There are also some fantastic and little-known cycling routes in the Middle East. You could cycle through wadi landscapes and green plantations in Oman; make your way through the deserts and mountains of Jordan; or pedal from Tehran to Shiraz, through the great, open terrain of the Iranian countryside. Wherever you choose to go, youíll find that cycling through rural areas is a fantastic way to get to meet local people and see a side of life that tourists often miss out on.

The warm, coral rich waters of the Red Sea are perfect for divers, whether youíre an experienced guru or a total novice wanting to take a PADI Open Water course.

Scuba diving
Jordan may have just 27km of coastline, but there are 21 designated dive sites along the fringing coral reef of the Red Sea near Aqaba. If you like the idea of relaxed scuba diving in small groups just a short walk from the water then Dahab, in Egypt is spot on. Diving here is mainly shore-based as the Red Sea drops quickly down to great depths, making it an ideal destination for beginners.