Morocco family vacation highlights
---
WHERE KASBAHS ROCK & SOUKS ARE SICK
Morocco family vacations are fun from the get go. From that tingly excitement as you get your head around magical Marrakech, quickly followed by the dramatic Atlas Mountains. Or simple things like seeing goats climb high up into argan trees. The sweet peppermint tea. You never forget that feeling when you take your first steps into the infinitesimal Sahara, with its giant dunes and singing sands. And then those Atlantic waves at Essaouira. No wonder it has become the cool place to surf these days. The souks and colourful, stall-filled squares make everyone feel like a child in a sweetshop. Except you won't find E numbers in Morocco's treats. It's bursting with natural energy.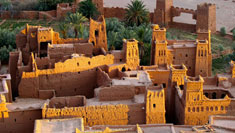 Aït Benhaddou
Almost like a mirage, it segues so seamlessly with the desert and rocky terrain, it was once an important stop for people on the caravan route between Marrakech and the Sahara. Its ancient clay Kasbahs inside the fortified walls are amazing places, also a UNESCO World Heritage site. Wander through the maze of streets and up to the viewpoints over the barren desert and count the number of movies shot here.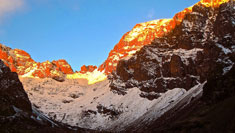 Atlas Mountains
The magnificent divide between Sahara and sea, it is hard to avoid the Atlas, but nor should you. The biggies are the High Atlas, home to North Africa's highest peak, Mt. Toubkal, as well as Todra and Dades Gorges. Go hiking with a Berber guide and muleteer and stay in a traditional kasbah. Check out the Drâa River Valley too, sourced in the mountains and creating oases en route to the desert.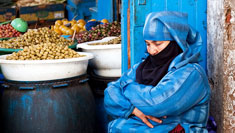 Essaouira
Far from the all inclusive resorts of Agadir, this coastal gem is a traditional fishing town and ancient walled city with a wonderful medina, but also lively port. Famous for its array of white buildings with blue shutters and doors, blue boats and women dressed in traditional blue robes, it is a stunning place to visit. And surf. But do get instructors. These are rough waves along here.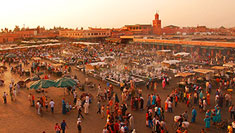 Marrakech
Starting your family vacation in Marrakech is like taking a double espresso. A few hours ago you were in banal land, and then suddenly Marrakech kicks in. The mad yet magical Jemaa El-Fna Medina, the drummers and acrobats, the multicoloured spice and fruit filled stalls, vendors calling you one way and another. All overlooked by the minarets of the magnificent Koutoubia Mosque. It's kick ass stuff.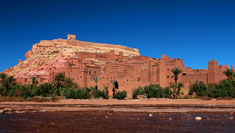 Ouarzazate
You can fly into Ouarzazate, and if you do you will get that adventurer vibe on the plane, as this is the gateway for hikers and bikers heading off to the gorges, mountains, deserts and luscious valleys. Located in the Atlas Mountains, it is rugged and beautiful at the same time, dominated by the huge Taourirt Kasbah. If Marrakech is vivacious social butterfly, then Ouarzazate is the hench, handsome cousin.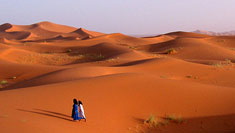 Sahara Desert
It's iconic, it's infinitesimal and it's always incredible. Heading out from small buffer towns such as Zagora and Erfoud, your camel and Bedouin guides will lead the way. Climb up the giant dunes at, for example, Erg Chegaga to see the sunset. Sandboard down them too. Plod past blue robed Bedouins going about their daily lives. And set up camp under what feels like a million stars with your ever welcoming hosts.


Morocco family vacations travel advice
---
TIPS FROM OUR FRIENDS IN MOROCCO
Radek Nowak, Morocco destination manager at our supplier, Intrepid Travel, shares his advice for family vacations:
Where to go
---
"Go and discover the village of Aroumd in Atlas Mountains. It's a small place full of lovely Moroccan people and offers a great chance to see what Morocco is really like. Kids are playing on the streets; it's great chance to interact. Go shopping in Marrakech, get lost in the alleyways of the Medina. It's safe, it's full of colours, smells and smiling faces. You can pick up some beautiful spices and authentic souvenirs your friends and family back at home will appreciate."
Food tips
---
"If your child is a little picky with food, think about bringing your own snacks. Food is fantastic in Morocco, but little bit repetitive in rural areas, like Aroumd. And don't miss a glass of freshly squeezed orange juice at Djemaa el Fna. It doesn't taste better anywhere in the world."
When to go
---
"Easter is a fantastic time to visit Morocco. The weather is lovely so you get some much needed sun after the winter months, while still being able to get out and about exploring on foot. If traveling in June and July, be prepared for the hottest weather of the year. We have stopped running any of our family trips that go to the Sahara in June and July due to hot temperatures and safety of the children. Hot in Morocco means very hot! Avoid Ramadan – it's an interesting time to experience and of a completely different feel to anything you will find at home – but it's not necessarily the best if you are traveling with children. Many services are not available, some restaurants are closed and shops operate limited hours."
Cultural advice
---
"People in Morocco are very friendly and helpful, so don't be nervous about your kids playing with local kids. People are always willing to help and happy you are visiting their country. You will get great opportunities for real life experiences, with local people. Football is as popular as in your home country, get involved!"
Accommodation tips
---
Rachel Blech from our supplier, SheherazadVentures: "Though the idea of staying in a traditional riad town house is very appealing, think carefully when choosing. Riads are a great experience of authentic architecture and culture, but they are small spaces set around a central courtyard. Noise carries everywhere and there are usually steep stairs around the central patio, with rooms on each level. Seldom is there a swimming pool larger than about 2x3m, unless you are booking a luxury riad."
Packing tips
---
Radek Nowak, from our supplier Intrepid Travel:
"Pack reusable water bottles. You will have to drink a lot (it's hot in Morocco) but tap water is a no no. You are likely to buy bottled water – buy big bottles and refill your own reusable ones. We want to foster the next generation of responsible travelers so reusable bottles are a good start."
Rachel Blech from our supplier, SheherazadVentures:
"Pack lots of light and loose layers. Temperatures can vary a lot between night and day. Weather is usually warm, but can be very unpredictable between November – April. If you are touring, make sure to pack bottled water, snacks and loo paper. You can go a long way without passing a shop or clean loo."
Simon Clifford from our supplier, Exodus:
"Wet wipes and hand gel are really useful; it's hot dusty and you do get dirty, just wandering around."
Morocco family vacations travel advice
---
TIPS FROM OUR TRAVELLERS
At Responsible Travel, we think the best people to advise our travelers are often... other travelers. They always return from our tours with packing tips, weather reports, ideas about what to do - and opinions about what not to.

We have selected some of the most useful Japan cultural vacation travel advice that our guests have provided over the years to help you make the very most of your vacation – and the space inside your suitcase.
"Everything is thought of so don't worry! Enjoy every moment, the people are lovely. One hotel was on a small orange farm which was lovely... We ate at local restaurants. We visited a women's co-operative of Argan oil producers and went to a local hammam... An excellent experience, especially for the children. A great tour to get an idea of different ways of life in Morocco, from rural villages to big cities." – Kate Newman
"Take lots of cash because you will want to shop, but many places don't take cards. Also don't buy at the first shop, you will see the same things along the way, and it's really worth getting prices from a few places before you start the inevitable haggling process!" – Charles Redfern
"Buy some duty free booze to take in! Make sure the bank gives you small notes; it was really difficult getting change from almost everywhere even with a 50 Riad note. Don't go out in Marrakech after 6pm if female & under 50...the most memorable part? Seeing the Milky Way and shooting stars for the first time ever whilst in the Sahara." – Sarah James
"If you want to visit high mountains Denmate is not the place as it is quite low. We liked it because with children it was easy but then we felt that we were missing out and wanted to add another daily excursion from Marrakech to the Atlas Mountains and that was a very good choice. Much more dramatic landscape and proper mountains." – Maria Verdecchia
"There is a lot of time spent in the mini bus traveling between destinations, great for adults who want to see the countryside but bring things for the kids to entertain themselves with on the bus, bring children's medicines for travel sickness, and diarrohea and hand wipes!" – Alison Williams