Mount Kenya routes & highlights
---
MAKE THE MOST OF YOUR TIME
Most pre-arranged treks up Mount Kenya include transport to and from Nairobi, and begin in Nanyuki or Naro Moru. Of the four routes that lead up the mountain to the Peak Circuit Path, Naro Moru may be the fastest, but it's not the most interesting or dramatic. Sirimon on the northwestern side of Mount Kenya is much more scenic, plus the altitude gain is nice and steady and the route escapes some rainfall, so it's drier. Some treks use this route for the descent only, ascending by the Burguret route, a little used wilderness path, or the Chogoria route, which passes waterfalls and lakes.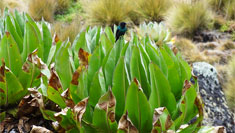 Burguret Route
You sometimes don't meet a soul on this little used wilderness path, and a machete may be needed to clear vegetation obscuring it at lower levels. Trek up to high altitude moorland, dotted with weird, giant lobelia and senecio plants and camp by sheer lava cliffs, enjoying views of Batian and Nelion from the Burguret Valley. Descend via the Sirimon route for a full experience of the mountain.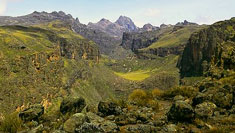 Chogoria Route
Chogoria is a longer trail and it takes a jeep journey from Chogoria town to reach the park gate, but for many this is the loveliest route. Long days trekking on good paths with wide vistas, great camp sites and fascinating flora and fauna are on offer. You'll pass waterfalls, Lake Michaelson and Lake Ellis, and the spectacular Gorges Valley, but the trail is never crowded.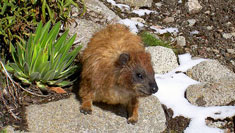 Flora & fauna
The lower reaches of Mount Kenya boast a diverse mix of flora. From forests thick with towering stands of bamboo and huge podocarpus and pencil cedar trees up to heather moorland at around 3,000m, which could pass for a Scottish glen. Lower down, elephants bash paths through the dense forest shared with buffalo and hyena; higher up, spot rock hyrax, sunbirds and the odd high-altitude zebra.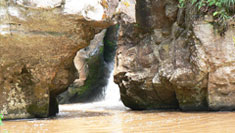 Mau Mau Caves
Approached along the Naro Moru trekking route through the forest at the base of Mount Kenya, these caves near Nanyuki boast rapids and a waterfall, as well as great historical significance. During the Mau Mau Uprising of 1952 to 1960, freedom fighters used these caves as a hideout from colonial British forces, who tried to bomb them but, fortunately, missed.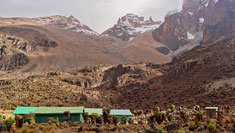 Shipton's Camp
Many treks make use of Shipton's Camp, one of the larger bases on the mountain, with a big bunkhouse. It's a dreamlike setting, towered over by the three highest peaks, but also Sendeyo and Terere, two ancient volcanic vents of the main peaks. Pause for breakfast here after summiting Lenana, while mountain buzzards soar above and sunbirds flit around the rocks and giant groundsel.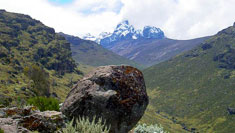 Sirimon Route
Trek up from the dusty lowlands, through ancient forests, into unusual glacier-sculpted heathland before approaching the jagged volcanic peaks and glaciers of Mount Kenya's summit. This is one of the most accessible routes up, well suited to any keen hill walker, with basic bunkhouses lining the way. Some treks use this route for the descent only, after tackling the summit of Lenana Point.


Mount Kenya travel advice
---
TIPS FROM OUR FRIENDS IN AFRICA
Why pick Kenya over Kilimanjaro?
---
Andrew Appleyard, from our supplier Exodus, has climbed both of Africa's two highest peaks and makes this comparison: "Mount Kenya is underrated compared to Kilimanjaro. On Kilimanjaro, you walk in up the Rongai route and go through farmland for about 25 minutes. You go through the rainforest for about three hours, and then you're on the mountain and there's nothing else there for about five days. There's no wildlife, there are a few crows if you're lucky and that's about it. But when you're on the lower slopes of Mount Kenya, for the first two to three days there are beautiful flowers, fantastic flora around, you've got some really nice birdlife on the lower slopes as well. It's considerably quieter, and while we camp on Kili, we use huts on Mount Kenya, and there are very few people on the mountain. To me, it's just far more beautiful, it's highly underrated."
The benefits of camping on Mount Kenya
---

Lucy Booth, from our supplier Kenya Treks, shares her accommodation advice:
"To be honest Mount Kenya's huts are pretty basic, and some would say they are pretty grim – many of them haven't been improved in decades. This is why we tend to camp and to avoid them. Some visitors like the idea of meeting up with other trekkers although to be honest groups tend to keep to themselves. The real benefit of the huts is in bad weather. If it is pouring with rain, it can be more appealing to go 'inside' than go into your small tent wearing wet clothes. I think on balance camping is more of an adventure and means you can go to places which you wouldn't otherwise see, for example, the lakes."
Alistair Grice, from our supplier Exodus, has this advice: "The Sirimon Route has huts all the way up it (this is the route I followed when I trekked to the summit five years ago), but over time, shall we say, the huts have become less than an attractive proposition. Hence the switch to four nights' full service camping and one night in a basic lodge on our trek via the Burguret Route and down on the Sirimon. Camping is a far more enjoyable and pleasant experience, with less contact with other trekking groups. It's a win-win situation all the way to the summit!"
Packing tips
---
Alistair Grice, from our supplier Exodus, has this advice: "I would recommend bringing your own favourite snacks, confectionary and choc bars, as such supplies can be hard to find locally."

Lucy Booth, from our supplier Kenya Treks, suggests things to bring: "Wine gums or similar. Particularly on your last day at very high altitude your throat becomes really dry. It makes a huge difference to have something sweet to suck! I strongly recommend bringing a Sigg aluminium bottle, too. We can fill it with very hot water and we provide fleece covers for 1 litre bottles so you can have a cosy hot water bottle at night!"
Altitude sickness advice
---
Alistair Grice, from our supplier Exodus, shares his healthy trekking tips: "Acute mountain sickness (AMS) is always an unknown phenomenon as it can affect even the most experienced high altitude trekker irrespective of age, fitness, physiology and previous trekking experience. Such high altitude treks always allow sufficient time for adequate acclimatisation but you can't legislate for the impact of altitude as everyone will react differently. As long as you are in good health and have a good level of fitness you should be OK, but no guarantees. I've always been very fortunate and have never had a problem with altitude, but then I am the complete trekking athlete of course… Ha!"

Lucy Booth, from our specialist supplier Kenya Treks, has been trekking on Mount Kenya for over 10 years and shares her tips on routes, preparing and the wildlife to look out for while trekking:
Route choices – which is best?
---
"I recommend the Chogoria route and an early morning ascent of Point Lenana from Lake Michaelson. There is not much scree on this approach so it is fairly straightforward to approach the summit. The worst approach which we don't recommend is from the Naro Moru side (Mackinder's Hut to Austrian Hut). This has to be the most challenging scree slope on the mountain and is really tough. We use the Chogoria route up via Lakes Ellis and Michaelson as it is the most off-the-beaten-track of the main routes and the most scenic. We come down Sirimon as far as Old Moses Camp and then drive out. A road has been built up to this point so there's no real point in walking this section. The idea is that walking trails are going to be built through the bush on both the Sirimon and Naro Moru routes so that visitors walking up these routes don't have to walk on roads on Day One."
Preparation tips
---
"The fitter you are, the better. I recommend guests spend two months prior to traveling increasing their aerobic fitness. I trained for the Lewa Marathon last year and I accompanied a trip after that and I could really feel the difference."
Wildlife tips
---
"I've been trekking on the mountain for over 10 years and have seen elephant, buffalo, eland, zebra, bushbuck, waterbuck, duiker, baboons, colobus and Sykes monkeys, rock hyrax and chameleons. I've heard hyena and seen their droppings, but never seen them. You will almost certainly see rock hyrax and the beautiful scarlet tufted malachite sunbird. I saw a lot of baboons, Sykes monkeys and a few waterbuck on the Naro Moru side last week when I was up for a couple of days."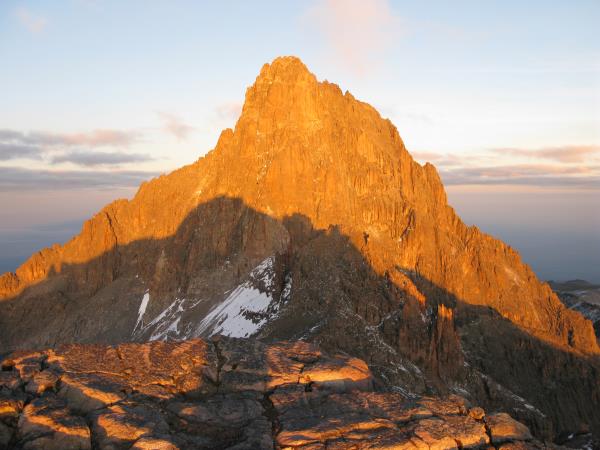 Mount Kenya high altitude walking trip in Eastern foothills
From
US $

1800
9 Days
ex flights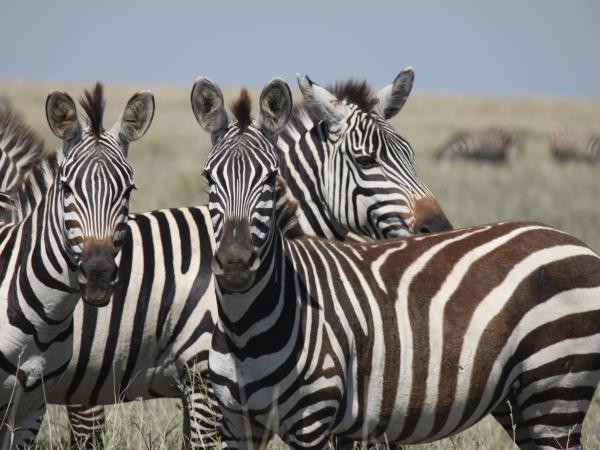 Aberdares, Nakuru & Big 5 Country, the fabulous Masai Mara
From
£

1400
6 Days
ex flights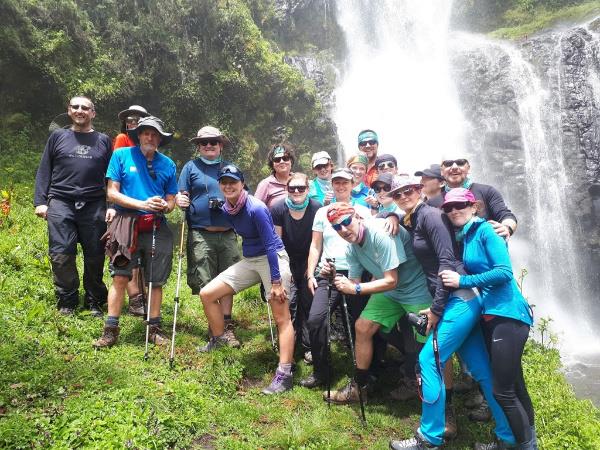 -Mt. Kenya with an Expedition Leader and Doctor
From
US $

4030
9 Days
ex flights