Namibia & Botswana travel guide
Namibia and Botswana share a border in Southern Africa, and their proximity to each other and the fact that they are generally long haul travel destinations means combining them on a single trip makes good sense. But choosing to see both countries is about so much more than practicalities and drive times, and a combined trip always delivers way more than simply double the fun.

A vacation to Namibia and Botswana serves up a huge slice of Southern Africa, packed with wildlife, activities and spectacular landscapes – coast, desert and Delta.

Traveling to both Namibia and Botswana in a single trip is multi-layered, with numerous opportunities to compare and contrast experiences, landscapes, wildlife, sunsets and even weather. Was game viewing more exciting in Etosha or Chobe? Did the vast expanses of the Kalahari wow more than the towering dunes of the Namib Desert? Was an adrenalised afternoon sand boarding more rewarding than a lazy mokoro ride in the Delta? Of course, this isn't a competition; one country won't impress you more than the other. This is a rich, fascinating, on-the-move travel experience – two countries delivering tons of memories. Find out more in our Namibia and Botswana vacations guide.
Namibia & botswana are/aren't
Namibia and Botswana are…
dazzlingly diverse and delightfully otherworldly, home to a lush inland delta, deserts, dunes, salt pans and seriously large herds of elephants.
Namibia and Botswana aren't…
quick to get around. You'll be traveling by road and need two or three weeks to do them justice.
Our Namibia & Botswana Vacations
Namibia & Botswana map & highlights
Combining Namibia and Botswana on a single vacation means traveling extensively overland. Although drive times can be long, particularly in Namibia, the roads are pretty good and the scenery mesmerising. If you have three weeks to spare, a looping route that begins and ends at Victoria Falls (which actually straddles Zimbabwe and Zambia's borders), will take you along the Caprivi Strip, towards the coast of Namibia, down to the Namib Desert and back into Botswana to enjoy the Kalahari, the Delta and Chobe National Park. Shorter trips of two weeks typically have Victoria Falls and Windhoek or Swakopmund as start and finish points.
1. Chobe National Park
Botswana has Africa's largest elephant population, and in Chobe alone there are more than 100,000 of them. Chobe was Botswana's first national park, and the place to see not only huge herds of elephants drinking and bathing at the river during the dry winter months, but also enormous quantities of zebra, buffalo and impala, plus lions, hippos, giraffe and rich birdlife.
2. Etosha National Park
The Etosha Pan, a bright white salt lake, dominates this national park, home to lions; elephants with ghostly, salt encrusted skin; black and white rhinos; and the endemic black-faced impala. During the dry season, animals gather around the few last waterholes, creating a truly memorable game viewing spectacle. Some waterholes are lit, so just pull up a chair and watch the wildlife all night long.
Makgadikgadi Pans Game Reserve
3. Makgadikgadi Pans Game Reserve
One of the largest salt flats in the world, the Makgadikgadi Pans were once part of an even larger 'super lake'. This surreal salt desert changes with the season, from a dusty haze to a vast, shallow lake. After the rains, grass grows again, attracting wildebeest, zebra and flamingoes into this surreal landscape, which is punctuated with ancient, fat-trunked baobabs.
4. Namib Desert
The Namib Desert is a vast dry landscape, home to towering red sand dunes. At Sossusvlei, you can hike up Dune 45 or the even taller Big Daddy for a view over the sand sea; walk along the Sesriem Canyon; and explore the Deadvlei clay pan, with its cracked white surface and dark, dead camelthorn trees. The sunsets, shadows and colours are a treat for photographers.
5. Okavango Delta
Flooding the Kalahari Desert with rain that first fell in Angola, the Okavango Delta is a huge inland oasis, peppered with islands and home to 122 species of mammals. Take a mokoro canoe ride through the papyrus fringed channels or a bush walk with a local community guide. To round off your wilderness experience, opt to wild camp for a few nights, serenaded by hippos.
6. Swakopmund
This coastal town owes its architecture and bakeries to German colonial times, but today Swakopmund is an adventure hub, with quad biking, sand boarding and sky diving popular. Many tours take in the Cape Cross seal colony, further up the coast, and travel south from Swakopmund across the surrounding landscape of lunar like rock formations and dusty plains, en route to the Namib Desert.
Our top Namibia & Botswana Vacation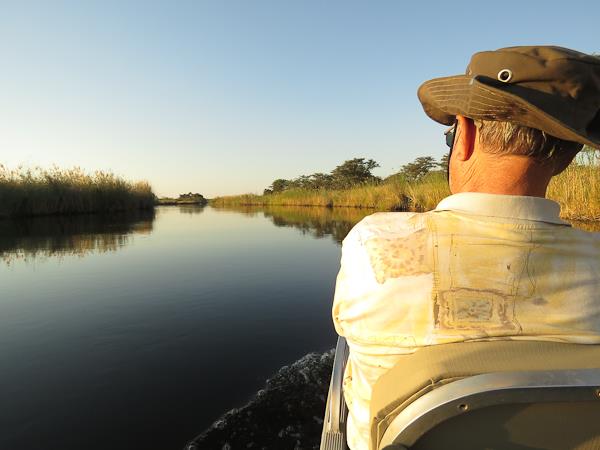 Namibia & Botswana lodge safari Caprivi Etosha Okavango
From
US $

3795
21 days
ex flights
Small group travel:
2023: 25 Jun, 9 Jul, 24 Sep, 1 Oct, 15 Oct, 22 Oct, 10 Dec
If you'd like to chat about Namibia & Botswana or need help finding a vacation to suit you we're very happy to help.

More about Namibia & Botswana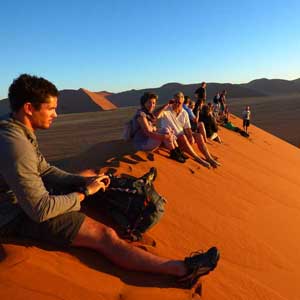 Read on for a month by month guide to the seasons and the weather, and discover some helpful Namibia and Botswana tips from experts and fellow travelers, too.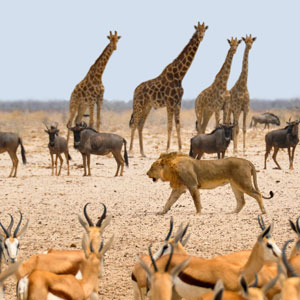 While you're never going to get a super-cheap safari that covers both countries, if you're interested in more budget Namibia and Botswana vacations, read on.