Budget Namibia & Botswana vacations
Namibia and Botswana are two of the shiniest jewels in the crown when it comes to African safaris. Both countries are home to vast, pristine wilderness areas that are bursting at the seams with wildlife. There is everything from elephants, lions and black rhino, to the diverse bird species of Etosha National Park and the Okavango Delta, as well as a smorgasbord of thrilling activities. And when compared to other popular African safari destinations, they're far less busy, making your experience more relaxed and more authentic.
But, all of this does come at a cost, especially where Botswana is concerned. It has adopted a successful 'low density, high value' approach to tourism which is undoubtedly beneficial when it comes to preserving the environment and local cultures, yet can leave many people priced out. Namibia has a much wider range of accommodation – including campsites – to suit all budgets, although combining it with Botswana will bump up the price. However, if you do want to see both countries on one trip, it is possible to find options for budget Namibia and Botswana vacations that don't mean remortgaging your house or raiding the kids' college fund. Here's how to safari and save.
Our Namibia & Botswana Vacations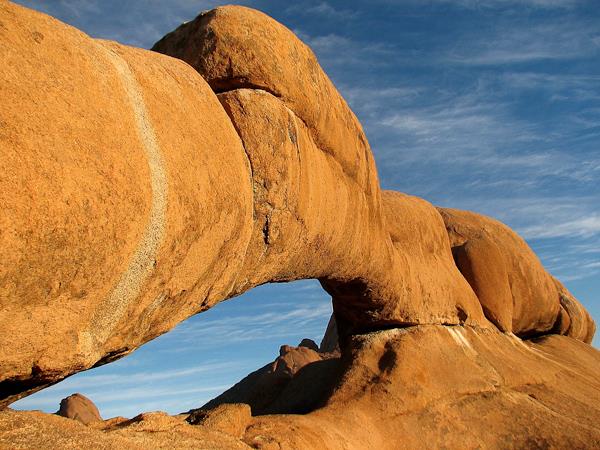 Camping safari to Namib desert, Caprivi, Etosha & Okavango
From
US $

2815

to

US $

2825
21 days
ex flights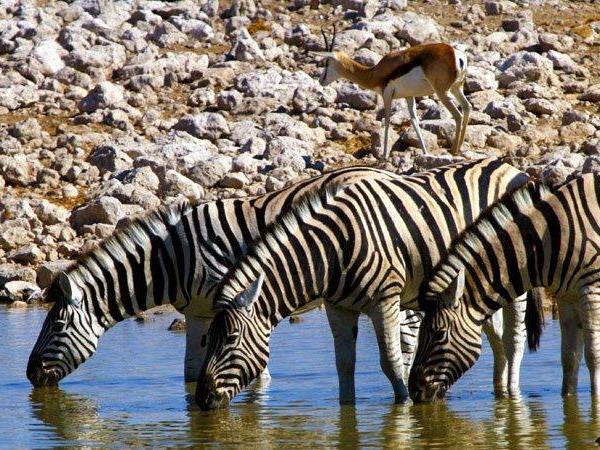 Two week adventure tour of Namibia and Botswana
From
£

2049
12 days
ex flights
Finding value
The first and most obvious point is that as Namibia and Botswana are both long-haul destinations, and so easily combined that it makes financial sense to see them both on one trip. You do need to expect some long overland drives to do them justice, especially in Namibia. A three-week itinerary is ideal, but you can see many of the highlights in as little as 12 days, though you'll be on the road a lot.

It's hard to put a price on peace of mind. Often tricky road conditions, and lower prices, make it advisable to consider an organised small group tour, with a set itinerary. These offer a sociable atmosphere, as well as dedicated tour leaders to ensure all the arrangements are hassle-free. Traveling as a group keeps costs down as you're sharing guides, transport and facilities. If you're traveling solo on a small group tour, the cheapest option is to share a room with a person of the same sex – although private rooms are often available for a supplement.

Some trips will have stripped-down itineraries where you can add in optional activities in each destination according to your budget and interests. These might include sand boarding in Swakopmund on Namibia's Atlantic coast, or river cruises and helicopter flights at Victoria Falls (actually just across the border in Zambia, a popular place to begin or end when traveling Namibia and Botswana). Ensure you book these in advance through your tour operator to avoid disappointment.
Travel dates
Generally speaking Namibia and Botswana can be visited all year round. November to March is the wet season, when the temperature is warmest (up to around 32°C) and prices are typically lowest. The landscape is at its most green and lush and the waterholes are full so it's a little more difficult to find the wildlife, but given the sheer abundance of game, and that you'll be accompanied by expert guides, you can still expect good results.
Accommodation
Many safari lodges in Namibia and pretty much all of them in Botswana, are pretty high-end, and correspondingly expensive. If you're prepared to skimp on luxuries and instead settle for more basic facilities, then camping will give you a classic safari experience. Imagine – just a thin layer of canvas separating you and the wildlife. Don't worry; safety is the number one priority. Campsites are usually located within or on the outskirts of national parks, and will feature shared washing facilities. Meals are shared too, perhaps around the campfire. If you're traveling alone, then you can avoid a small party supplement by bunking in with someone else.
Where your money goes
It's important to remember what you're paying for when it comes to any safari, especially those you'll find on our site. You can be confident that your money is genuinely contributing to the survival of traditions and customs in local communities. It is supporting small businesses, such as when you use accommodation providers and guides. And it is helping with conservation efforts, through national park entrance fees. Our travel team can always advise you on how to save money when exploring Namibia and Botswana, but we think you'll agree that some things are priceless.
Our top Namibia & Botswana Vacation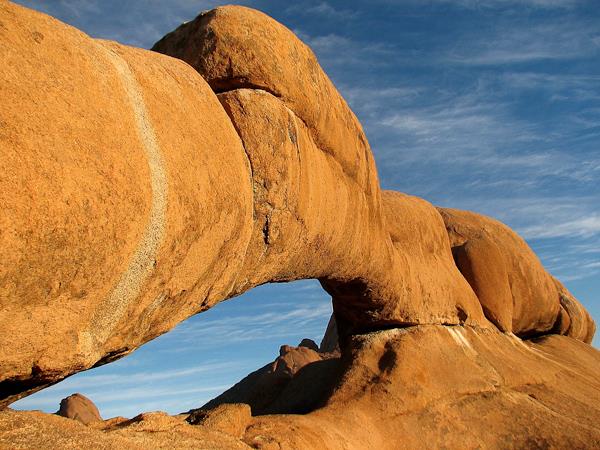 Camping safari to Namib desert, Caprivi, Etosha & Okavango
From
US $

2815

to

US $

2825
21 days
ex flights
Small group travel:
2023: 8 Oct, 17 Dec
2024: 21 Jan, 17 Mar, 24 Mar, 14 Apr, 12 May, 9 Jun, 30 Jun, 14 Jul, 28 Jul, 11 Aug, 25 Aug, 8 Sep, 22 Sep, 6 Oct, 17 Nov, 15 Dec
If you'd like to chat about Namibia & Botswana or need help finding a vacation to suit you we're very happy to help.

Sparsely populated, politically stable, and with spectacular wildlife-viewing potential, Botswana is a prestigious safari destination. The Okavango Delta is an immense inland network of winding water channels, dotted with forested islands and typically explored by boat that provides habitat for well over 100 species of mammals. Hippos, rhinos, cheetahs and Nile crocodiles can all be found here as well as huge number of birds. Walking tours in the Kalahari expanses are another must here, with San Bushmen providing fascinating cultural insight and survival knowledge for a harsh environment. Botswana boasts the largest elephant population in Africa, and in Chobe National Park there are over 100,000 of the grey giants, not to mention impalas, zebra, giraffes and buffalo, all of them stalked by packs of lions.
You can also see elephant, rhinos (black and white) and lions in Namibia of course, but for many people the biggest pull here is the simply awe-inspiring scenery. Arid, windy and foggy, the Skeleton Coast is about as desolate and remote as it gets, a captivating landscape dotted with shipwrecks. The Namib Bushmen call it 'the land God made in anger'. Then there are the gigantic red sand dunes at Sossusvlei in the Namib Desert, the largest cresting at 325 metres high. Swakopmund, on the Atlantic coast and surrounded by stark desert, is Namibia's adventure capital, and then there is Etosha National Park in the north, dominated by a bright salt lake, and with several illuminated waterholes where you can watch the wildlife by night.
What do our travelers say?
"I travel a lot but this is the most memorable, amazing, life changing experience I have ever had. I honestly cannot find a single fault with the way the operator managed this incredible trip. The locations and experiences were just awesome, the guides were truly wonderful, the people we met were just lovely, the food was delicious. The thrill and excitement of hearing hippos honking in the creek all night outside your tent, falling asleep in marvelous desert landscapes below a million stars, watching the sun rise over the highest sand dunes in the world, cruising, driving and even walking past families of elephants, crocs, zebra, giraffe etc, whilst eagles circle overhead... I really don't have words to describe how it felt. A five star rating isn't nearly enough for this vacation/adventure." – Claire Smart in a review of her Namibia and Botswana camping safari
More about Namibia & Botswana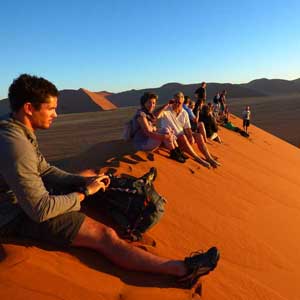 Read on for a month by month guide to the seasons and the weather, and discover some helpful Namibia and Botswana tips from experts and fellow travelers, too.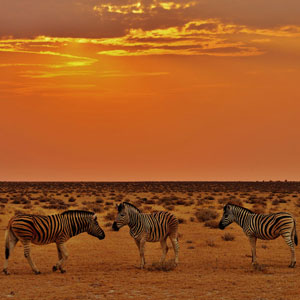 If you're hungry for a big serving of Southern Africa - landscapes, culture and wildlife - a vacation that takes in Namibia and Botswana should satisfy your appetite.