Namibia luxury vacations map & highlights
---
make the most of your time
Most trips last between one and two weeks, with 10-12 days giving you a good amount of time to explore Namibia's central and northern highlights. Classic itineraries start and end in Windhoek, taking in Sossusvlei, Swakopmund, Etosha and the bleak landscapes of Damaraland. Internal flights mean you can explore not just more of the country, but also get even further off the beaten track. Namibia is vast and any drives will be long, although the superb paved roads from Windhoek to Swakopmund and Etosha mean you can cover some decent ground in relative comfort. As for the off roading expeditions, well – you're in Namibia. Just see it all as part of the adventure, and maybe pack a cushion, and – ladies – a sports bra.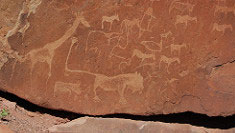 Damaraland
This is a seemingly endless landscape of flat-topped mountains and massive boulders – as well as bone shuddering roads which treat passengers to a "Namibian massage". But the rewards are worth it. Track black rhinos on foot, and desert elephants in vehicles, along parched river valleys. See the 2,000-year-old rock art at Twyfelfontein, and look out for bizarre welwitschia plants, growing from the parched earth.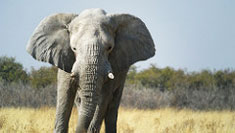 Etosha National Park
Etosha is Namibia's wildlife jewel, a blinding white salt pan with a scattering of waterholes that attract game in astonishing numbers. See pale elephants with salt encrusted skin, hundreds of antelope and zebra, and the predators that come to stalk them. Stay in the luxurious lodges of nearby Ongava Game Reserve, perched on an escarpment; the ideal place for a sundowner over the savannah.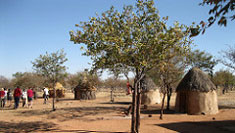 Himba camps
The semi nomadic Himba live in the dusty landscapes of northern Namibia, setting up temporary camps with their goats in the wet and dry seasons. They have a long relationship with tourism, and visits should be conducted sensitively. You can try the ochre paste the Himba use to protect their skin, ask questions about their lives and customs, and expect a few about your own in return.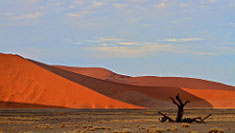 Sossusvlei & Deadvlei
Probably Namibia's most iconic landscape, the epic, rust red dunes of Sossusvlei are some of the highest in the world. Climb the S-shaped Dune 45, or perhaps just capture a few photos of it as it seems to change shape with the shifting light. The even taller Big Daddy dune looms over Deadvlei, a surreal, dried out swamp with dark camelthorn tree skeletons emerging from cracked white clay.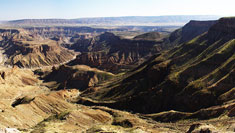 Southern Namibia
Less visited than the northern and central regions, southern Namibia's inhospitableness is revealed in the ghost town of Kolmanskop, once a thriving gold rush town, now virtually swallowed by the shifting sands. The port town of Luderitz is a surreal combination of German architecture surrounded by bleak desert, while Fish River Canyon is the world's second largest, at 160km long and up to 500m deep.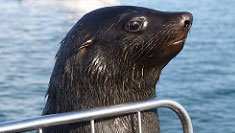 Swakopmund & Walvis Bay
Namibians flock to the coastal resort town of Swakopmund for its cool temperatures and damp air – a real rarity in the country. Overseas visitors will enjoy the quirky German colonial architecture and abundant bakeries, as well as adventure sports including sand boarding and quad biking. Head to nearby Walvis Bay for a catamaran tour featuring oysters, bubbly, and some remarkably friendly sea lions.


Namibia luxury travel advice
---
tips from our friends in Namibia
Why choose a luxury vacation?
---
Simon Mills, from Native Escapes, our leading supplier of luxury small group tours in Namibia, shares his top tips: "Namibia does luxury well. There are some superb lodges that go above and beyond, not just with their service standards, but also the quality of the accommodation, the standard of food and also the level of guiding. That being said, a luxury vacation in Namibia is more cost effective than in neighbouring Botswana or Zambia."

Vicki Brown, Responsible Travel's writer and editor, thoroughly recommends spoiling yourself for a couple of weeks:
"The attention to detail is incredible. Namibia is wonderful but can be an exhausting place to travel in – but luxury lodges seem to know exactly what you need, and when. You can go on a long, hot trek in the desert, and just as you are exhausted a makeshift 'bar' appears over a mountain crest, with lodge staff serving chilled G&Ts and biltong in the perfect spot to watch the sunset. A pre dawn departure takes on a whole new spin when you realise the promised 'packed breakfast' is actually a full on feast, cooked – somehow – out in the bush at sunrise, and served with beaming smiles by people who must have been up since before 5am. There were plenty more unexpected treats – but I won't spoil all the surprises!"
Where to go in Namibia
---
Madri Bowmont, from our supplier Odyssey World, is from Namibia and is a specialist in Africa travel. She shares her top tips for her home country: "One of my favourite places in Namibia is Damaraland. It is one of the most beautiful areas for stargazing, and the landscape littered with huge boulders and hidden away bushman art is a must see."
Simon Mills, Native Escapes: "I really like Etosha National Park. The park is huge and it unlike any other safari I have been on due to the terrain and arid landscape. The animals have had to adapt to the harsh environment and in places are thriving. Some of the private reserves that border Etosha are superb, with luxurious accommodation options overlooking busy waterholes."
Preparation tips
---
Madri Bowmont, from our supplier Odyssey World: "'Slip, slop, and slap' is a saying in Australia and for Namibia this would be one of the first things I would recommend. 'Slip on some sunglasses, slop on some sunscreen and slap on a hat'. I would recommend packing comfortable hiking shoes for the trek to Sossusvlei and Deadvlei. Pack light – during the day (even in winter) you are very likely to wear light summer wear. It is also much easier to get washing done at the lodge than to drag a heavy suitcase around! Always remember a jacket for those early morning game drives; it can be quite chilly as the sun rises!"
Simon Mills, Native Escapes: "Pack light in Namibia; chances are things will get dusty anyway! Go with a sense of humour, drives or transfers can be long – embrace it! If you can avoid the really hot months (end of November to early March), then Namibia is perfect."
Why self drive in Namibia?
---
Madri Bowmont, from our supplier Odyssey World: "Namibia is one of the easiest and safest countries to do a self drive in; the roads are well marked, all the signage is in English, and the official language is also English, so you can communicate quite easily. The lodges are of a very high standard, and can be compared in luxury and service to some of the best in Africa. Traveling through Namibia is relaxing and you will stand in awe of the magnificent landscape; the lodges are tucked away under huge boulders or hidden within the sands of the desert."
Namibia luxury travel tips
---
Advice from those who have been there
At Responsible Travel, we think the best people to advise our travelers are often... other travelers. They always return from our tours with packing tips, weather reports, ideas about what to do – and opinions about what not to.

We have selected some of the most useful Namibia luxury travel tips that our guests have provided over the years to help you make the very most of your vacation – and the space inside your suitcase.
"Every day of the trip presented exciting and memorable experiences. Highlights included climbing the dunes of Sossusvlei as the sun rose, tracking desert adapted elephants in Damaraland, kayaking with thousands of seals at Pelican Point (Walvis Bay), and the fantastic wildlife viewings in Etosha. Be ready for early starts and long days – but it's worth it!" – Erica Rosengart on a small group vacation in Namibia

"The whole vacation was brilliant. One of my most memorable experiences was tracking and finding the desert elephants, a small herd of females and young in the early morning. plus coming across two white rhino peacefully grazing in the afternoon sunshine with thunder and lighting flashing around in the hills behind them – magical. Finding and watching lions, one male and four females laying in wait for a herd a zebra sadly ending in failure for the lions." – Glennis Ballard

"This is a car-borne trip. You need binoculars, a good zoom on your camera and a bit of patience. Cautionary notes: Not for young people. Opportunities for exercise are few and far between. We were the youngest at 55 and have felt the need to stretch our legs since returning to the UK. Effectively you spend two weeks on your butt… The distances between locations are long, mainly on dirt roads… It is a challenge for the guide who is also your driver. Just to emphasise, our guide was terrific - the standard of driving over all terrains was exceptional." – Paul Watling

"Just go and enjoy! You are well taken care of. You have to wake up early and distances are Wide so there is often lot of sitting in the car but it's all worth it." – Marita Vihervaara

"Take a decent camera, with a spare battery so you don't need to worry about charging it. Take a headlamp as well as regular flashlight (torch). Headlamps keep your hands free to carry gear. Take lightweight clothing that's easy to wash and drys quickly. Allow yourself a day of shopping in Windhoek after the trip if you are interested in crafts. jewellry or gemstones." – Gwen Langdon