Cycling in New York State
The fact that you can take your
bike on the subway
in New York, gives you an idea of the attitude to cycling in this State. There is also a Greenway for cyclists which allows you to bike off-road around most of Manhattan, an experience that is not to be missed. You can use the new
Citibike
rentals for this, although you have to dock them every half an hour which is not so practical if you are planning a big outing, so you can also rent a bike at
9th Street Cycles
or Bike and Roll. Request a free cycling map of New York City to see all
cycling paths here
. Also worth noting is a new 23 mile Greenway which is revitalising the heart of The Bronx, created by the
Bronx River Alliance
and which also leads cyclists into the northern rural regions of the
Bronx River Pathway
in Westchester County.
Outside the city, cycling is a great way to explore the Stateís hills and vales, but do be prepared for hills. A good road bike is recommended for the likes of somewhere like the
Finger Lakes region
where I cycled around quiet wooded roads, with plenty of hills to keep the route interesting, but also plenty of downs with the waterís edge a rewarding treat at the end of many of them. You can download a series of
cycling trails here
.
Keuka Lake
is a top ride, for example. At 44 miles itís no Tour de France, but you will glide past superb lakeside views on one side and vineyards on the other. Cycling clubs such as the one in the
Finger Lakes
are always a great source of information at the grass roots, so check out the list of all
cycling clubs in New York State
.
The Adirondacks are no strangers to serious cyclists, and at its core, the village of Lake Placid, you will find serious triathlon territory. A great one stop shop for information on cycling in the Adirondacks is
High Peaks Cyclery
on Main Street, Lake Placid. Browse their maps and guidebooks in the chillout room beside their well-stocked shop or head straight to their
Mountain Bike Center
on Mount Van Hoevenberg where you can rent a bike and then hit over fifty miles of trails. These guys also run a
series of events
for cycling enthusiasts who want to up their skills in the hills. Another wonderful source of information on cycle trails in this region is
Bike the Byways
, such as details on the cycle around Lake George on Route 9. This is a classic ride for the autumn or Fall, when the splendour of the leaf change will drive you to keep going up those hills and around each new bend.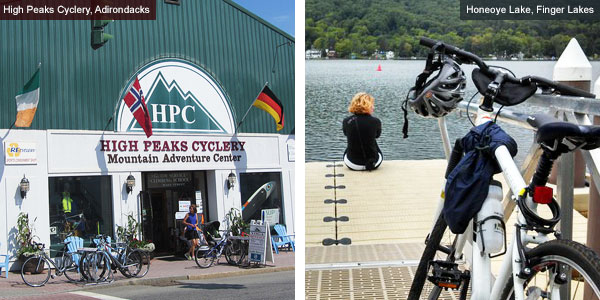 For more options on serious road touring by bike, check out the Department of Transportationís on road signed cycle routes. They vary in length and scenery, from
Route Nine
, a 345 mile on road route heading due North out of New York City all the way to the Canadian border, to
Route 25
which stretches along Long Islandís North Shore from top to toe for 67 miles.
There are plenty of off road cycle routes in New York State as well. A few of my favourites include the old carriage trails in
Minnewaska State Park
in the Hudson Valley. Mostly used as walking trails, they were designed to cater for late 19th century carriages, so they are also perfect for bikes. Many of the trails work their way around the two lakes of the Park, Lake Minnewaska and Lake Awosting, and you can stay at the
Mohonk Mountain House
which looks out over the Park if you want to drop from your saddle into your sack. Also in the Hudson Valley, and this time clinging closer to the river itself, is the
Old Croton Aquaduct Trail
, accessible by
train from New York City
by going to Dobbs Ferry, where you can hire a bike at
Endless Trail Bikeworx
. Leading you through small Hudson Valley towns, parkland at
Lyndhurst Manor
and then, eventually down to Croton Park Point, a wooded peninsula taking center stage in the Hudson River. You can order
lovely maps of the Trail
on the
Friends of the Old Croton Aquaduct website
, including the section that comes into New York City. For more information on cycling here, see
Cycling the Hudson Valley guidebook
.
Cycling down the
Erie Canalway
is special. It was a feat of engineering when it was first built in 1825, and now this 365 miles of cycling freedom is a feat of tourism. It is special because as you pedal along, you watch nature claim back the land again, wild apples falling into the water, chicory and goldenrod growing all along the edge, shady trees thriving and people fishing, which would suggest even the wildlife is returning. I cycled a short section from Durhamville to
Green Lakes State Park
, renting a bike at the
Chittenango Landing Canal Boat Museum
, and where the greenest of green lakes awaited for the best cooling swim afterwards. You can also camp here. But every section of the Canalway has something to offer, as you can see in the superbly detailed Cycling
The Erie Canal guidebook
.
The Catskill Scenic Trail
is one of many rail trails popping up all over New York State now, where cyclists and hikers can roam the rails of the Ulster and Delaware Railroad Road. For more information on the growing number of similar rail trails throughout New York, see the
Rails to Trails Conservancy
.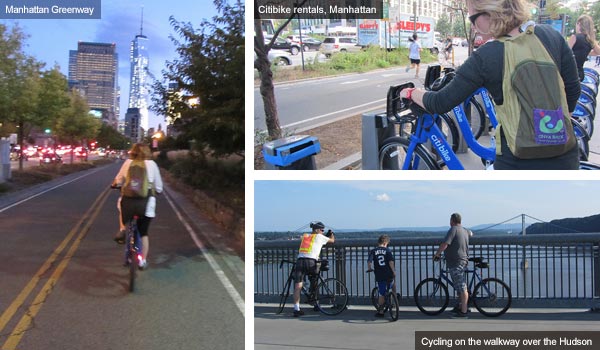 Responsible Travel would like to thank the New York State Tourist Board for their sponsorship of this guide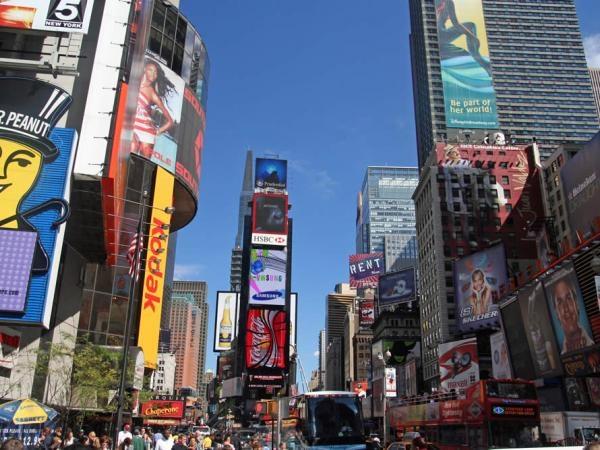 Niagara Falls & upstate New York short break from nyc
From
US $

949
3 days
ex flights