Hiking & walking in New York
One thing that New York State is not short of is freedom to roam. It is useful to understand the designations of protected land in the USA, as there are so many different parks and trails systems, it can get confusing when searching for places to don your backpack and boots. National Parks are the biggies, and then there are State Parks, followed by a number of conservancies and trails. And just to make it more confusing, national parks do not just refer to large tracts of land protected for their scenery and science. They also include areas of historical and cultural significance. So there are many different areas falling under the National Parks nomenclature. These are the national parks themselves - a large land or water area protected because of the importance of their natural resources and to prevent their exploitation for industry or agriculture. There are actually none of these in New York State, but there are plenty of the other kinds which, although fascinating, are not great for hiking expeditions. It's state parks that you want for that.
State Parks
are often as big if not bigger than National Parks, such as the Adirondacks Park which covers six million acres, almost three times bigger than Yellowstone National Park. Which is why there is ample room for the 46 peaks which make this region a hiking heaven, most of them covered in rich deciduous forest transformed into a vision of colour in the famous 'Fall' season. The highest peak is Mount Marcy at 5,343 feet, but most are over 4000 feet and accessible from the village of Lake Placid. I was guided safely and with superb local knowledge there by Karen and Brian Delaney of
High Peaks Cyclery
High Peaks Cyclery in Lake Placid who know the trails here like the backs of their hands. They also have cabins to stay in, and an excellent
guiding service
, so you can sit up until the early hours perusing their superb supply of maps and guidebooks. The
Adirondack Mountain Club
is also a font of information.
The Catskills Park comes next in terms of size, but first when it comes to proximity. Just an hour and a half by car from New York City (when the traffic is being kind) this is a land of serious hillwalking, waterfall climbing and winter snowshoeing. Peak seekers head to the highest of them all, Slide Mountain, which stands at over 4000 feet and where, like so many of the other peaks, you will spot deer, turkey and maybe even bears. Look up and you are also likely to spot the iconic Bald Eagle soaring above the Catskills' 700 acres which spread over four counties. There are other more gentle but equally exhilarating hikes to be had here, such as up Balsam Lake Mountain where you are rewarded with a restored fire tower to climb, or scramble up the magnificent Kaaterskill Falls for a more watery trail. One of the best points of contact for hiking tips and responsible tourism developments in the region is the
Catskill Mountain Club
, which welcomes visitors to the area with open arms and whose website is a bible of local hiking tips.

Adventure in The Catskills
Jim Kelly, owner of Susan's Pleasant Pheasant Farm talks about kayaking & hiking in the Catskills & spotting deer on mountain trails. [01:52]
The Finger Lakes Trail is the longest walking path in New York, leading walkers along the south side do the lakes for a distance 558 miles. Set up and run by volunteers who manage a wide variety of landscapes owned by an equally owed variety of landowners, this is a mammoth achievement in slow travel access. For all the information you need see
www.fltconference.org
.
Long Island isn't usually associated with hiking, but it is not to be overlooked, especially if you like to trek with your swimsuit tucked into your backpack, as you are never far from a cool down swim here. Check out the Long Island Greenbelt Trail Conference, a pioneering union of local walkers and conservationists, organising early morning guided walks through hidden creeks and wetlands, explorations of varying ecosystems such as Pine Barrens which are bursting with wild blueberries in early summer or the maritime woodland Seal Haulout Trail near the Island tip at Montauk, where seals gather on rocks in the early spring for all to admire. It is really worth treating yourself to maps of the trails in advance, as this group have produced some of the finest I have seen, created by the late Larry Paul, a self-taught cartographer from the area. You can also link into these trails using the Long Island Railroad, with stations such as Ronkonkoma, Great River and Massapequa Park all handy for hikers who want to stay car free. And if you know what the traffic can be like on Long Island, you will really want to check out this option.

Pine Barrens, Long Island
Tom Casey of the Long Island Greenbelt Trail Conference talks about the trails he maintains and how the blueberry-filled Pine Barrens are not really barren at all. [01:55]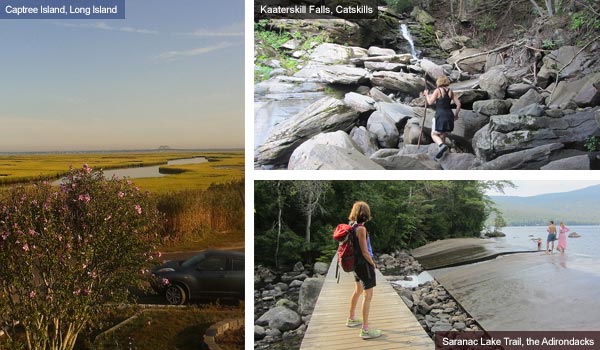 Another great train and trail connection is into the Hudson Valley, using the Metro North service out of Grand Central Station in New York City, which takes you to the inviting terrain of Beacon Mountain in the Hudson Highlands in just an hour and twenty with views all the way back to Manhattan on a clear day. Also a beacon of sustainability, this is a cool town to visit after your hike too. Or hop on a bus to the stunning Bear Mountain State Park, just an hour from the city, where you can go hiking on a plethora of trails for the day, or stay overnight at the perfectly situated Bear Mountain Inn located in the heart of the hills and hike to the eponymous summit before a very fine supper.
Hike the Hudson Valley
is a wonderful blog and source of information of hikes east and west of the Hudson River, such as the Minnewaska State Park and Shawangunk Mountains, busy on weekends but free to roam during the week. Buy a detailed trail map
here
, or get a more general one on arrival at the Park. This region has an extraordinary, bought by twin brothers in 1869 to create two hotels. Only one of the hotels still exists - the legendary Mohonk Mountain House, but there are still carriage roads stretching for miles across this nigh on wilderness, so that guests could be transported easily across the terrain between one hotel to the other in the past. This is one not to be missed, and worth treating yourself to a couple of nights to absorb the history as well as the landscape. There is also a lot of information on the
Hudson Rivertowns
website, treats and trails that await you along the river shore.
Another great website for hiking information in the State is the
New York - New Jersey Trail Conference
, a non-profit member organisation set up to create a partnership between volunteer groups and parks to maintain trails in the region. Here you will find details of another secret gem, where I hardly met another walker - The John Boyd Thacher State Park outside Albany, a ridge with incredible views over the Hudson-Mohawk Valley, and waterfalls to stand under when the going gets tough. This is part of the Long Path, a 365 mile trail through New York and New Jersey, considered by many to be a wonderful alternative to the world famous Appalachian Trail.
Responsible Travel would like to thank the New York State Tourist Board for their sponsorship of this guide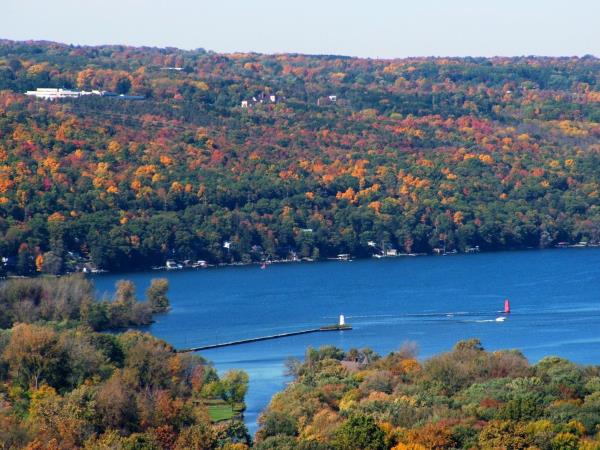 Discover the best of New York State on this tailor made tour
From
£

2800
13 Days
inc UK flights