History of New York State
Ganondagan
, Finger Lakes. Once home to thousands of Seneca Indians, Ganondagan means Home of Peace. With a stunning replica bark long house, walking trails, and a wonderful insight into the past and living history of the Seneca, one of the six nations comprising the Iroquois Confederacy this is, once more, a perfect place of peace. One of my
top ten places to visit in New York
.
Adirondacks Museum, Adirondacks. Whether you love the Adirondacks for their forests, mountains, lakes, architecture or its sporting facilities, there is something for everyone's passion in this museum. Located in an old historic hotel, the Blue Mountain House was transformed into a museum in 1954 by The Adirondack Historical Association. The Adirondacks are all about connecting man with wilderness in a sustainable and healthy way, and this museum captures this brilliantly.
Antique Boat Museum, 1000 Islands. Mahogany runabouts are a thing in the 1000 Islands region. Beautiful, bespoke, wooden boats designed to turn heads on the lakes and rivers, and which are still turning the heads of thousands who come to this museum every year on a pelagic pilgrimage. Located in the pretty waterfront town of Clayton, their Antique Boat Show at the beginning of August packs the town out.
The Bethel Woods Center for the Arts, Catskills. This Center keeps the ethos of Woodstock alive, and is located on the site of the Festival itself. As well as multimedia exhibitions about the ground breaking Festivals, there is a year round calendar of events including sculpture exhibits, photography, music and craft events.
Erie Canal Museum, Finger Lakes. An industrial revolution in itself, traversing between Buffalo and New York City, the Canal's monumental history is well documented here in Syracuse, in the original weighlock building which was used to weigh canal boats as they passed, charging them according to the weight of their cargo.
Home of Franklin D Roosevelt, Hudson Valley. As Roosevelt, the only US President to survive four terms in office, said himself, "All that is within me cries out to go back to my home on the Hudson River". And when you visit this historic and stunning home of Springwood you can see why.
Irish Hunger Memorial, New York City. Surrounded by the skyscrapers of downtown Battery Park City, this reconstruction, stone by stone, of a deserted Irish cottage surrounded by real Irish turf stops everyone in their tracks. It is a beautifully moving memorial to the Great Irish Famine, which created a wave of Irish emigrants to New York in the mid 1800's. This creation, by artist Brian Tolle, has inscriptions that not only to remember the Irish plight, but also to highlight the crisis of hunger in the world today.
The Iroquois Indian Museum, Central New York, has a long house packed with exquisite art created by the indigenous Iroquois Indians. Not only can you see the craft and expertise of their work, but the Architect C. Treat Arnold has created a space that is totally in keeping with the Iroquois ethic.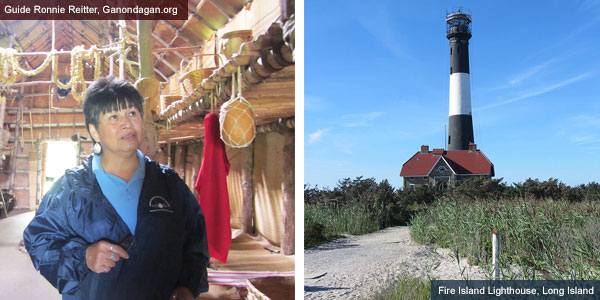 Native American life at Ganondagan Historic Center
Ronnie Reitter, a Seneca guide at Ganondagan Historic Center talks about the unique site and her ancestors' sustainable way of life.
Discover more historic sites
[01:49]
Long Island Maritime Museum
, Long Island. With a history of whaling, wrecks and many other nautical nasties and niceties, this museum captures so much of what Long Island is all about. A lively spot, they have a busy calendar of events including oyster festivals, kite festivals and boat burning.
Montauk Point Lighthouse
, Long Island. Suffolk County has the most number of lighthouses of any county in the US, with Montauk Point being the oldest. It is worth a trip to the tip to see it and learn about its history in the charming museum.
Fire Island Lighthouse
is another wonderful restoration and well worth a visit.
The National Museum of the American Indian
, New York City. It is poignantly ironic that this museum, now part of the Smithsonian Institute, is located in New York City's historic Customs House building. A stupendous architectural creation designed to be the crux of commercialism, it now houses one of the country's most important collections of American Indian history, art and culture. If you see one museum in New York City, make it this one. And give yourself time to have a walk along the river afterwards to take it all in.
Women's Rights National Historic Park
, Finger Lakes. This Park is located in Seneca Falls, considered to be the birthplace of the women's rights movement as the first Women's Rights Convention was held here in July 1848. Human rights for all, not just women, are at the core of this museum and park, as the handful women who started this pioneering movement were also strong voices in the abolitionist movement.
Woodchuck Lodge
, The Catskills. The family summer home of naturalist and one of America's most gifted and revered writers, John Burroughs, this non-profit organisation is wholly committed to spreading Burrough's passion for nature and his desire for people to live in harmony within nature. As well as historic artefacts there is a regular calendar of events relating to The Catskills and nature. This is an extraordinary place keeping the memory and work of an extraordinary man alive and kicking for generations to come.
Responsible Travel would like to thank the New York State Tourist Board for their sponsorship of this guide
Back to the top
Convert currencies