Nature & wildlife in New York State
With such a variety of habitats throughout New York, such as the valleys and highlands around the Hudson River, the Atlantic shores of Long Island and the High Peaks of the Adirondacks, New York is teeming with natural wonders. The ocean around Long Island is home to whales, seals, dolphins and turtles. Their coastal meadows a haven for crabs, shrimp, scallops and waterfowl. And their pine barren forests a fecundity of wild berries. The estuarine ecosystems around the Hudson River and Long Island Sound invite brine loving visitors such as clams, snapping turtles, eels and sea bass. Go further up the Hudson for freshwater river habitats and, with 70,000 rivers and streams in the state, you are never short of a variety of fish as well as bird life that thrives on the water. From Bald Eagles to Blue Herons, Kingfishers to Swallows, New York's rivers are lively places for nature spotting.
The lakes of New York State are also plentiful, with 7,600 freshwater lakes, ponds and reservoirs, and two of the five Great Lakes: Lake Ontario and Lake Erie. As well as providing drinking water for much of the population, migratory birds have a field day in New York, as do fishermen, with everything from salmon, trout and perch in the Great Lakes, to brown bullhead found in the small bog lakes around the Adirondacks and Chautauqua Allegany.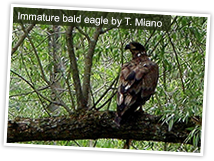 And last but not least, the forests. Nearly three million acres are classified as Forest Preserve in New York State, 2.6 million acres of which are in the Adirondack Forest Preserve and 286,000 acres within the Catskill Forest Preserve. Home to deer, bears, coyotes and many more, the trees include the pitch pine barrens of Oneida County and the oak-hickory forests around the Great Lakes. The High Peaks of the Adirondacks and the Catskills are mostly balsam fir with spruce, juniper and white cedar with birch, mountain ash, mountain maple, pin cherry and striped maple providing the extra colour for the world famous autumn leaf change, when the canopy falls to protect the wildlife living on the forest floor throughout the winter freeze.
New York State has a superb resource for nature lovers. Their website
Watchable Wildlife
gives up to date information on which species you can see and where as well as nature watching events throughout the year. The recently published
New York Wildlife Viewing
book and ebook are also inspirational. Here are just a few of my favourites from our fauna friends:
Birds
Bald Eagle
Found in wooded areas near water, they are quite a sight at 30 inches tall with a wingspan of six to seven feet, on average. You can't miss the white head and feathers that separate at the tips of their wings as they glide. Particularly prolific in the Hudson Valley which has a healthy growing population.
Blue heron
. Very common, they forage in New York's swamps, salt marshes, lakes and slow moving rivers. They are bluish-grey, have long, slender legs, a yellow bill and a long neck folded into S-shape when in flight.
Wild Turkey
. Found throughout the state enjoying the acorns and beech nuts of woodland, but also the insects and other foods of hayfields. They roost in trees at night and, as they are fairly weighty birds, make quite a sound when they fly to another perch.
Osprey
. If you can see one catching a fish with its talons from one of the Adirondack Lakes your trip will be made. Adults are dark brown above and white below with a white head, and they love the long shores of these lakes as well as those of Long Island. Look out for their substantial nests, perched high on trees and poles, which they return to year after year.
Common Loon
. A feature of the Adirondack Lakes, standing out in summer when their plumage is a clear black and white check, and their eyes are bright red. Their loud wolf like call is instantly recognisable.
Scarlet Tanager
. Hard to miss, the male has bright red plumage and black wings and tail, changing in the late summer to a yellow-green colour. It is fond of some of the lower lying forests in New York State.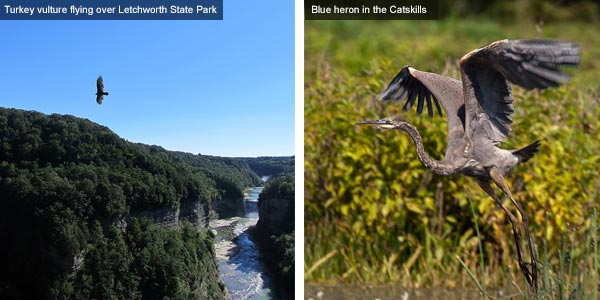 The Audubon Society is the leading movement for bird protection and education in the United States. With regional offices, you can find out more about New York's bird populations, and bird watching centers on their
website
.
Mammals
Beavers
. Hard to spot, you may have luck on the Genesee River and the Allegany State Park. More likely to see them at night or at dawn, or hear them as they slap their tails noisily on the water. You will also notice their slides into the water, and of course, their substantial dams.
Black Bear
. Although I didn't spot any, even on Bear Mountain, they do exist and are, generally, people shy. However, hikers are advised to be
bear aware
. Covered in black fur with a long black muzzle, they can be up to seven feet tall when standing on hind legs.
Eastern Coyote
. A pest for many farmers they are related to the wolf but are smaller with blonde reddish coats. They particularly like grasslands and open fields, and can be spotted hunting around dusk.
White Tailed Deer
. Very common, you need to be wary of them early morning and at night when driving in wooded areas as collisions are common. However, when hiking in the Adirondacks, Hudson Highlands or Catskills, to name but a few, you will be surprised by joy as they suddenly appear in the woods as you wander.
Harbour Seals
. Long Island is the place to spot these with Montauk Point and Fire Island offering particularly good sightings. They have a spotted coat which ranges from silver-grey to black or dark brown. Good times to seal watch are November-May, but remember to keep your distance.
Whales
. These belong to the cetacean group of mammals, and are common in the Atlantic waters off Long Island. Most of the whales here are of the Baleen type ie. Larger than toothed whales and with two blowholes. Baleen whale seen here are Minke, Finback, Sei, Humpback, Great Atlantic Right Whale, Sperm Whale and Blue Whale. The most important conservation organisation for whales in New York is the
Riverhead Foundation for Marine Research and Preservation (RFMRP)
.
Reptiles and amphibians
Diamondback terrapin
. You will commonly spot turtles when out kayaking in rivers in New York. This is the only one that lives in brackish or briny water. Common around the coastal creeks of Long Island, the females come ashore to the dunes to nest. They can be identified by the diamond shapes on their shells and spotted on beaches May until July. They must not be disturbed during this season, as they will abandon their eggs if frightened.
Snapping Turtle
. This is a much larger and more aggressive turtle, and so be wary when swimming with snapping turtles around. Although they haven't been known to bite through joints, they can give a nasty shock, especially as they can grow up to 35 pounds in weight.
Eastern (red-spotted) Newt
. This is bright orange when young, turning green with age, so the young ones are quick to spot. They are found around waterscapes close to woodland, and can live up to fifteen years.
Insects
Beautiful butterflies
. The orange and black Monarch butterfly is common in open meadows, and loves milkweed. They are seen on Fire Island off Long Island, and also the Albany Pine Bush Reserve, and I spotted some on the nature trails at Seneca cultural center, Ganondagan in the
Finger Lakes
. The Karner Blue Butterfly is much more rare, and has been on the endangered list for some time now. Feeding on the wild blue lupine flower, there has been movement afoot to protect it in the
Hudson Valley
from the Albany Pine Bush north to the Glens Falls area.
Terrible ticks
. Deer ticks are a feature of New York State, and they thrive in woodland areas, where many hiking trails are located. They are also the main carriers of Lyme Disease, so it is important to check for the presence of ticks after you have been in the woods. They are very small, like a small seed on your skin. The females have a reddish brown body with black markings and males are smaller and are solid dark brown. Carry tweezers when hiking and remove the tick by the head, not the body if you find one on you. For more information, see the New York State Department of Health website
Watch out for poison ivy which is virulent in New York State, in woodland, on the side of roads and sometimes in sand dunes. It contains an oil called urushiol that inflames skin and results in painfully itchy blisters and rashes. The expression 'Leaves of Three, Leave it Be' is what most people say to remind you what it looks like. It often grows low to the ground, so you need to be careful if walking off the beaten path, sitting down for a break or, for most women, take care in comfort breaks. See the New York State
Department of Transportation
for more details.
Responsible Travel would like to thank the New York State Tourist Board for their sponsorship of this guide